ITH Super Happy Fun Time Big Ten Preview: Nittany Lions of Penn State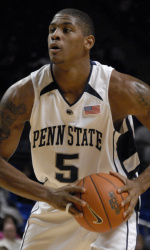 The Hoosiers are finishing up their cupcakes and the New Year is nearly upon us, which can mean only one thing: It's Big Ten Preview Time! Here's a look at the teams that will challenge the Hoosiers for the conference crown … or fall under the weighty boot of crimson dominance. Probably the latter. Today: Penn State.
The Nittany Lions are a cut above the bottom three of the Big Ten — Northwestern, Iowa and Michigan — but they're still a ways off from being a team with legitimate tournament aspirations. Their early season resume is far from impressive — losses to South Carolina, Rider, Central Florida and St. Joseph's — but they've been able to pad their record with seven home wins.
Their major problem a season ago was their inability to stop anyone on defense. Consider these numbers from conference games last season:
– Last in scoring defense (71.9 ppg)
– Last in field goal percentage defense (49.3)
– Last in three-point field goal percentage defense (39.9)
They shouldn't have a problem winning three or four conference games this year because the conference is down, but if the defense doesn't improve, there is a good chance Ed DeChellis' club could be a disappointment again.
Penn State has one thing to hang its hat on — senior Geary Claxton. Claxton is an undersized forward that can score the ball in a variety of ways and also controls the glass for the Nittany Lions. He doesn't shoot the three or free throws particularly well, but he's excellent in both the mid-range game and in the post. Out of necessity due to the personnel he's surrounded with, Claxton is forced to be the go-to-guy on the boards. He's currently averaging 8.4 rebounds.
The bottom line: Geary Claxton is an all-conference player. He also needs help to avoid being the complete focus of opposing defenses. If Penn State can marginally improve from last year's defensive debacle and get solid contributions from junior Jamelle Cornley and freshman point guard Talor Battle, the Nittany Lions could be a threat to win five or six league games.
Read the rest of our Big Ten Preview:
Filed to: Penn State Nittany Lions