ITH Super Happy Fun Time Big Ten Preview: Wildcats of Northwestern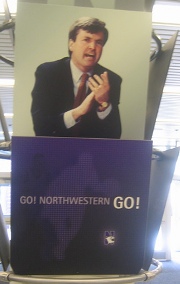 The Hoosiers are finishing up their cupcakes and the New Year is nearly upon us, which can mean only one thing: It's Big Ten Preview Time! Here's a look at the teams that will challenge the Hoosiers for the conference crown … or fall under the weighty boot of crimson dominance. Probably the latter. Today: Northwestern.
Bill Carmody returns to Northwestern for his eighth season at the helm and will be faced with an uphill battle to field a competitive team in the conference race. Northwestern finished tied for last with Penn State in the Big Ten last year at 2-14.
Tim Doyle, arguably one of the most underrated players in the conference a season ago, graduated and is now an studio analyst for the Big Ten Network. Doyle was an All-Big Ten honorable mention selection last season and set a Northwestern season record with 157 assists.
Carmody's leading scorer a season ago, sophomore Kevin Coble, took a leave of absence in mid-October to be with his mother, Carlys, who is undergoing treatment for breast cancer. Mrs. Coble is scheduled to undergo her fifth chemotherapy treatment in the Phoenix area on December 27. After that, she plans to move to the Chicago area with her husband Randy. Coble is planning to return just in time for the start of conference play.
Northwestern's slim chances for a successful season rest squarely on the return of Coble. Without him, Northwestern is easily the worst team in the conference. Coble has a unique skill set for a 6-8 player as he can rebound, shoot the three and play solid defense.
As it stands right now, the Wildcats are without Coble and they are leading Big Ten teams in very undesirable categories. Consider these numbers as of Dec. 14: Northwestern is last in scoring offense, last in scoring margin, last in free throw percentage and last in rebounding margin.
Three guards, junior Craig Moore, freshman Michael Thompson and senior Jason Okzesik, are scoring in double figures. Coach Carmody hopes the development of these three players during Coble's absence will help his team improve upon last year's finish.
The bottom line: If Kevin Coble returns and picks up where he left off a year ago, Northwestern has a chance to win a couple of games in the conference (at home against Penn State, Iowa and Michigan). Without Coble, Northwestern will struggle to win a conference game.
(Photo via Jon Solomon on Flickr.)
Filed to: Big 10 Preview, Bill Carmody, Kevin Coble, Northwestern Wildcats, Tim Doyle