ITH Super Happy Fun Time Big Ten Preview: Hawkeyes of Iowa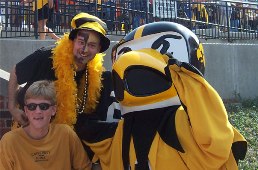 The Hoosiers are finishing up their cupcakes and the New Year is nearly upon us, which can mean only one thing: It's Big Ten Preview Time! Here's a look at the teams that will challenge the Hoosiers for the conference crown … or fall under the weighty boot of crimson dominance. Probably the latter. Today: Iowa.
Come to think of it, we really should have assigned Iowa to PostmanE, seeing as the Quad Cities were his home base during the developmental years. But alas, here I am typing this for you guys. So yes: the biggest and boldest news out of Iowa before this season started was the departure of Stevie Alford and the entrance of Todd Lickliter. Lickliter brings with him quite a resume over from Butler — although, when Alford came to Iowa, he looked like a pretty darn good coach, too — including a Sweet 16 appearance last season. (IU's loss to Butler up in Indy at the start of last year was perhaps the single most frustrating game I've ever seen.)
But although Lickliter has proven himself worthy of stepping into a pair of Big Ten shoes, he doesn't quite have the talent or depth to make a splash yet. For starters, the Hawkeyes are 6-6 so far on the year. Here's who they've lost to: Bradley, Utah State, Wake Forest, Louisiana-Monroe, Iowa State and Drake. Not exactly all world beaters. Now, the mediocre start can in part be attributed to the "star" of this team, guard Tony Freeman, being out 10 of the first eleven games with a broken foot. In the two games he's played in this year, he's averaging 15 points. The Hawkeyes are 1-1 with him in the lineup.
Iowa does have size and some experience up front with Seth Gorney and Kurt Looby which, in years past, could have caused some matchup problems for the Hoosiers. But I think this year, unlike the last few, with D.J. White really asserting himself as of late and the platoon of Lance Stemler, Deandre Thomas and Mike White being servicable, this shouldn't pose as much of a problem as year's past.
The bottom line: Iowa is not very good. This is perhaps a perfect opponent for IU to start its Big Ten campaign against on the road. With a win, it will give the Hoosiers confidence that they can actually win on the road this year in conference, something they struggled with mightily last year.
Filed to: Big 10 Preview, Iowa Hawkeyes, Kurt Looby, Seth Gorney, Steve Alford, Todd Lickliter, Tony Freeman