ITH Super Happy Fun Time Big Ten Preview: Wolverines of Michigan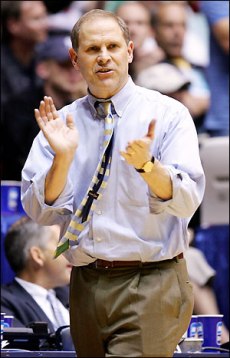 The Hoosiers are finishing up their cupcakes and the New Year is nearly upon us, which can mean only one thing: It's Big Ten Preview Time! Here's a look at the teams that will challenge the Hoosiers for the conference crown … or fall under the weighty boot of crimson dominance. Probably the latter. Today: Michigan.
There are two things you need to know about Michigan in 2007-08. The first: They have a new coach in John Beilein, a system-oriented coach known for maximizing his overmatched teams' potential. The second: His new team has very little potential to maximize.
The Wolverines are almost entirely new this season. Not only do they have a new coach, but their starting five is 80 percent new; only Ron Coleman returns. That means no Courtney Sims, no Lester Abram, no Dion Harris, and none of Brent Petway's occasionally brilliant highlights. That also means no Tommy Amaker, whose inability to turn last year's senior-laden lineup into anything better than a marginal bubble team sent him packing to Harvard before he had the chance to coach this year's rebuilding effort.
Unfortunately for Michigan fans, this year holds even less promise. Michigan's pre-conference schedule hasn't been the easiest (in other words, it's no Hoosier schedule), but the Wolverines have hobbled to a discouraging 4-7. That includes understandable losses to Georgetown, Duke, and Butler… but it also includes tough drops to Western Kentucky, to Central Michigan and — perhaps worse of all — to Amaker's Harvard squad. Is Amaker suddenly the talent-maximizer? What happened to Beilein's scheme?
Hint: nothing, really. The Wolverines are playing just as slow as Beilein's teams always have. Problem is, they haven't yet made a shot. With only 63 or so possessions in 40 minutes, shooting is imperative, and a 49.6% effective field goal percentage will get you nowhere. Or, it will get you to 4-7 before conference play even starts.
The Bottom Line: As it is with everyone we've previewed so far — recurring theme alert! — the Wolverines are unlikely to be good in Beilein's first season. This is a young team with a new coach, and if Michigan's shots start falling they could be a middle-of-the-road Big Ten team. But Beilein won't be judged by his first year in Ann Arbor, nor should he be. It's what he does this year for the program's long-term health that will matter most.
Read the Rest of our Big Ten Preview:
— Northwestern
— Iowa
Filed to: Big 10 Preview, John Beilein, Michigan Wolverines, Tommy Amaker