ITH Super Happy Fun Time Big Ten Preview: Boilermakers of Purdue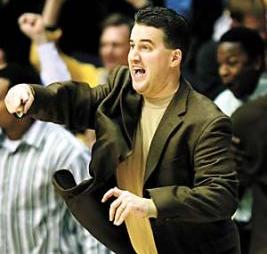 The Hoosiers are finishing up their cupcakes and the New Year is nearly upon us, which can mean only one thing: It's Big Ten Preview Time! Here's a look at the teams that will challenge the Hoosiers for the conference crown … or fall under the weighty boot of crimson dominance. Probably the latter. Today: Purdue.
There a couple of things you need to know about the 2007-2008 version of the Purdue Boilermakers. First, they've got an outstanding crop of home grown freshmen. Second, they've shown the capability of knocking off a respectable team. They beat Louisville on a neutral court and lost a close game at Clemson. Third, they've done what young teams do in college hoops: lose games they should have won. For example, they lost at home to Wofford and to Iowa State on a neutral court. And one final thing, Matt Painter has the best hair of any coach in the league.
So what should we expect out of our friends in West Lafayette? A young, inconsistent team that will improve throughout the season.
Purdue's top six players are freshmen (Scott Martin, Robbie Hummel, E'Twaun Moore and JaJuan Johnson) or sophomores (Keaton Grant and Chris Kramer). Out of that group, the most impressive contributor at this early juncture of the season has been Martin, a Valpo product. He's a crafty lefty who looks to create his own shot. He's still learning to adjust to the physical play at the collegiate level, but when it's all said and done, he'll be an All-Big Ten performer.
Grant is a solid second option that can hit the three and can also defend. Kramer is a bit of a head case at times, but he is also a hard nosed player that takes pride in guarding the opposing team's best player as well as diving after loose balls. Hummel, Martin's high school teammate at Valpo, is an excellent free throw shooter and passer. Moore, who you might remember helped knock off Eric Gordon for the Indiana state title, has struggled with his shot early in the season but will definitely improve. And finally, Johnson is by default Purdue's best shot blocker and the closest thing they have to an inside presence.

The bottom line: By the time March arrives, I would expect Painter and staff to have this team knocking on the door of an NCAA birth. The Boilermakers should take care of business at home in conference play and if they can put together an 11-7 mark in the Big Ten, 20 wins should be enough to provide a legitimate chance at the Big Dance.
Read the rest of our Big Ten Preview:
Filed to: Chris Kramer, ETwaun Moore, JaJuan Johnson, Keaton Grant, Matt Painter, Robbie Hummel, Scott Martin