ITH Super Happy Fun Time Big Ten Preview: Buckeyes of Ohio State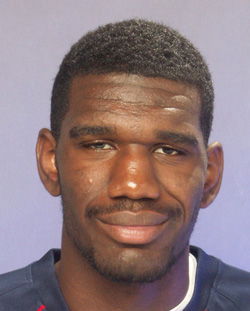 The Hoosiers are finishing up their cupcakes and the New Year is nearly upon us, which can mean only one thing: It's Big Ten Preview Time! Here's a look at the teams that will challenge the Hoosiers for the conference crown … or fall under the weighty boot of crimson dominance. Probably the latter. Today: THE Ohio State University.
See that handsome man to your right? That's Greg Oden. He went to Ohio State last year and was real good. Now he's in the NBA. So are fellow stellar freshman of a year ago, Daequan Cook and Mike Conley Jr. (Can you imagine if these guys stuck around this year? Next year? The year after? Wow.) Obviously, when you lose your starting point guard and an incredible presence down low in Oden, your team is going to take a big hit.
And that's exactly where Ohio State is right now. The Buckeyes stand at 8-3 on the season — good, but not great. They had an embarrassing exhibition loss to Findlay back at the beginning of November and haven't trumped anyone of note, save for a win against Florida at home last weekend. But, this is not to say Ohio State is devoid of weapons. Freshman Kosta Koufas is the big man up front, averaging just a pinch under 16 points a game. Jamar Butler and David Lighty are still doing their thing, too. Also, watch out for freshman Scrappy McScrapperson Jon Diebler. Take a look at his bio. Dude put up some insane numbers as a high schooler in Ohio. He scored 77 points in a game once and holds the Ohio record for most career points. (Take that LeBron James.)
One change the Buckeyes seemed to have implemented this year is their tempo. Last season they were a run-and-gun threat. This year, Ohio State is notching a paltry 65.3 possessions per 40 minutes and have scored under 50 points on three separate occasions this season. (One of those coming in an embarrassing 65-45 loss at Butler.)
The bottom line: This team is certainly not the Ohio State of last year. But in a weak Big Ten, the Buckeyes have perhaps the most legit shot besides Wisconsin at giving IU and MSU a run for the money at the top of the conference. The Hoosiers travel to Columbus Feb. 10 for a Sunday CBS game. That one certainly isn't going to be easy.
Read the rest of our Big Ten Preview:
Filed to: Daequan Cook, David Lighty, Greg Oden, Jamar Butler, Jon Diebler, Kosta Koufos, LeBron James, Mike Conley Jr.