ITH Super Happy Fun Time Big Ten Preview: Golden Gophers of Minnesota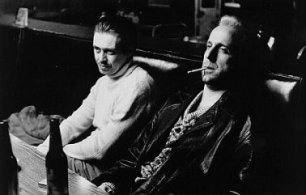 The Hoosiers are finishing up their cupcakes and the New Year is nearly upon us, which can mean only one thing: It's Big Ten Preview Time! Here's a look at the teams that will challenge the Hoosiers for the conference crown … or fall under the weighty boot of crimson dominance. Probably the latter. Today: Minnesota.
One thing the Minnesota Gophers will always engender for this humble author, whether right or wrong: gratuitous Fargo references. It's less a pastime and more a disease, really, and therefore, in the interest of giving the Gophers their fair season preview like everyone else, let's just get a silly Fargo quote out there to cleanse the palette:
Jerry Lundegaard: Now we had a deal. A deal's a deal.
Carl Showalter: Is it, Jerry? Why don't you ask those three poor souls in Brainerd if a deal's a deal. Go ahead, ask them!
Jerry Lundegaard: The heck do ya mean?
Carl Showalter: [mimicking] "The heckya mean?"
Now that that's out of the way, we can go about previewing the sneaky Minnesota Gophers. If you haven't been paying much attention to the fellers up north there, you might have missed this: The Gophers are 8-1 this year. What you also might have missed is that not one of the wins has come against a team in the Top 50 of the RPI, and that in six of those wins Minnesota toppled weak over-100 RPI squads. So while Tubby Smith's new squad will have almost 10 wins before conference play begins, the wins have come against teams — like our own Hoosiers' opponents — that make it pretty difficult to learn anything of value.
What we do know, from last year and beyond, is that Dan Coleman is the Gophers' best player. Coleman's a truly tough defender and rebounder on a team lacking in both, and has lead the Gophers in points thus far this year while averaging just under two blocks a game. Coleman's effective field goal percentage isn't great — he's only 18.8 percent from the three-point line this year — but he makes up for his outside shooting woes with tough interior play. Coleman did all of these things last year, and he is doing them again; he's a safe bet to continue his play well through the Big Ten season.
But will the Gophers' compliment him? The Gophers' other two senior leaders — guard Lawrence McKenzie and center Spencer Tollackson — are limited players in very defined roles (point guard and slow, white, Minnesotan center, respectively). Still, that trio has proven capable thus far in the season, and aided by freshmen Al Nolen and Blake Hoffarber — the latter of whom is more famous for this shot than for his current status on the Gophers — Tubby Smith's new team seems a capable unit that could fare well in what looks like a pretty awful conference.
The Bottom Line: Unlike a few of the other new coaches in the conference, Tubby Smith has some semblance of veteran talent on his squad. If Dan Coleman is Dan Coleman — and the rest of the team remembers that a deal's a deal and keeps their end of it — the Minnesota Gophers could fit nicely into the top-middle of 2007-08's incredibly ugly Big Ten. In the meantime, Tubby can kick back, relax, and enjoy some of that beautiful Minnesota powdery white, knowing the powder blue knuckleheads to our south will finally leave him alone. Minnesotans are just more friendly, don'tcha know.
Read the rest of our Big Ten Preview:
Filed to: Minnesota Golden Gophers, Tubby Smith