Derrick Rose Archive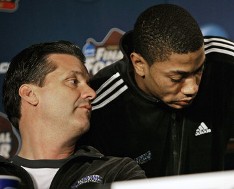 The story of the day Thursday in college basketball was the NCAA's announcement that the run to the national championship for the 2007-2008 Memphis Tigers is now wiped from the record books.
That Memphis club, which won 38 games before falling to Kansas 75-68 in the title game, was spearheaded by freshman point guard Derrick Rose. And after a lengthy investigation, the NCAA ruled that something just didn't smell right when Rose took the SAT on May 5, 2007.
After failing to achieve a qualifying score on the ACT each of the three times he took the test in Chicago, someone, presumably not Rose, achieved the SAT scores needed on that early day in May.
Only this time the test was taken in Detroit, which also happens to be the home of William Wesley. You might know Wesley better as World Wide Wes, a confidant of Calipari. You do the math.
Calipari will do his usual song and dance when pressed to disclose whether or not he knew of possible indiscretions with Rose's test score: Deny, deny and deny some more. It's all in the past, right? It's the same tune currently being belted in Lexington by fans who are desperate for a winner after Billy Gillispie flamed out last spring in the NIT.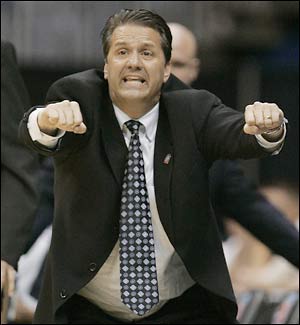 Kelvin is out the door and Dan is not our man, so that can only mean one thing: It's coaching search time! Here's a look at the candidates that could land in Bloomington. We'll give you the pros, the cons and the bottom line. This afternoon: Memphis's John Calipari.
Pros: John Calipari is a proven, lifetime winner at the collegiate level. His all-time record is 409-135, and while that number is inflated by the easy 20-ish wins Memphis picks up in Conference USA every year, the fact that Memphis is in a position to cruise through their conference so easily is solely thanks to Calipari's program-building. Memphis doesn't just run through C-USA — they are a perennial national contender, because Calipari might be the best recruiter in the country.
Once Calipari assembles his talent, his Memphis Attack offense (derived from Vance Walberg's dribble-drive motion offense) is one of the most exacting, difficult offensive styles in the country. It forces teams to isolate each player defensively and dares them to stop Chris Douglas-Roberts or Derrick Rose from getting to the hole. The notion that players like that might one day be running Cal's DDM offense in Assembly Hall is enough to make an uptempo hoops fan's mouth water. (Hint: My mouth is watering.)
Cons: It'd be disingenuous to say Calipari's near-legendary recruitment process always seems above-board. At the very least, he's an admitted and open associate of William Wesley, and while that's not a violation — Wesley's a "friend of the program," surely no different from many IU boosters — Wesley also happens to have a strange, iconic relationship with young talent. The upshot of this is that a Calipari IU program would be stocked with the best talent in the country. The downside is a nuclear scenario of someday finding out the creepy ways that talent got there.
Bottom Line: Calipari might be interested in the IU job, and the Hoosiers should give him at least a cursory look, but at the end of the day IU's squeamishness about Calipari's recruiting undertones will probably prevent them from getting too serious.
Reminder: Registration now required to post comments. Click here to sign up for free. You'll get access to avatars, the ability to rate comments and gain clout points based on the rating of your comments by other users.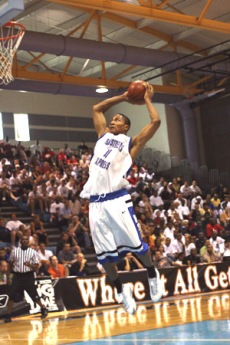 Settle an argument, ITH-ers.
Your loyal correspondent PostmanE, ever fascinated with the joy of potential, has a half-cracked theory floating around in his brain. Big A has already politely disagreed with me, but it's a good sports debate, so let's hash it out.
See, I think — thanks to the confluence of a weak All-American class and an incredibly deep crop of freshmen — that, perhaps for the first time in history, a team composed entirely of freshmen would beat the preseason All-American team. In fact, I don't even think it would be close.
Let's go to the tape:
First Team Preseason All-Americans:
C Roy Hibbert
F Tyler Hansbrough
G Chris Lofton
G Drew Neitzel
G Darren Collison
Honorary, generous sixth man addition: F Brandon Rush
PostmanE's Mighty Fightin' Freshmen:
C Kevin Love
F Michael Beasley
G/F O.J. Mayo
G Eric Gordon
G Derrick Rose
Honorary spirit-based sixth man addition: G Adam Ahlfeld
I included Rush simply because the preaseason All-American team doesn't really do a good enough job, in my opinion, of accounting for position, and if you had those six players and needed to field a starting five, you'd put Rush at forward with nary a blink. (I included Ahlfeld because you can't put a price on overexuberance.)
But there you have it. Assuming all things are equal — that both teams are organized and coached well* — I take that group of freshmen in a heartbeat. The one mismatch would be Hansbrough on Beasley/Love; I would make Love bang with Hansbrough and have Beasley try subvert Hibbert's size with athleticism, but that's still a tough go. The big mismatch, the one that goes in the freshmen's favor, is the guard play. I love Collison and Neitzel and especially Lofton … but any Rose/Gordon backcourt is not one I'll pick against any day. Too athletic, too strong, too naturally talented and refined.
So, like I asked, settle a fun argument, ITH-ers. Who do you think wins this one, and why?
*Please, no arguments saying the freshmen would play like the McDonald's game. Assume that they care, and that they're coached by some strict taskmaster. Coach K, or something.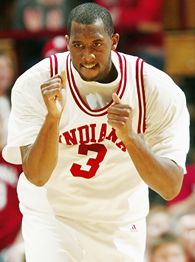 While making my rounds through Borders last night, I noticed a third college hoops publication on the shelves and it was that of CBS Sports. For the most part it looked like a solid magazine, sans the presence of Gary Parrish.
I took a quick flip through and here are some of the notable things from the IU standpoint:
They've got IU ranked 11th in the country, two slots behind their Big Ten favorite Michigan State.
Eric Gordon is listed as the No. 3 newcomer behind Derrick Rose of Memphis and Michael Beasley of Kansas State.
D.J. White and Gordon are both listed as first team All-Big Ten. They've selected Drew Neitzel as the conference player of the year.
Gordon is the newcomer of the year in the Big Ten.
White is listed as a third team All-American.
Gordon is listed as a second team All-American.
Obviously, the word is out on EJ and everyone already knows, yes he is THAT good. They've also given D.J. a very solid billing and rightfully so. He'll be the captain and the key to taking us to San Antonio. As far as picking Michigan State to win the conference, I think you can make an argument for IU or the Spartans. The conference crown will come down to which team can win more frequently on the road during league play.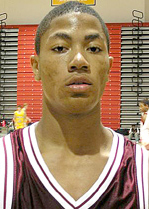 If you're a fan of basketball at any level, you owe it to yourself to check out a recent article by Alex French in GQ about William Wesley. Wesley, known as Worldwide Wes, is one of the most powerful men in the sport of basketball. He's also one of the most mysterious.
That's what makes this story so fascinating. Nobody really knows what Wesley does, but everybody in basketball knows him.
He's not an agent. He doesn't work for the NBA. He doesn't work for a shoe company. He doesn't work for a university. Who exactly does he work for?
I won't go into more specifics on the article, but just to give you an idea of Wesley's involvement, here is a brief list of the names mentioned in the article: LeBron James, Leandro Barbosa, Allen Iverson, Dajuan Wagner, Tyreke Evans and Derrick Rose.
And to give you a sense of the power and influence this man possesses, he's speculated as one of the major reasons LeBron James left his former agent Aaron Goodwin for Leon Rose. Leon Rose, by the way, is a good friend of Worldwide Wes.
As far as the IU connection to this article, check out the following passage:
This afternoon's main attraction is one Derrick Rose, a six-foot-three-inch blisteringly fast point guard from Chicago's Simeon Career Academy. Journalists and insiders who have followed Rose's career also noted Wes's presence on the sideline of Derrick's AAU games last summer. Rose's college choices came down to Memphis, Illinois, and Indiana. One journalist told me, "When I saw the list, I knew Derrick was going to Memphis." The prediction was correct.
So what role did Wesley have in Derrick Rose choosing Memphis over Indiana?
We'll probably never know, but Wes is pals with Wagner, who played at Memphis, as well as John Calipari. Go ahead and use your imagination.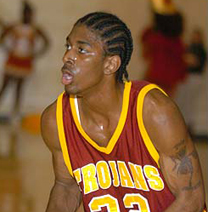 While we usually don't put much stock into lists or pure speculation, this particular instance caught our eye. Mike DeCourcy, who covers college hoops (and does it quite well) for the Sporting News, listed his take on five potential guys who could go No. 1 in next year's draft. Our boy, Eric Gordon, wasn't among those listed, but we're fine with that.
What we're not fine with is who was listed at No. 1:
1. O.J. Mayo, PG, Southern Cal. He's been famous so long that he faces a critical backlash, but Mayo is an overwhelming offensive player.
The first problem here is Mayo being listed as a point guard. If being a "me-first" guy makes you a point guard, then Mayo fits the bill.
The second problem here, and it's been a problem for quite sometime, is that the hype with Mayo outweighs the substance. This kid has been touted as the next big thing since he first arrived on the scene as a 7th grader at Rose Hill Christian.
He's no longer the next big thing. He's certainly good, but others have gotten better.
If watching the best of the best in this year's McDonald's All-American game was any indication, I'd put Derrick Rose, Gordon and Jerryd Bayless all ahead of O.J. as better basketball players.
More importantly to us, but probably not to NBA scouts and executives, you won't find Rose, Gordon or Bayless involved in off the court problems.
So, what do you think about Mayo? Is he worth all of the hype? Or is he just another out of control athlete headed for more trouble?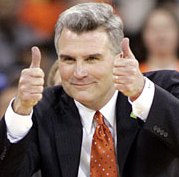 It's hard to imagine a scenario where an IU fan would actually be happy about a five-star recruit choosing Kentucky as his college destination.
Yesterday, when DeAndre Liggins from Washington High joined the long list of Chicagoland kids who have spurned Illini for greener pastures, it was hard to not be giddy with the continuing demise of the Illinois program and particularly, head coach Bruce Weber.
The list of recent prospects who have spurned the Illini, which continues to grow each year, is as follows: Sherron Collins, Julian Wright, Derrick Rose, Evan Turner, Jon Scheyer and Shaun Livingston.
Add this list to the failure to keep Eric Gordon in the fold and what do you get? A coach on the hot seat.
Might be time to start updating your resume, Bruce.