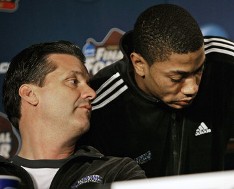 The story of the day Thursday in college basketball was the NCAA's announcement that the run to the national championship for the 2007-2008 Memphis Tigers is now wiped from the record books.
That Memphis club, which won 38 games before falling to Kansas 75-68 in the title game, was spearheaded by freshman point guard Derrick Rose. And after a lengthy investigation, the NCAA ruled that something just didn't smell right when Rose took the SAT on May 5, 2007.
After failing to achieve a qualifying score on the ACT each of the three times he took the test in Chicago, someone, presumably not Rose, achieved the SAT scores needed on that early day in May.
Only this time the test was taken in Detroit, which also happens to be the home of William Wesley. You might know Wesley better as World Wide Wes, a confidant of Calipari. You do the math.
Calipari will do his usual song and dance when pressed to disclose whether or not he knew of possible indiscretions with Rose's test score: Deny, deny and deny some more. It's all in the past, right? It's the same tune currently being belted in Lexington by fans who are desperate for a winner after Billy Gillispie flamed out last spring in the NIT.