ITH Super Happy Fun Time Coaching Search: John Calipari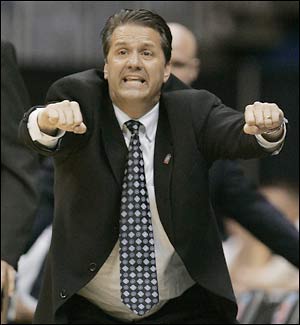 Kelvin is out the door and Dan is not our man, so that can only mean one thing: It's coaching search time! Here's a look at the candidates that could land in Bloomington. We'll give you the pros, the cons and the bottom line. This afternoon: Memphis's John Calipari.
Pros: John Calipari is a proven, lifetime winner at the collegiate level. His all-time record is 409-135, and while that number is inflated by the easy 20-ish wins Memphis picks up in Conference USA every year, the fact that Memphis is in a position to cruise through their conference so easily is solely thanks to Calipari's program-building. Memphis doesn't just run through C-USA — they are a perennial national contender, because Calipari might be the best recruiter in the country.
Once Calipari assembles his talent, his Memphis Attack offense (derived from Vance Walberg's dribble-drive motion offense) is one of the most exacting, difficult offensive styles in the country. It forces teams to isolate each player defensively and dares them to stop Chris Douglas-Roberts or Derrick Rose from getting to the hole. The notion that players like that might one day be running Cal's DDM offense in Assembly Hall is enough to make an uptempo hoops fan's mouth water. (Hint: My mouth is watering.)
Cons: It'd be disingenuous to say Calipari's near-legendary recruitment process always seems above-board. At the very least, he's an admitted and open associate of William Wesley, and while that's not a violation — Wesley's a "friend of the program," surely no different from many IU boosters — Wesley also happens to have a strange, iconic relationship with young talent. The upshot of this is that a Calipari IU program would be stocked with the best talent in the country. The downside is a nuclear scenario of someday finding out the creepy ways that talent got there.
Bottom Line: Calipari might be interested in the IU job, and the Hoosiers should give him at least a cursory look, but at the end of the day IU's squeamishness about Calipari's recruiting undertones will probably prevent them from getting too serious.
Reminder: Registration now required to post comments. Click here to sign up for free. You'll get access to avatars, the ability to rate comments and gain clout points based on the rating of your comments by other users.
Filed to: Derrick Rose, John Calipari, Memphis Tigers