Mike DeCourcy's top 5 for next year's draft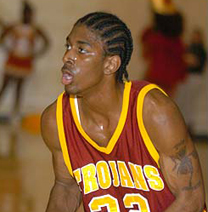 While we usually don't put much stock into lists or pure speculation, this particular instance caught our eye. Mike DeCourcy, who covers college hoops (and does it quite well) for the Sporting News, listed his take on five potential guys who could go No. 1 in next year's draft. Our boy, Eric Gordon, wasn't among those listed, but we're fine with that.
What we're not fine with is who was listed at No. 1:
1. O.J. Mayo, PG, Southern Cal. He's been famous so long that he faces a critical backlash, but Mayo is an overwhelming offensive player.
The first problem here is Mayo being listed as a point guard. If being a "me-first" guy makes you a point guard, then Mayo fits the bill.
The second problem here, and it's been a problem for quite sometime, is that the hype with Mayo outweighs the substance. This kid has been touted as the next big thing since he first arrived on the scene as a 7th grader at Rose Hill Christian.
He's no longer the next big thing. He's certainly good, but others have gotten better.
If watching the best of the best in this year's McDonald's All-American game was any indication, I'd put Derrick Rose, Gordon and Jerryd Bayless all ahead of O.J. as better basketball players.
More importantly to us, but probably not to NBA scouts and executives, you won't find Rose, Gordon or Bayless involved in off the court problems.
So, what do you think about Mayo? Is he worth all of the hype? Or is he just another out of control athlete headed for more trouble?
Filed to: Derrick Rose, Eric Gordon, O.J. Mayo