Bruce Almighty loses another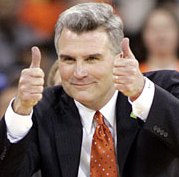 It's hard to imagine a scenario where an IU fan would actually be happy about a five-star recruit choosing Kentucky as his college destination.
Yesterday, when DeAndre Liggins from Washington High joined the long list of Chicagoland kids who have spurned Illini for greener pastures, it was hard to not be giddy with the continuing demise of the Illinois program and particularly, head coach Bruce Weber.
The list of recent prospects who have spurned the Illini, which continues to grow each year, is as follows: Sherron Collins, Julian Wright, Derrick Rose, Evan Turner, Jon Scheyer and Shaun Livingston.
Add this list to the failure to keep Eric Gordon in the fold and what do you get? A coach on the hot seat.
Might be time to start updating your resume, Bruce.
Filed to: Bruce Weber, Derrick Rose, Eric Gordon