Bruce Weber's recruiting secrets revealed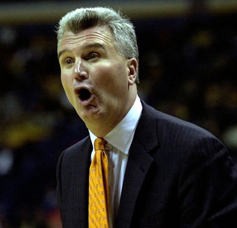 Before I get into the topic at hand, let me first mention that Eisenhower (IL) point guard Lewis Jackson has narrowed his list of schools to five and Indiana is one of them. The other schools still under consideration by the Indiana Elite guard are as follows: Purdue, Tennessee, Bradley and Dayton.
Jackson had been considering Illinois, but he's dropped them from consideration. This is nothing new for the Illini as coach Bruce Weber and staff have made a habit of missing out on premium talent from the state of Illinois.
In an article published Saturday in the Herald & Review, Jackson talked about his reasons for eliminating Illinois and that's where this story gets interesting.
"They said, 'You have to tell us you want to come here,' " Jackson said. "They said they wanted me to come there, but they weren't going to recruit me because then it looks bad if I don't go there. They told (Washington High School guard) Matt Roth and a couple of other guys the same thing. They all say they wish Illinois had recruited them harder. I respect Coach Weber and Coach (Jay) Price, and I like them a lot, but there was no love like at other schools."
So this is what it has come to for good ol' Bruce. He's missed out on so many players in recent years, he's now got a new method for his recruiting madness.
Rather than putting on the full-court press to get a commitment, he's now telling kids they have to tell him up front they want to come to Illinois. This is obviously a tactic to save face publicly when a kid decides later on in the recruitment that he is no longer interested in Illinois.
Sounds genius to me.
Filed to: Bruce Weber, Lewis Jackson, Matt Roth