Tuesday roundup: Illini lose two more, basketball triangle, Sampson's recruiting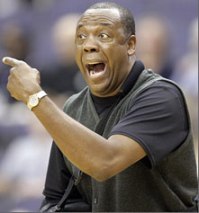 It's a slow time of the year for sports news and it's even slower on the basketball front. However, that doesn't mean you should have to go without your daily fix.
Alas, I've scoured the Web and have come away with a few items of interest:
– Two standouts from the Chicagoland area, Michael Dunigan and Matthew Humphrey, have spurned Illinois for greener pastures out west with coach Ernie Kent and the Oregon Ducks. Dunigan was an IU target with an offer, but the Hoosiers were never really a serious contender for his services. The important thing here is that Bruce Weber continues to prove that he can't bring talent to Urbana-Champaign. Check out this quote from Humphrey on Illinois:
"They waited too long to show me how much they were interested," Humphrey said. "Other schools like Oregon didn't. And really, [Illinois] had first dibs. My mom and my father went there."
Ouch. Not good news for Bruce and the Illini Krush. For some reason, I'm not feeling any sympathy.
– John Clay of the Lexington Herald Leader had a nice piece concerning the Kentuckiana triangle of schools and their return to prominence. For those of you not familiar with the term "Kentuckiana triangle", he's referring to IU, Louisville and Kentucky. Of course I would never advocate combining the great state of Indiana with Kentucky, but hey, to each his own.
– Finally, there's a column in the Ft. Wayne News-Sentinel by Pete DiPrimio discussing Kelvin Sampson's recruiting and his restoration of the IU program. There's some Devin Ebanks, Bud Mackey and Deshaun Thomas name-dropping included, so it's worth a gander.
Filed to: Bruce Weber, Ernie Kent, Matthew Humphrey, Michael Dunigan