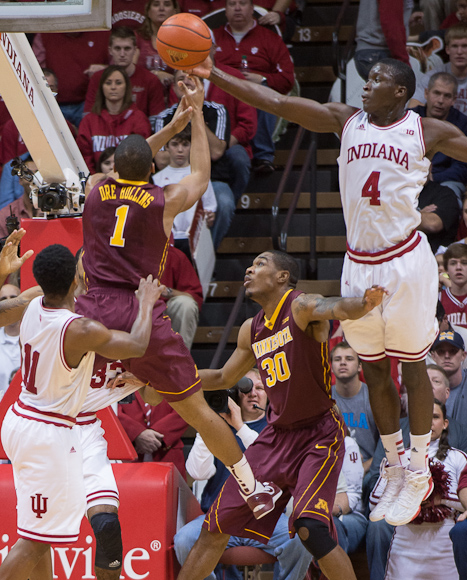 Welcome to "That's A Wrap," our recap of the 2012-2013 Indiana Hoosiers. Today, the final installment: Indiana's defense.
Final stats (36 games): 62.1 ppg, 43.2 FG %, 44.0 eFG %, 30.4 3P FG%, 27.0 % FTR.
As the 2011-12 college hoops season wrapped and many national pundits ranked the Hoosiers No. 1 heading into this past season — a ranking that eventually carried over to the official AP preseason Top 25 — there was one black mark on Indiana's resumé: its defense.
"Indiana may well be the proper pick as the best team in the land, but I think if you locked people in a room in late March and made each individual figure it out on his or her own, it wouldn't have been nearly as obvious that a team with a suspect defense last season should be the best team in the land this season, and at least a few people would have struggled to put them in the top five," wrote Stats Lord Ken Pomeroy in late October.
ESPN's Blog Star Eamonn Brennan on the same day: "As the Hoosiers themselves will readily admit, they were not a good defensive team last season. It is rare for a team with a defense so mediocre — they finished ranked No. 64 in adjusted defensive efficiency — to seriously contend for a national title the next season."
All true and fair. But Indiana quickly shed such a reputation once the ball tipped on the season. It would finish the year No. 13 in adjusted defensive efficiency and show tremendous improvement across the board. The biggest change? Its communication and commitment to team defense. They understood when to switch, when to rotate, when to help and when to stay home. They held each other accountable. They realized good defense could turn into a quick transition bucket, that a turnover or long rebound often meant a dunk or 3-pointer on the other end.
The numbers bear it out. Where Indiana in seasons past struggled to defend the 3-point line — remember games like this or this or this? — they held opponents to a 30.4 percent mark from distance in 2012-2013, 30th best in the nation. An opponent 2-point percentage mark of 43.2 (No. 32) and eFG percentage of 44.0 (No. 15) also had them among the top teams in the nation.