Hoosiers won ugly, and now they're more dangerous than ever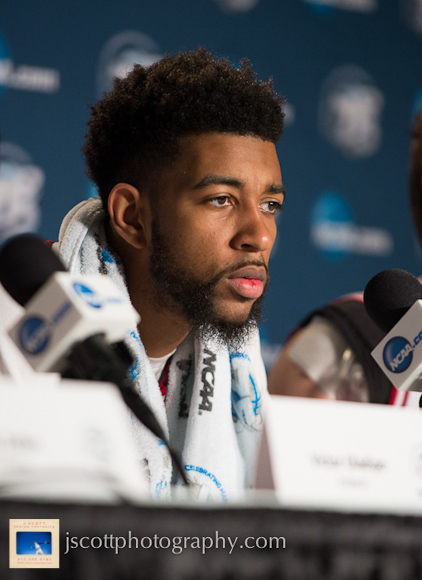 DAYTON, Ohio — This was the type of game Indiana rarely finds a way to win. The pace slow, the play physical, the score low, the game ugly.
We've seen it too many times before. Butler. Wisconsin. Minnesota. Wisconsin again.
Temple gave the top-seeded Hoosiers everything they could handle on Sunday afternoon in Dayton. They had them on the ropes, had them frazzled. Their dream season was quickly slipping away.
But this time, Indiana found a way — an ugly, low-scoring and physical one — and the Hoosiers are moving on. They won a game in a way they never can. Now, the Hoosiers are more dangerous than ever. Now, they have won in every imaginable way.
Indiana 58, Temple 52.
"It was just a matter of time, the way our guys approached it, that things would break for them," said Indiana coach Tom Crean. "If we just continued to defend, if we continued to get good shots and good ball movement and get the ball inside out on offense … That's exactly what happened."
What made this one different? Well, it's really quite simple: Leadership. This team's seniors have been through it all. They've lost too many times to Wisconsin and Wisconsin-like teams to let it end their collegiate careers.
Jordan Hulls, who took a brutal hit to his shoulder in the first half only to come back and hit big shots later, made sure his teammates never quit. He took control in the team's huddles during timeouts.
"He said, 'We were down by five with 52 seconds to go at Michigan,'" associate head coach Tim Buckley said of Hulls. "He said that with two minutes to go in the game."
"Jordan kept saying, 'We're not done, we're not done,'" Yogi Ferrell said.
Hulls' words were important, but his actions were even more so. He was clearly in pain — he constantly grimaced late in the first half — but he refused to remain on the bench in the biggest game of Indiana's season. Hulls wanted to be on the floor.
"He said, 'You're gonna have to cut my legs off for me not to play in this game,'" Maurice Creek said.
Christian Watford may not be as vocal as Hulls, but his leadership was just as important. Watford's blocked shot of Antony Lee and the rebound that followed was the biggest play of Indiana's season to this point. It saved the game, it got them to D.C.
Lee thought he was all alone and figured he'd get an easy layup. Watford had other ideas.
"Christian wants to win, and his leadership showed through," Buckley said. "He may not be the most vocal guy, but he has that fire that burns inside. He had to make a winning play, and that's what he did."
"Biggest play of the year. We're moving on because of that," Hulls added.
Watford's 3-pointer to beat No. 1 Kentucky last year brought the Indiana program back into the national spotlight. And unbelievably, the play he made Sunday was even bigger.
For as much as Watford as been criticized over the years, the guy routinely steps up in the clutch. People remember Kentucky, but don't forget about the round of 32 tournament game against VCU from last year. The Hoosiers were getting beat up, and Watford led them back.
And what about Victor Oladipo? Last season, he probably would have missed the ocean if he shot a basketball from 21 feet away. Against Temple, he didn't hesitate when he caught the ball late in the game with the shot-clock winding down. He simply buried the dagger.
"I was open, and I just pretty much shot the ball," Oladipo said. "It really didn't have anything to do with the moment or the confidence to shoot it. I just caught it and shot it. I didn't think about it."
He didn't think about the fact that he has struggled from behind the 3-point line in recent games. Or that there was still time on the shot clock. Or that a make would send him home for the Sweet 16. But now, he will get to.
Indiana's dream season is alive, and despite the third-round scare, the Hoosiers are as scary as ever.
Filed to: Christian Watford, Jordan Hulls, Tom Crean, Victor Oladipo