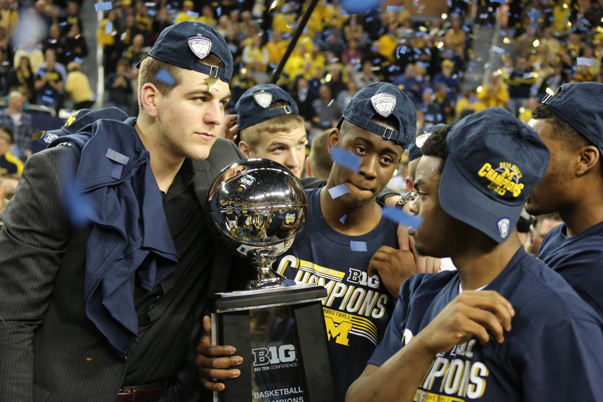 (Photo credit: Dustin Johnson, UMHoops.com)
The Inside the Hall Big Ten Power Rankings are back following the final week of league play. This week's rankings feature a look at where all 12 teams in the Big Ten stand following what was a thrilling — and unpredictable — regular season.
Without further ado, check out where each team stands after all 18 games of league play: 
12. Purdue (15-16, 5-13, PPP: 1.0, PPP Allowed: 1.08) (LAST WEEK: 11) … The Boilermakers are in free-fall mode, losing their sixth-straight game this past Sunday — at home — to Northwestern. And with that, it sealed the Boilermakers' spot alone in last place in the conference standings. After the loss to the Wildcats, coach Matt Painter said the fall of his program has been "my fault." Well, the Boilermakers now have a ways to go to get back to the top echelon of the league.
11. Northwestern (13-18, 6-12, PPP: .88, PPP Allowed: 1.03) (LAST WEEK: 12) … It took until the last game of the regular season, but the Wildcats finally got back into the win column. After losing seven straight after starting the Big Ten season with a 5-5 mark, the Wildcats went into West Lafayette on Sunday and breezed their way to a 74-65 win in which Purdue did not offer much resistance. Finally, the Wildcats got something to build on.

10. Penn State (15-16, 6-12, PPP: 1.0, PPP Allowed: 1.06) (LAST WEEK: 10) … Pat Chambers' squad might not have gotten the end to the season it had hoped for in an 18-point loss at Minnesota on Sunday, but it's been a season of progress for the Nittany Lions, who finished the regular season outside of last place for the first time since the 2010-2011 season. They do get a second chance at the Golden Gophers this Thursday in Indianapolis in the opening round of the Big Ten tournament.