Big Ten Power Rankings: January 31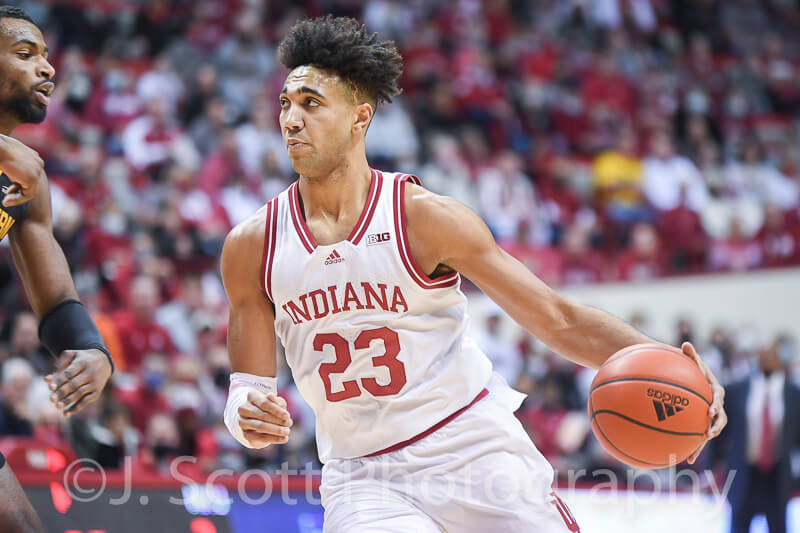 The regular season Big Ten title race still has no clear-cut frontrunner as we near the halfway point of conference play.
Purdue continues to boast the best offense in the conference and Indiana has retaken the top spot among Big Ten defenses with a pair of wins against Penn State and Maryland.
Here's how the Big Ten stacks up through Sunday's games:
14. Nebraska (0-10, .921 PPP, 1.128 PPP allowed)
Nebraska's season hit a new low when it blew an 11-point first half lead and lost 63-60 to Rutgers at Pinnacle Bank Arena. Alonzo Verge didn't play in the loss, but the Huskers wasted a 29-point performance from Bryce McGowens in a loss. Through Sunday's games, Nebraska is No. 182 in the KenPom ratings and is projected to go winless in conference play. Thus far, Fred Hoiberg has been a downgrade from Tim Miles.
13. Minnesota (2-7, 1.031 PPP, 1.136 PPP allowed)
The Golden Gophers remain competitive in most games, but have now dropped six of their last seven contests. Through 18 games, Minnesota ranks 354th in the country in offensive rebounding percentage and 314th in free throw rate. Things don't get any easier this week for first-year coach Ben Johnson as Minnesota hosts Purdue on Wednesday before traveling to Iowa on Sunday.
12. Penn State (3-6, .98 PPP, 1.068 PPP allowed)
Penn State had clawed its way to a 3-3 league record with a 66-49 win against Rutgers on Jan. 11, but had to play its next three games on the road. All were losses. Its most recent setback came by 17 points at Indiana last Wednesday in a game that was over by the first media timeout. Better days should be ahead for Penn State with Micah Shrewsberry at the helm, but this group looks destined for a Wednesday game in the Big Ten tournament.
11. Northwestern (2-8, 1.013 PPP, 1.082 PPP allowed)
Northwestern climbed all the way to No. 36 in the KenPom ratings in late December when it was 8-2, but is now 1-8 over its last nine games. Its only win in that stretch came at Michigan State on Jan. 15. Last week, Northwestern had a pair of heartbreaking losses. On Wednesday, it fell by two to Michigan in Ann Arbor. The Wildcats followed that up with a three-point loss at home to Illinois on Saturday. Northwestern is now No. 68 in KenPom, but has two winnable games this week as it hosts Rutgers and then travels to Nebraska.
10. Maryland (3-7, 1.014 PPP, 1.067 PPP allowed)
Coming off a pair of wins against Illinois and Rutgers, Maryland laid an egg on Saturday at home to Indiana. The Terps started the game on an 8-0 run before Indiana took control and dominated at the Xfinity Center. Maryland has one of the better rosters in the league talent-wise, but Danny Manning hasn't been able to get consistent play from this group on a game-to-game basis. This could be the week where Maryland completely unravels as the Terps host Michigan State before traveling to Ohio State.
9. Rutgers (6-4, .976 PPP, .991 PPP allowed)
The ceiling for Rutgers at this point is likely an NIT appearance because of all of the bad losses it took early in the season. Ron Harper Jr. is putting together a very solid season, but the Scarlet Knights continue to struggle offensively. Rutgers is last in the Big Ten in 2-point field goal percentage, 12th in turnover percentage and 13th in free throw rate.
8. Iowa (4-5, 1.064 PPP, 1.049 PPP allowed)
The Hawkeyes still have a good résumé overall and look like an NCAA tournament team, but are just 4-5 in the league. This week is very critical for Iowa as it travels to Penn State and Ohio State. Given how bad of a non-conference schedule it played, the Hawkeyes are going to need to be better than .500 in league play to make the tournament. The good news is that Iowa still has two games against Nebraska. The bad news for Fran McCaffery is that his team hasn't beaten anyone of consequence in league play other than Indiana.
7. Michigan (4-4, 1.102 PPP, 1.055 PPP allowed)
The Wolverines showed signs of life with three straight wins against Maryland, Indiana and Northwestern. That momentum came screeching to a halt on Saturday when Michigan State thumped Michigan 83-67 at the Breslin Center. Michigan has a "get-right" game this week on Tuesday at home against Nebraska before it embarks on a stretch that will define its season. Here are Michigan's next six games after the Nebraska contest: at Purdue, at Penn State, Purdue, Ohio State, at Iowa and at Wisconsin.
6. Ohio State (6-3, 1.102 PPP, 1.047 PPP allowed)
Ohio State showed terrific fight in an 81-78 loss at Purdue on Sunday, but was the victim of a Jaden Ivey buzzer-beater for the second straight season. EJ Liddell continues to fly a bit under the radar in the national player of the year conversation as Johnny Davis and Oscar Tshiebwe grab the headlines. Liddell's numbers in Big Ten play are terrific. He's making 40.5 percent of his 3s, is fifth in block percentage in the league and has the 16th best offensive rating in the league with the sixth-highest usage rate.
5. Indiana (7-4, 1.03 PPP, .966 PPP allowed)
It was a solid week for Indiana as the Hoosiers avenged an earlier loss to Penn State in convincing fashion and then went on the road and whipped Maryland. Through 11 games, Indiana has the best defense in the conference at .966 points per possession allowed. Xavier Johnson is playing his best basketball yet in an IU uniform and this team could make a huge statement when it hosts Illinois on Bloomington this Saturday.
4. Wisconsin (8-2, 1.051 PPP, 1.022 PPP allowed)
The Badgers are seventh in the conference in efficiency margin but are tied with Illinois at the top of the league standings. Wisconsin's next two road games will tell us a lot more about its viability as a contender in the conference title race. Wisconsin travels to Illinois this Wednesday and plays at Michigan State on Feb. 8. Davis, who might be the frontrunner for Big Ten player of the year, only enhanced his candidacy with 16 points and 15 rebounds in a 66-60 win against Minnesota on Sunday afternoon.
3. Purdue (7-3, 1.143 PPP, 1.038 PPP allowed)
Purdue has won three straight since being upset by Indiana at Assembly Hall on Jan. 20, but its defense continues to be head-scratching. The Boilermakers have the nation's best adjusted offensive efficiency according to KenPom, but are just 90th in adjusted defensive efficiency. Ivey continues to showcase himself as a potential top-five pick in next June's NBA draft and his latest highlight-reel play came on Sunday when his 3-pointer from the right wing with .7 seconds to play sunk Ohio State.
2. Michigan State (7-2, 1.086 PPP, .973 PPP allowed)
The Spartans have dropped two of their last four, but crushed Michigan on Saturday in East Lansing. The game that might end up haunting Michigan State was its 56-55 loss at Illinois last Tuesday. There's no shame in losing in Champaign, but the Fighting Illini were without Andre Curbelo and Kofi Cockburn. Michigan State shot a dreadful 39 percent on 2s and 21.4 percent on 3s and scored only .92 points per trip in the loss.
1. Illinois (8-2, 1.085 PPP, .97 PPP allowed)
Illinois is at the top of the league standings and has the best efficiency margin by a slight margin over Michigan State. After dropping back-to-back games to Purdue and Maryland, Illinois rebounded with wins over Michigan State and Northwestern. With Cockburn back in the lineup, Illinois has two key games this week as it hosts Wisconsin on Wednesday before traveling to Indiana on Saturday. A sweep this week would put Illinois in sole possession of first, but the remaining road schedule is brutal for Brad Underwood. After the trip to Indiana, Illinois still has to go to Purdue, Michigan State and Michigan.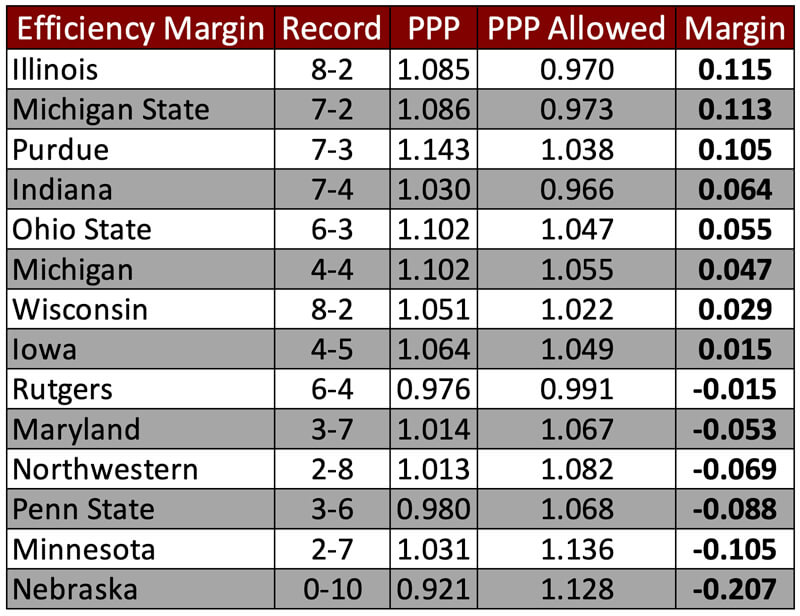 Filed to: Big Ten Power Rankings