Big Ten Power Rankings: February 14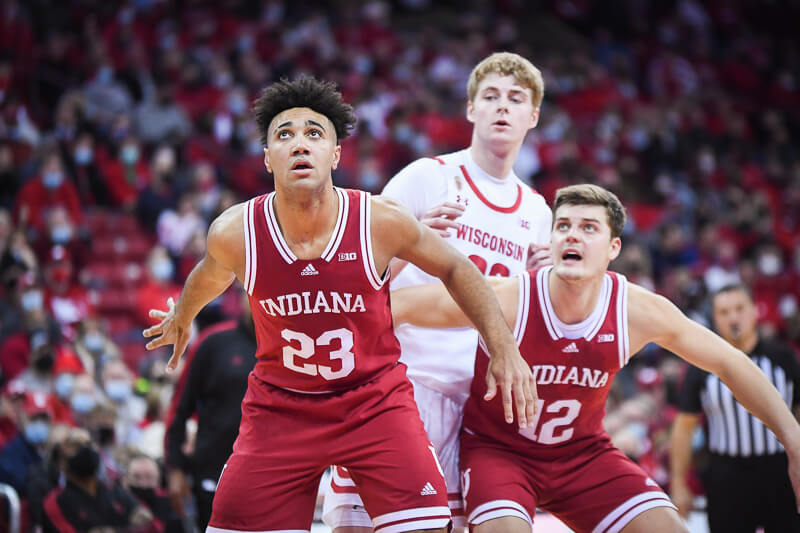 Less than three weeks remain in the regular season and Illinois has a one-game lead in the loss column at the top of the Big Ten.
The middle of the league remains a jumbled mess and every team now has a win in conference play as Nebraska beat Minnesota this past week.
Here's how the league stacks up with less than four weeks to go until selection Sunday:
14. Nebraska (1-13, .939 PPP, 1.125 PPP allowed)
The Huskers finally got their first Big Ten win last week as they knocked off Minnesota 78-65 at Pinnacle Bank Arena. There was no carryover, however, as Nebraska was throttled 98-75 at Iowa on Super Bowl Sunday. Nebraska will once again be playing on Wednesday in the Big Ten tournament and this season was a step back for Fred Hoiberg in his third season in Lincoln.
13. Minnesota (3-10, 1.025 PPP, 1.137 PPP allowed)
The Golden Gophers snapped a five-game losing streak with a 76-70 win against Penn State on Saturday in Minneapolis. This week will be another tough one for Ben Johnson and the Gophers as Minnesota plays at Ohio State on Tuesday, at Penn State on Thursday and then hosts Northwestern on Saturday. Minnesota fell outside the top 100 in the KenPom ratings for the first time since November after losing to Nebraska, but is back at No. 99 after beating the Nittany Lions.
12. Maryland (3-11, 1.023 PPP, 1.104 PPP allowed)
The Terps gave up 110 points in a home loss to Iowa on Thursday and then fought Purdue to a one-point loss in West Lafayette on Sunday afternoon. Maryland is off this week until Friday when it travels to Lincoln to take on Nebraska. Maryland is talented enough to win a few more games down the stretch, but it needs to get Eric Ayala back into the lineup. Ayala missed Sunday's game in West Lafayette with a hand injury.
11. Penn State (4-9, .987 PPP, 1.053 PPP allowed)
Penn State has dropped six of its last seven games and its offense remains one of the worst in the Big Ten. The Nittany Lions could only muster up 57 points in a home loss to Michigan on Tuesday. Penn State is 11th in the Big Ten in both 3-point and 2-point field goal percentage and is 13th in free throw rate (FTA/FGA).
10. Northwestern (5-9, 1.014 PPP, 1.036 PPP allowed)
Northwestern's three-game winning streak was snapped when it fell by seven on Sunday to Illinois at the State Farm Center. The Wildcats took advantage of an under-manned Indiana team on Tuesday in Evanston and knocked off the Hoosiers 59-51 at Welsh-Ryan Arena. Pete Nance is quietly putting together a terrific senior season. The 6-foot-10 forward is making 42 percent of his 3s and has the highest offensive rating on the Northwestern roster.
9. Indiana (7-7, .991 PPP, .983 PPP allowed)
The Hoosiers have now lost three in a row and have moved from safely in the NCAA tournament to the bubble. Indiana needed Tuesday's game at Northwestern, but five suspended players was a major setback in an eight-point loss. On Saturday, Indiana competed at Michigan State, but the Spartans were the tougher team and pulled away in the second half for a 15-point win. Tuesday's home game against Wisconsin is pivotal for the Hoosiers.
8. Michigan (7-6, 1.108 PPP, 1.062 PPP allowed)
Michigan had a productive week overall with a 2-1 record, but its sheer volume of losses (10) might be hard to overcome on selection Sunday. The Wolverines have played one of the most difficult schedules in the country, but a home loss to Minnesota stings as does a road loss to UCF in late December. Michigan has another tough week ahead with road games at Iowa and Wisconsin.
7. Iowa (7-6, 1.112 PPP, 1.044 PPP allowed)
The best thing you can say about Iowa is that it is beating the teams it should beat in Big Ten play. The Hawkeyes have seven Big Ten wins and all of them are against teams in the bottom half of the league standings. Iowa has a chance this week to pick up a pair of quality wins in league play when it hosts Michigan and Michigan State in Iowa City.
6. Rutgers (9-5, 1.028 PPP, 1.006 PPP allowed)
The Scarlet Knights, despite three bad non-conference losses, are back into the bubble conversation because of some very good wins in Big Ten play. Rutgers now holds home wins against Purdue, Michigan, Iowa, Michigan State and Ohio State. And on Saturday, the Scarlet Knights won their third road game in Big Ten play at Wisconsin. Rutgers has a chance to move itself to just one game back in the loss column of the Big Ten standings when it hosts Illinois on Wednesday.
5. Michigan State (9-4, 1.068 PPP, 1.002 PPP allowed)
Michigan State snapped its two-game losing streak with a 15-point win against Indiana on Saturday at the Breslin Center. The Spartans won despite a zero-point outing from Gabe Brown, who played only 16 minutes. At 18-6 overall and 9-4 in Big Ten play, Michigan State is nearing lock status for the NCAA tournament. The Spartans don't have a star, but have the best coach in the league and a defense that has been elite in Big Ten play.
4. Wisconsin (10-4, 1.027 PPP, 1.018 PPP allowed)
Wisconsin's Big Ten title hopes took a major blow on Saturday with a home loss to Rutgers at the Kohl Center. The Badgers have won close games all season, but couldn't get the job done defensively against the Scarlet Knights. In the 73-65 loss, Rutgers scored 1.11 points per possession and made seven of 12 3s. Wisconsin's 3-point shooting in Big Ten play has been a mess. The Badgers are last in the conference in 3-point shooting (30.8 percent).
3. Ohio State (8-4, 1.114 PPP, 1.042 PPP allowed)
The Buckeyes are firmly in the Big Ten title race despite a two-point loss at Rutgers last week. Ohio State rebounded from the Rutgers loss with an impressive 11-point win at Michigan on Saturday afternoon. While Johnny Davis, Jaden Ivey and Kofi Cockburn are the names you hear most for Big Ten player of the year, EJ Liddell might be the name that belongs at the top of the list. Liddell is averaging 20.1 points, 7.5 rebounds, 2.9 assists and 2.5 blocks in 31.7 minutes per game.
2. Purdue (11-4, 1.146 PPP, 1.061 PPP allowed)
Purdue has won seven of eight, but was blown out on Thursday at Michigan. That loss put the Boilermakers one game behind Illinois in the league standings. Purdue only has five games remaining, but three of them are on the road (Northwestern, Michigan State and Wisconsin).
1. Illinois (11-3, 1.079 PPP, .975 PPP allowed)
The Fighting Illini now control their own destiny in the Big Ten title race after Purdue's loss at Michigan on Thursday. Illinois has two stiff tests this week with road games at Rutgers and Michigan State.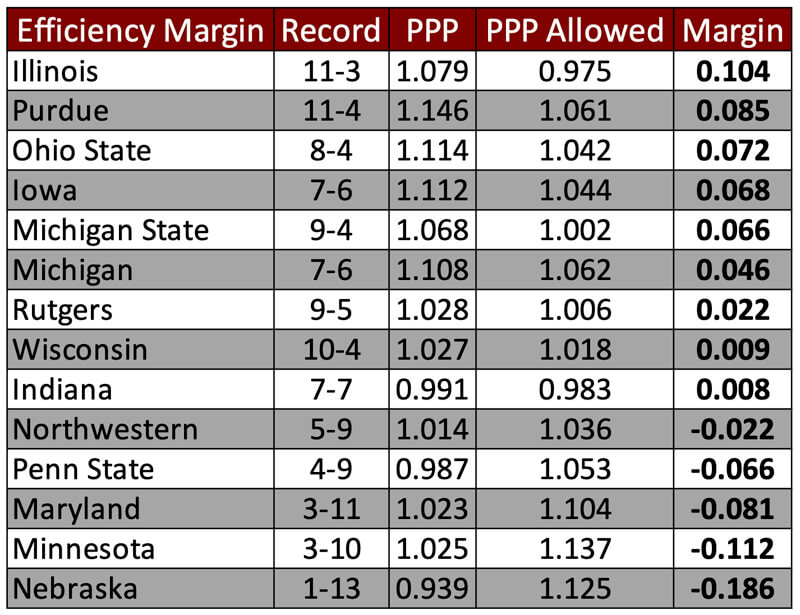 Filed to: Big Ten Power Rankings