Rumors Archive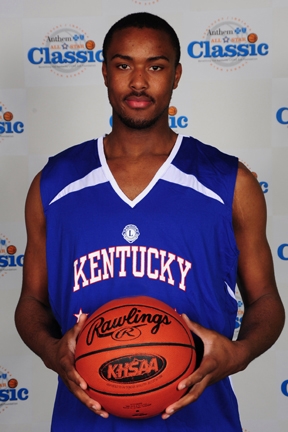 Ryan Taylor, a 6-foot-6 wing from Indianapolis who played his final prep season at Louisville's Western High School, reportedly has an offer from Indiana according to this story published by Jeff Goodman of CBS Sports.
(Update: Goodman tweeted the following moments ago: "Been told by a source that Indiana has not offered Ryan Taylor a scholarship – despite Taylor's uncle/coach saying that was the case.")
The primary focus of Goodman's report was that Taylor would be visiting Kansas this coming weekend, but the Indiana-related nugget was tossed in near the end:
Taylor, who transferred to Louisville Western High prior to this past season after three years at Lawrence North in Indianapolis, also has offers – per Paul Handley – from West Virginia, Indiana and South Carolina.
Handley, if you didn't click through to read the entire report, is Taylor's uncle and also coached him at Western this past season.
Taylor was once committed to Louisville but is still awaiting test scores to qualify to play next season. The former Lawrence North wing told Rick Bozich of The Louisville Courier-Journal in an interview last week that he would likely head to Hargrave Military Academy if he failed to qualify for 2011.
Taylor scored 17 points and grabbed seven rebounds in the Kentucky All-Stars' 105-103 loss to Indiana on Friday and had 24 points and 10 rebounds in the Kentucky All-Stars' 94-82 loss to Indiana on Saturday.
Indiana is currently at 12 scholarship players for next season. The NCAA limit is 13.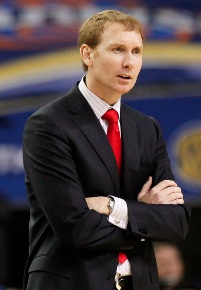 As of Sunday afternoon, the list of Division I schools that have made a coaching change has reached, by our count, 12.
The list: Arkansas, Bradley, Eastern Washington, Georgia Tech, Kennesaw State, Manhattan, Oklahoma, Providence, Texas Tech, Texas A & M-CC, Towson and Utah.
More, like Sidney Lowe at N.C. State, are likely to follow in the coming days and weeks.
And in an effort to keep you up to date on which recruits could potentially re-open the process, here's a list of the notable names that have signed with the above schools. (All ratings are from ESPN.)
– Arkansas: B.J. Young (No. 4 PG), Ky Madden (No. 10 SG), Hunter Mickelson (No. 8 PF), Aaron Ross (No. 23 SF), Devonte Abron (No. 28 PF)
– Bradley: Remy Abell (No. 67 PG)
– Georgia Tech: Julian Royal (No. 10 PF), Bobby Parks, Jr. (No. 31 SG)
– Manhattan: Davontay Grace (No. 50 PG)
– Oklahoma: Robert Goff (No. 3 Junior College PF on JucoJunction.com)
– Providence: Markus Crider (No. 42 SF), Kyan Anderson (No. 39 PG)
– Texas Tech: Terran Petteway (No. 35 SF), Jordan Tolbert (No. 41 PF)
– Utah: George Matthews (SF, 3-star, 5th year player)
Walter Offutt, a 6-3 guard from Warren Central in Indianapolis who originally signed with Ohio State and transferred to Wright State, is on the move again.
We received a tip on Monday that Offutt would leave Wright State and consider walking-on at Indiana and now The Dayton Daily News is reporting it as a possibility:
Walter Offutt, a 6-foot-3 guard who transferred to Wright State from Ohio State in the winter, will leave WSU when the current quarter ends, Offutt said today, April 21.

Offutt said he is considering walking on to the roster at Indiana or possibly joining former OSU assistant coach John Groce at Ohio University, where Groce is the head coach.
Offutt was a four-star recruit in the 2008 class, but played in just 21 games as a freshman at Ohio State and in two games last fall as a sophomore before transferring to Wright State.
He averaged 17.6 points, 4.6 rebounds, 3.4 assists and 2.1 steals as a junior at Warren Central before missing his senior season due to injury.
Offutt would likely have two years of eligibility remaining.
By now, you've likely read the New York Daily News report published this morning linking Louisville coach Rick Pitino to the New Jersey Nets coaching job. If you haven't, here are the pertinent details:
Sources close to Pitino said that the Louisville coach has reached out to Nets brass in recent days, making himself a candidate for the job now held by GM and interim coach Kiki Vandeweghe, and due to open after their woeful season is completed in April.

According to sources, Pitino had intermediaries recently contact Nets president Rod Thorn on his behalf. Thorn himself is in the final year of a contract, and is looking to get a new deal from incoming owner Mikhail Prokhorov.
Pitino, unsurprisingly, has denied any interest in the job to ESPN.com's Pat Forde:
"There's not an ounce of truth to it. I have no interest, period. I'm done with coaching professional basketball. I've put the professional ranks behind me."
So, why, you ask, is this pertinent information for this here blog? Two words: Marquis Teague.
Louisville has long been recognized as the leader to land Teague. This rumor, regardless of its validity, only aids Tom Crean and other schools in the pursuit of Teague, no? The wildcard in all of this is Kentucky, where Teague will visit Saturday for a game against Tennessee. Also still reportedly in the mix: Cincinnati, Purdue, Ohio State and Wake Forest.
So, doing my offseason Dagger due diligence, I tried to summarize today the logical arguments at the core of Indiana's response to the NCAA about the Kelvin Sampson allegations. I wrote:
Indiana's main arguments are, simply, that the "failure to monitor" charge brought against it by the NCAA can't be true. Why? because former coach Kelvin Sampson and his staff intentionally misled the school about their use of cellphones, particularly in the case of Sampson's infamous party-line maneuver. (If you'll remember, he would have assistant Rob Senderoff three-way call from a recruit into Sampson's cell phone; this was very much against the rules.)Also, according to the school, the "failure to monitor" can't be true because the University reported all of these violations itself. And lastly, Indiana is making a similar argument to Mad Men's Freddy Rumsen Sunday night — isn't the embarrassment punishment enough?
I think I've got most of it there, and if those are indeed the main arguments at hand, I've gotta say: I am pretty impressed by them. They at least make sense, right? Do I think the NCAA will immediately raise its hands in defeat, admitting IU's rhetorical genius and ceding the case, Perry Mason-style, in one fell swoop? No. But at the very least, IU's administration didn't turn in a gomer of a report. They made it clear why this was Sampson's fault. Because it was.
Anyway, thoughts? Anyone get a different read?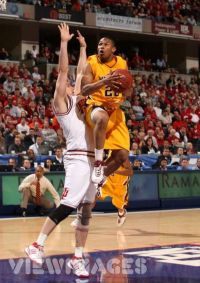 Don't let this post distract you from the real issue at hand, which is the voting we're doing just down the page. That's the democratic process at work. This is just a sarcastic post about Kyle Taber. Anyway, Jeff Goodman from Fox Sports talked with the senior about last year's team, and this year's team, and the fact that this year's team is pretty much Taber and bunch of new guys. Sentences like this are enough to make an IU fan more than a little squeamish:
Now Indiana has actually become Kyle Taber's team.Let's put this into perspective. This is a 6-foot-7 forward who averaged 1.3 points and 2.5 rebounds in a little more than 11 minutes per game a year ago.

If Crean has to rely on Taber, then the Hoosiers are in major trouble.

I'm not saying Taber has to go out and become a combination of Gordon and White, but he's the face of the program and the likely leader of a team with seven new faces."He's grown up being appreciative of what Indiana basketball is all about," Crean said, "He realizes that it's a real honor to be here and he's got a chance to provide leadership and have a senior year to be remembered for in this state for a long, long time."
There's not a whole lot else in the story — Taber refused to confirm or deny the drug-use rumors that surrounded the team last year — but the general gist is terrifying. Kyle Taber is an OK player, and a seemingly nice dude, but he is not a Division 1 centerpiece. I hate to be pessimistic, but items like this are like a slap of reality: IU is going to be really bad next year. Sigh.
Tough day, and night, for Eli Holman, and he's a released statement addressing it:
Last night and this morning I had the opportunity to apologize to Coach Crean and today I would like to extend that to everyone involved in the program for allowing my frustrations to get the best of me. I appreciate everything Indiana University and Coach Crean have done for me and I hope nothing but the best for the program in the future.
Pretty milquetoast stuff. And we still have absolutely no idea what got Eli so riled up in the first place. Thirty Five Seconds has a pretty decent hypothesis — that Crean maybe, just maybe, questioned Holman's manhood for abandoning the program in its hour of need — but since that hypothesis is untestable, best to leave it alone. Who knows, right?
Regardless, it's unfortunate Eli isn't going to get to pursue his potential here. He seems like a good kid, and would have been a lot of fun to watch. And I hate potted plants anyway.