Indiana in the mix for 2011 wing Ryan Taylor?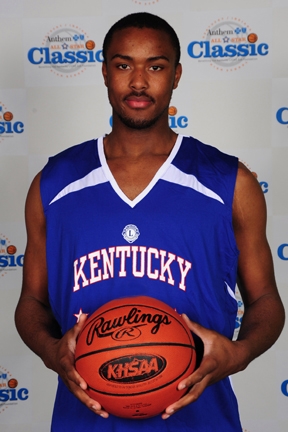 Ryan Taylor, a 6-foot-6 wing from Indianapolis who played his final prep season at Louisville's Western High School, reportedly has an offer from Indiana according to this story published by Jeff Goodman of CBS Sports.
(Update: Goodman tweeted the following moments ago: "Been told by a source that Indiana has not offered Ryan Taylor a scholarship – despite Taylor's uncle/coach saying that was the case.")
The primary focus of Goodman's report was that Taylor would be visiting Kansas this coming weekend, but the Indiana-related nugget was tossed in near the end:
Taylor, who transferred to Louisville Western High prior to this past season after three years at Lawrence North in Indianapolis, also has offers – per Paul Handley – from West Virginia, Indiana and South Carolina.
Handley, if you didn't click through to read the entire report, is Taylor's uncle and also coached him at Western this past season.
Taylor was once committed to Louisville but is still awaiting test scores to qualify to play next season. The former Lawrence North wing told Rick Bozich of The Louisville Courier-Journal in an interview last week that he would likely head to Hargrave Military Academy if he failed to qualify for 2011.
Taylor scored 17 points and grabbed seven rebounds in the Kentucky All-Stars' 105-103 loss to Indiana on Friday and had 24 points and 10 rebounds in the Kentucky All-Stars' 94-82 loss to Indiana on Saturday.
Indiana is currently at 12 scholarship players for next season. The NCAA limit is 13.
Filed to: Ryan Taylor