Coaching carousel could put recruits back in play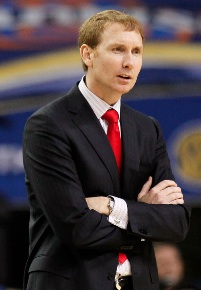 As of Sunday afternoon, the list of Division I schools that have made a coaching change has reached, by our count, 12.
The list: Arkansas, Bradley, Eastern Washington, Georgia Tech, Kennesaw State, Manhattan, Oklahoma, Providence, Texas Tech, Texas A & M-CC, Towson and Utah.
More, like Sidney Lowe at N.C. State, are likely to follow in the coming days and weeks.
And in an effort to keep you up to date on which recruits could potentially re-open the process, here's a list of the notable names that have signed with the above schools. (All ratings are from ESPN.)
– Arkansas: B.J. Young (No. 4 PG), Ky Madden (No. 10 SG), Hunter Mickelson (No. 8 PF), Aaron Ross (No. 23 SF), Devonte Abron (No. 28 PF)
– Bradley: Remy Abell (No. 67 PG)
– Georgia Tech: Julian Royal (No. 10 PF), Bobby Parks, Jr. (No. 31 SG)
– Manhattan: Davontay Grace (No. 50 PG)
– Oklahoma: Robert Goff (No. 3 Junior College PF on JucoJunction.com)
– Providence: Markus Crider (No. 42 SF), Kyan Anderson (No. 39 PG)
– Texas Tech: Terran Petteway (No. 35 SF), Jordan Tolbert (No. 41 PF)
– Utah: George Matthews (SF, 3-star, 5th year player)
Filed to: B.J. Young