6-Banner Sunday: 2024 recruiting updates, Big Ten team previews and more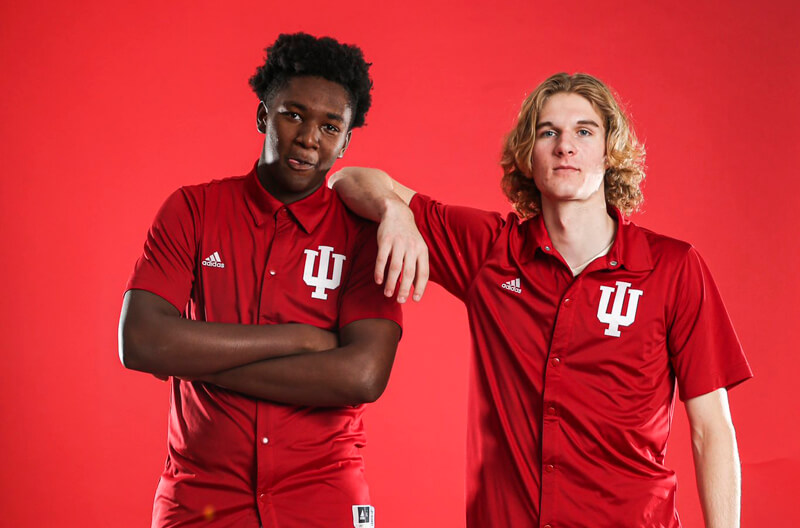 6-Banner Sunday is Inside the Hall's weekly newsletter in partnership with The Assembly Call. Almost 10,000 Indiana fans receive the newsletter each week. In addition to appearing each week on the site, you can receive 6-Banner Sunday by email. A form to subscribe via email is available at the bottom of this week's 6-Banner Sunday.
Welcome to another edition of 6-Banner Sunday, a joint production between The Assembly Call and Inside the Hall, and presented by our friends at Trueblood Real Estate, where we highlight the five most essential IU basketball stories of the past week, plus take a look at how the other IU sports programs are doing.
While the news in Hoosier Nation was less busy than last week, there was still movement of note on the recruiting front.
Inside the Hall started a series looking at every team in the Big Ten. Also, some updates on both men's and women's basketball as the season nears, including more details for Hoosier Hysteria. Finally, ITH and Assembly Call had their weekly shows and we will conclude with a look at other IU sports led by a best-ever-showing for men's golf.
• Recruiting updates
• Inside the Hall Big Ten team previews
• Hysteria start time, media day interviews
• Women's basketball updates
• Podcast on the Brink and Assembly Call Shows
• Hoosier Roundup
Looking for tickets to upcoming Indiana games? Vivid Seats has you covered. Most of the non-conference schedule is already on sale at Vivid Seats and games are being added regularly. Vivid Seats is a full-service provider – with an industry-leading customer service team, reachable by phone or online during extended business hours. (These links are Inside the Hall affiliate links, so a commission will be paid to ITH if you click and make a ticket purchase. We appreciate your support!)
Banner #1 – Recruiting updates
While IU still lacks its first commitment for 2024, the team appears to be down to three elite targets it still has a shot at. Inside the Hall updated its recruiting board this week to reflect that Boogie Fland, Liam McNeeley, and Derik Queen appear to be Indiana's final hope of securing a top commit for the class.
While Fland looked like the longest shot of the trio at one point, the Hoosiers now appear to be a serious contender for him. Indeed, he is down now to Alabama, Indiana, and Kentucky and has eliminated every other squad pursuing him.
As for McNeeley, IU still appears to be the favorite over Kansas. However, Jayhawks coach Bill Self did have one final visit with him this week, which Mike Woodson countered the next day. McNeely told Rivals' Rob Cassidy on Saturday he will announce his decision in the coming weeks.
Queen appears to be the furthest from a decision. Woodson did see him at Montverde as well when visiting McNeely. Queen still has Houston, Kansas, LSU, and Maryland in contention with the Hoosiers and will visit the Cougars and Terps this month.
Banner #2 – Inside the Hall Big Ten team previews
With the season fast approaching, Inside the Hall began a series this week looking at every Big Ten team's prospects for 2023-2024. This week, ITH started with the squads projected near the bottom of the conference. This included Penn State, Minnesota, Rutgers, Michigan, and Nebraska being previewed.
Banner #3 – Hysteria start time, media day interviews
Another sign that 2023-2024 is finally near is that IU announced more details for Hoosier Hysteria on Friday, Oct. 20. The event will start at 7:30 p.m. and feature the men's and women's teams. Following the happenings on the court will be a performance by Grammy Award Winner Gucci Mane.
Also, Inside the Hall continued to compile interviews from the recent media day and released several roundtable discussions. This included Kaleb Banks, Gabe Cupps, Trey Galloway, Mackenzie Mgbako, and Anthony Walker.
Finally, ITH's William McDermott was at it this week with a column. He wrote about the relationships IU's frontcourt has built on and off the court.
Banner #4 – Women's basketball updates
The women's team's season is also getting close. The squad is expected to be among the nation's best and compete for a second straight Big Ten title and their first-ever national championship. Indeed, ESPN's Charlie Creme ranks them 10th in the nation in his latest Way-Too-Early top 25. However, this is just third best in the league as Ohio State comes in fourth with Iowa sixth, in what should be an elite conference again.
Inside the Hall's Amanda Foster had a column about the upcoming year. In it, she discusses the chemistry and confidence the team built during its trip to Greece this summer.
Banner #5 – Podcast on the Brink and Assembly Call Shows
Both Inside the Hall and Assembly Call were on-air this week.
ITH's Podcast On The Brink went to an NBA source this week, bringing on Scott Agnes, who covers the Pacers for Fieldhouse Files.
Meanwhile, Thursday's AC Radio featured Brian Tonsoni and Ryan Phillips discussing the strengths and weaknesses of the team for the upcoming season.
Banner #6 – Hoosier Roundup
• Men's golf finished third at a tournament in the Chicago area. In doing so, Drew Salyers and Cole Starnes finished in the top three individually and the team shot the lowest score in program history by nine strokes at 823.
• It was rock bottom for IU football as they were dominated by Maryland 44-17. Also, tight end Trey Walker is a semifinalist for an academic award.
• Women's soccer beat ranked Northwestern to crack the rankings themselves for the first time this season. However, they suffered their first loss of 2023 a few days later to Ohio State. Also, two Hoosiers received weekly awards from the Big Ten.
• Volleyball beat Iowa but fell to the no. 1 and 2 teams in the nation in Wisconsin and Nebraska. The game in Bloomington against the Cornhuskers was the first-ever total sellout of Wilkinson Hall in front of a record crowd of 2,632.
• Men's soccer continues to struggle to score and had another 0-0 tie. This time, the draw came against Michigan as the Hoosiers fell to 3-3-3 overall.
• Field Hockey topped James Madison with a last-minute goal but lost to ranked Michigan.
• Women's golf placed seventh at a tournament in Toledo.
• Cross Country competed at a meet near Chicago.
• Swimming and diving got underway this week with an intrasquad scrimmage.
Thanks for your continued support for The Assembly Call and Inside the Hall. We'll be back next weekend with a new roundup.
Now go enjoy yourself a 6-banner Sunday.
Aaron (Ari) Shifron
Assembly Call Contributor
Filed to: