International summer experiences build chemistry and confidence for Indiana women's basketball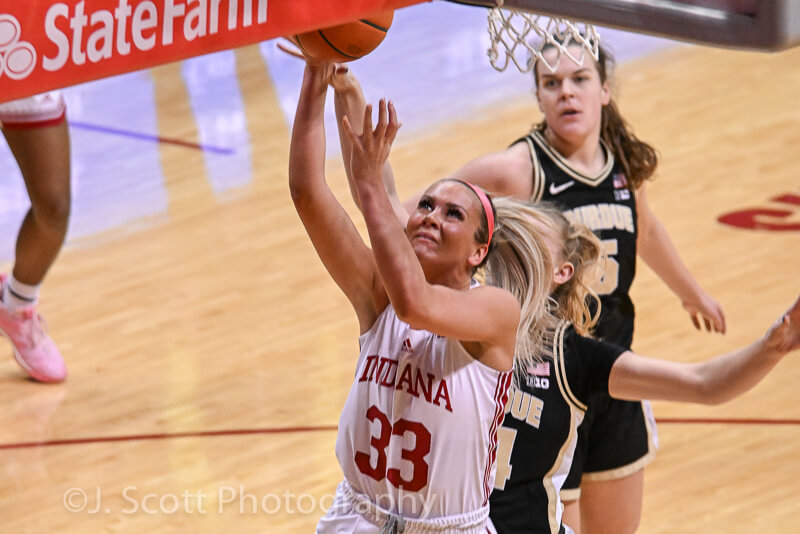 Boat days, bus trips, bustling tourist attractions and some basketball mixed in every so often.
Indiana women's basketball's trip to Greece was the highlight of the summer, with once-in-a-lifetime opportunities to explore the world. It also provided unique experiences to create new friendships and bonds as a team, leaving long-lasting effects that will carry the Hoosiers to new heights during the 2023-24 season.
"We just had a lot of fun together," Sydney Parrish said. "Just being together all the time and laughing with each other, and having different roommates every time we went to a new hotel, and just going to eat together. I think it's something that's definitely going to separate us from everyone else we play this year."
With only three new faces — two freshmen and one transfer — on the team, the Hoosiers are already ahead of where they were last year. Players like Parrish and Sara Scalia, who transferred in last season, are more comfortable in their roles, and longtime Hoosiers like Mackenzie Holmes and Chloe Moore-McNeil are even more confident in their abilities to lead the team.
A low-stakes environment like summer basketball in Europe allowed the team to stay loose and work on their game, but what happened off the court meant even more.
UT Martin transfer Sharnecce Currie-Jelks got to reconnect with her fellow Tennessean in Moore-McNeil. Freshmen Lenée Beaumont and Julianna LaMendola strengthened their relationships with their new teammates. Even those players who knew everything about each other could use the irreplaceable experiences to form even stronger bonds.
"One day it was me, Yarden and Chloe, we went on an obstacle course in the ocean and it was just like, we were laughing the whole time," Arielle Wisne said. "Everything there was so much fun and I think we all got so much closer because of how much time we spent together. We felt like a family."
However, Greece wasn't the only country in which Hoosiers thrived over the summer.
Before joining her teammates in Greece, Yarden Garzon traveled to her home country of Israel to play for the Israeli national team in the FIBA Women's EuroBasket, work on her game and reconnect with her friends and family.
"It was awesome," Garzon said. "To get back to Israel to see my family, my friends. It was awesome to hang out with them, to play for my national team. It's always fun and it feels different, in a way."
In the three games she played for Israel, Garzon averaged 11.3 points, 3.7 rebounds and 2.3 rebounds in about 28 minutes of play. She also took advantage of her time away from the rigorous in-season schedule to improve her game in new ways, making her a candidate for a Hoosier who could stand out this season.
"I had a lot of time to improve my game and take care of my body," Garzon said. "I worked a lot on being more aggressive…the most important thing for me this summer was to build strength."
Moren said she aims to use Garzon similarly to how Grace Berger was used: a guard who can play aggressively as a post. At 6-foot-3, Garzon is a big guard who can play a key role underneath the basket for the Hoosiers, and Moren and her staff recognize that.
"We want her to play with more moxie, play with more tenacity," Moren said. "When she showed up in Greece, I felt like she had gotten taller, but it wasn't that her height changed; her shoulders had changed. She filled out."
Another young Hoosier who had the opportunity to work on her game over the summer was Henna Sandvik; Sandvik spent the summer in Finland, representing her homeland in the FIBA U20 Women's European Championship.
After seeing the court in 23 games for an average of 6.6 minutes her freshman year with the Hoosiers, Sandvik averaged 28 minutes in the seven games she played over the summer. Sandvik was able to focus on her ball-handling and playing in the post and averaged 9.6 points, 5.9 rebounds and 2.4 assists per game.
"I got to play in a little bit different role and do different things than I'm used to doing here," Sandvik said. "It gives me more courage and helps me to be more comfortable this year and in the future."
Comfort levels seem to be at an all-time high for the Hoosiers across the board. Everything is clicking, with an All-American headlining the team and highly touted underclassmen expected to make major contributions. Moren said she thinks her squad has all of the pieces to win a national championship, and with chemistry playing such a big role in any team's success, Indiana has a great deal of potential to be a contender.
Filed to: