6-Banner Sunday: Realignment continues to reshape college sports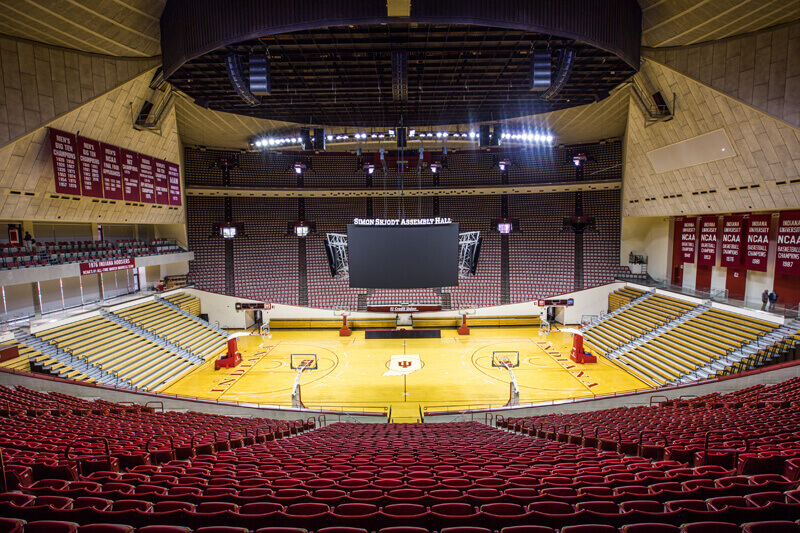 6-Banner Sunday is Inside the Hall's weekly newsletter in partnership with The Assembly Call. Almost 10,000 Indiana fans receive the newsletter each week. In addition to appearing each week on the site, you can also opt to receive 6-Banner Sunday by email. A form to subscribe via email is available at the bottom of this week's 6-Banner Sunday.
Welcome to another edition of 6-Banner Sunday, a joint production between The Assembly Call and Inside the Hall, and presented by our friends at Trueblood Real Estate, where we highlight the five most essential IU basketball stories of the past week, plus take a look at how the other IU sports programs are doing.
As has been the case lately, conference realignment with little regard for geography is again in the news. It is also the lead item in 6-Banner since nothing affects college sports more now.
While the entire NCAA world is talking about who is moving where, Indiana basketball also made some headlines. After a summer of struggling to find a team in the NBA, former Hoosier Romeo Langford finally found a squad for the fall. Also, a premier event involving the Big Ten could continue, recruiting updates were numerous, and more info regarding the upcoming season came out. As usual, we will look at other IU sports led by most fall competitions now underway.
In a brief story, Inside the Hall and Assembly Call had new shows this week.
• Conference realignment continues as ACC expands
• Former Hoosier Romeo Langford signs with Utah Jazz
• Gavitt Games between Big Ten and Big East may continue
• Recruiting updates
• Preseason news
• Hoosier Roundup
Looking for tickets to upcoming Indiana games? Vivid Seats has you covered. Most of the non-conference schedule is already on sale at Vivid Seats and games are being added regularly. Vivid Seats is a full-service provider – with an industry-leading customer service team, reachable by phone or online during extended business hours. (These links are Inside the Hall affiliate links, so a commission will be paid to ITH if you click and make a ticket purchase. We appreciate your support!)
Banner #1 – Conference realignment continues as ACC expands
The regional alignment of conferences is now officially out the window after more teams moved leagues this week. Geography became irrelevant when the Big Ten snagged west-coast schools Oregon, UCLA, USC, and Washington.
Now the inverse is true as two of the four remaining Pac 12 members are off to the opposite coast to join the ACC in Cal and Stanford. However, the Golden Bears and Cardinal are not the only ones moving east as SMU will join them.
With these recent moves, the Big Ten is now the largest league with 18 members, but the ACC is just behind with 17 (16 for football with Notre Dame being independent), while the SEC and Big 12 will be at 16. The only thing that is clear from all this change, though, is realignment can hit at any point and this issue is far from settled.
Banner #2 – Former Hoosier Romeo Langford signs with Utah Jazz
Romeo Langford was seen as a surefire star coming out of New Albany High School just over the bridge from Louisville.
After just one season in Bloomington, he declared for the NBA draft in 2019. However, it has not gone as planned here and it took Langford until now to even find a new team following the expiration of his rookie contract. Finally, he agreed to terms with the Utah Jazz this week on an Exhibit 10 contract.
Also, Langford (along with Jalen Hood-Schifino and Trayce Jackson-Davis) was back in Bloomington this weekend. All three also appeared on the big screen scoreboard at the Indiana football game while being introduced during a timeout.
Banner #3 – Gavitt Games between Big Ten and Big East may continue
Although last year saw the end of the Big Ten-ACC Challenge, another event with top competition may continue. While the Hoosiers are not participating in the Gavitt Games this fall, they are nonetheless going on between other Big Ten and Big East schools. This year's edition of the event may not be the last, as both leagues are in discussion to continue the event.
Banner #4 – Recruiting updates
This month is the biggest one the Hoosiers have from a recruiting standpoint in the Mike Woodson era. This Labor Day weekend has top 2025 prospects Darius Adams, Jalen Haralson, and Malachi Moreno on campus.
For next weekend, Mount Verde teammates and 2024 classmates Curtis Givens III, Liam McNeeley, and Derik Queen will all make their way to Bloomington. While IU is widely seen as the leader for McNeeley, he set a couple of additional visits outside of Indiana. However, one player the Hoosiers do not appear to be getting is Josh Schwartz, who will announce his school choice Tuesday before ever visiting campus.
Finally, ESPN updated their 2024 rankings recently. McNeely and Queen come in at 13 and 15, respectively, while Givens and Swartz are 48 and 51 overall.
Banner #5 – Preseason news
While the recruiting visits continued, more immediate headlines regarding the upcoming season also happened. First off, all 12 scholarship players for 2023-2024 signed NIL Deals with Hoosiers For Good. Also, The Athletic released its top-25, Xavier Johnson is on the regional Lindy's Sports cover, and Bart Torvik released updated projections.
Banner #6 – Hoosier Roundup
• Men's soccer beat DePaul but lost to Washington.
• Women's soccer beat Evansville and tied Tennessee.
• Football was overwhelmed by Ohio State.
• Volleyball lost three times against top competition.
• Field Hockey fell to Liberty.
• Cross Country got underway in Oxford, Ohio.
Thanks for your continued support for The Assembly Call and Inside the Hall. We'll be back next weekend with a new roundup.
Now go enjoy yourself a 6-banner Sunday.
Aaron (Ari) Shifron
Assembly Call Contributor
Filed to: