Indiana basketball set for big recruiting weekend to kick off September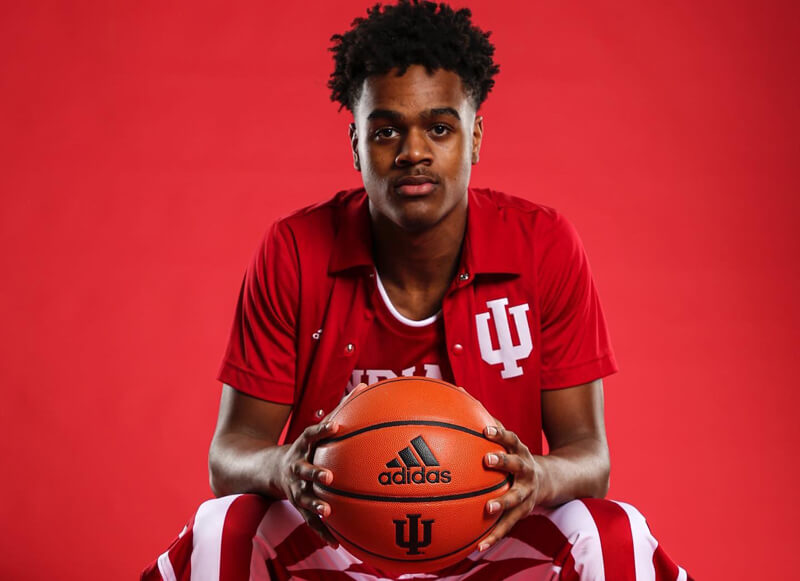 It's no secret that September is setting up to be a pivotal recruiting month for Indiana basketball.
Five class of 2024 prospects – Liam McNeeley, Derik Queen, Curtis Givens III, Austin Swartz and Annor Boateng – are set to take official visits to Bloomington.
However, the month will kick off with a trio of class of 2025 prospects coming to campus on Saturday, September 2.
Indiana football will host Ohio State on Saturday at 3:30 p.m. ET at Memorial Stadium. The game will air on CBS.
The focus for the basketball program will be on Jalen Haralson, Malachi Moreno and Darius Adams, who are all expected to be in attendance as guests of the program. Football season is a popular time to host campus visits and the atmosphere on Saturday should be electric with a national contender in town.
Haralson is a well-known name for Indiana basketball fans. After two seasons at Fishers, the talented guard transferred to La Lumiere for his final two high school seasons. He's the No. 8 player in the 247Composite for the 2025 class.
His La Lumiere teammate, Darius Adams, is also expected in Bloomington this weekend.
Adams is a 6-foot-4 guard who landed an Indiana scholarship earlier this month. The No. 22 player in the 247Composite, Adams will be on the IU campus for the first time. He is originally from Manasquan, New Jersey and plays for the PSA Cardinals on the Nike EYBL circuit.
Moreno, listed at 6-foot-11, is from Great Crossing High School in Georgetown, Kentucky. He's ranked the No. 57 prospect nationally in the 247Composite.
Indiana's approach in the 2024 and 2025 classes has the Hoosiers pursuing many of the nation's top prospects.
It's an approach Mike Woodson discussed in late May during an offseason press conference at Huber's Winery in Borden.
"When I took the job, I made it clear to my coaches that we deserved to sit at the table with the best players," Woodson explained. "We kind of squabbled a little bit early on because they didn't think we were in that position to be able to do that. And I thought we were based on Indiana basketball and the history of it.
"So, I didn't accept no for an answer and I told 'em that I wanted to be able to sit at the table with the best players and compete with the Kentucky's, the Kansas', the Duke's, teams like that. And all they can do is tell us no, but we gotta get there and we've been able to, to get there some, so it's kind of nice."
Since arriving at Indiana, Woodson has signed four players ranked in the top 30, including recent NBA draft pick Jalen Hood-Schifino.
Filed to: Darius Adams, Jalen Haralson, Malachi Moreno