6-Banner Sunday: Indiana falls in Big Ten tournament semifinals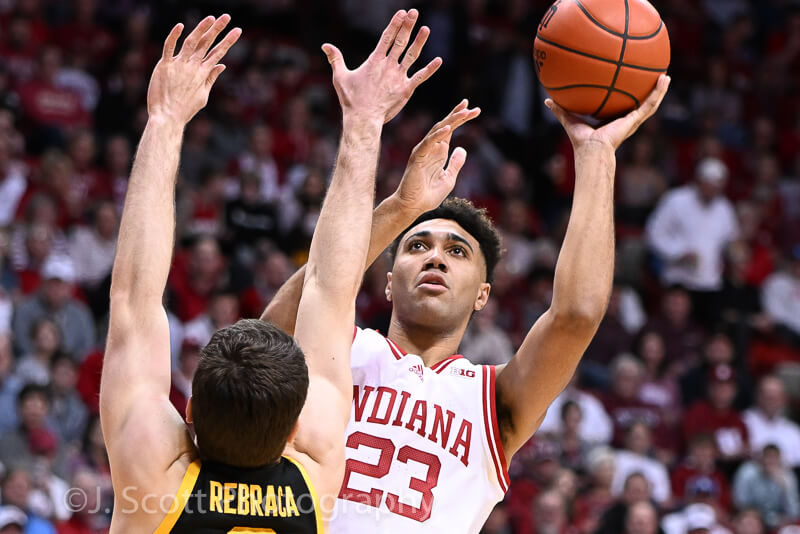 6-Banner Sunday is Inside the Hall's weekly newsletter in partnership with The Assembly Call. More than 9,000 Indiana fans receive the newsletter each week. In addition to appearing each week on the site, you can also opt to receive 6-Banner Sunday by email. A form to subscribe via email is available at the bottom of this week's 6-Banner Sunday.
Welcome to another edition of 6-Banner Sunday, a joint production between The Assembly Call and Inside the Hall, and presented by our friends at Trueblood Real Estate, where we highlight the five most essential IU basketball stories of the past week, plus take a look at how the other IU sports programs are doing.
While this week was not perfect, it was better than the last one as the Hoosiers won two out of three games in the last seven days. In doing so, they finished runner-up in the conference and advanced to their second straight Big Ten Tournament semi-final before bowing out there.
With only March Madness to go now and it being Selection Sunday today, we take one final look at the most up-to-date bracketology available for both the men's and women's teams ahead of tonight's reveal. Also, Assembly Call and Inside the Hall had their normal weekly shows and we will as usual conclude with a look at other IU sports led by a good week from baseball.
• Indiana beats Michigan on senior day
• IU defeats Maryland to reach Big Ten tournament semifinals
• Hoosiers fall to Penn State in Big Ten tournament semifinals
• Bracketology and where IU stands
• Podcast on the Brink
• Hoosier Roundup
Looking for tickets to upcoming Indiana games? Vivid Seats has you covered for IU's NCAA Tournament run. Vivid Seats is a full-service provider – with an industry-leading customer service team, reachable by phone or online during extended business hours. (These links are Inside The Hall affiliate links, so a commission will be paid to ITH if you click and make a ticket purchase.)
Banner #1 – Indiana beats Michigan on senior day
In a roller coaster of a game, IU jumped out to a huge first-half lead before Michigan turned the contest around and took a large second-half advantage. However, the Hoosiers showed no quit and rallied to tie the game late and force overtime before pulling out a 75-73 victory. This made for happy speeches for IU's five seniors including star Trayce Jackson-Davis who led the squad with 27 points and was named to the conference's first team the next day. Also, Jaylen Hood-Schifino was instrumental in the win and was named Big Ten freshman of the Year.
In coming out on top, Indiana finishes with 12 wins in the conference (the third most since 2000) and tied for runner-up in the league. This is their highest placement in the Big Ten in seven years and only the third time in a decade they have finished better than sixth place.
Afterward, IU coach Mike Woodson spoke as did Michigan head man Juwan Howard, Justin Albers wrote a Minute After, Inside the Hall had a photo gallery, Alex Bozich penned Five Takeaways, Zion Brown put together a Film Session, while William McDermott produced a column on Race Thompson.
Banner #2 – IU defeats Maryland to reach Big Ten tournament semifinals
The Big Ten tournament has been a struggle for IU historically. Woodson is trying to change that and while he is still yet to win the conference tourney or even make it to the final game, he has gotten the team to Saturday in both of his years on the sidelines. This is the first time that has happened in back-to-back seasons since 2001-2003 when it occurred in three straight years.
The 70-60 victory on Friday against Maryland saw a very strong second half where the Hoosiers managed to keep the Terps at arms length for most of the final 20 minutes. Jackson-Davis and Hood-Schifino led IU with 24 and 19 points respectively as the Hoosiers came out on top for the first time when obtaining the number three seed.
Afterward, Woodson and Maryland coach Kevin Willard spoke, Albers wrote a Minute After, Bozich penned Five Takeaways, while McDermott and Amanda Foster had columns.
Banner #3 – Hoosiers fall to Penn State in Big Ten tournament semifinals
Despite a strong start at the beginning, the Nittany Lions used their deadly 3-point shooting to spread the Hoosiers out and take control of the game pretty quickly. The team made a couple of second-half rallies including a near-miracle comeback late but ended up falling 77-73. In coming up short Indiana failed to reach the final game of the conference tournament for the 22nd consecutive year. On the positive side though they sit at 22-11 heading into Selection Sunday today and are safely in the field for the first time in seven seasons. The 22 victories are also already the sixth most for any IU team since the turn of the century.
Afterward, Woodson and Penn State coach Micah Shrewsberry spoke, Albers wrote a Minute After, while Foster and McDermott had columns.
Banner #4 – Bracketology and where IU stands
Selection Sunday is here and the Hoosiers will learn their fate tonight at 6 p.m. ET on CBS. Inside the Hall and Assembly Call's resident bracketologist Andy Bottoms had IU as a four seed in the Midwest region starting in Albany as of Friday morning before the Hoosiers played in the Big Ten tournament. While Bottoms has not put out an updated bracket since, he did tell Assembly Call last night that he still believes Indiana will be on the four-line after the conference tournament.
Also, Galen Clavio and Brian Tonsoni who are part of the Back Home Network do Bracketology. Clavio does his predictions through Bracket Racket and Tonsoni makes his on Delphi Bracketology. They both tweeted late on Saturday that they also believe IU will be a four-seed when their name is called later today.
Also, the women's team will hear their spot called at 8 p.m. ET tonight on ESPN during that selection show. They will host their first two games in Assembly Hall as one of the top 16 teams with a sparking 27-3 record. They are likely to obtain a one seed according to ESPN's bracketologist Charlie Creme.
Banner #5 – Podcast on the Brink
Inside the Hall had a new show this week. ITH's Podcast on the Brink spoke with Albers about the Big Ten Tournament and Jackson-Davis' legacy.
Banner #6
• Baseball beat Purdue-Fort Wayne and Bellarmine for four straight victories after losing to Long Beach State last Sunday.
• Softball won six of their seven games this week only losing to Wisconsin.
• Women's tennis beat Rutgers but lost to Northwestern and Maryland.
• Men's tennis lost to Yale but beat Illinois State.
• Wrestling competed at the Big Ten Championships and had several athletes selected to take part in the NCAA Championships.
• Men's golf finished eighth at their tournament this week.
• Swimming and Diving had several athletes selected to compete at the NCAA Championships.
• Track and Field competed at the NCAA Indoor Championships.
Thanks for your continued support for The Assembly Call and Inside the Hall. We'll be back next weekend with a new roundup.
Now go enjoy yourself a 6-banner Sunday.
Aaron (Ari) Shifron
Assembly Call Contributor
Filed to: