"I'm not losing this game": A healthy Race Thompson gives Indiana its glue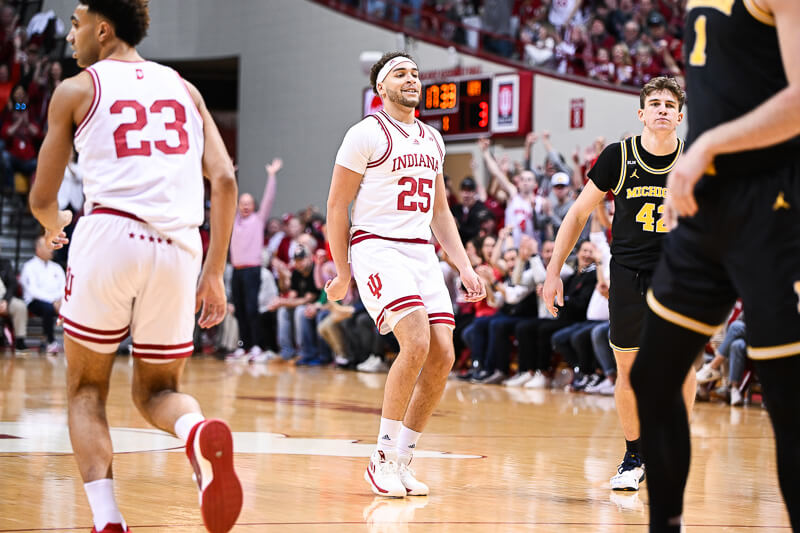 "I'm not losing this game. I can't lose this game."
Race Thompson turned to Trayce Jackson-Davis and Jalen Hood-Schifino and told them he wouldn't let Michigan spoil his Senior Night. He was desperate.
Last season, the senior forward didn't get to go out on top at Assembly Hall. Rutgers' Ron Harper Jr. hit the game-winning 3-pointer right over Thompson's arms. He decided to return to Indiana for one more year and in Sunday's 75-73 regular-season finale win against the Wolverines, he flipped the script.
"The way that the game ended last year here on Senior Night was something that I'll never forget and part of the reason I came back, really. We talked about it and just there's no way we are losing this game," Thompson said postgame. "We are leaving everything we got on the court, and I think just going off that, knowing that almost the next couple games could be the last games of our career, we are just going to play desperate. And I don't think we'll lay an egg like that ever again."
The forward did not lay an egg. His team scratched and clawed their way to victory after being down 12 with 12:26 to play in regulation.
After Thompson went down with a knee injury at Iowa in early January, many suspected the worst. That Thompson could be out for the season or even months. Later that week it was announced that the senior forward would be out indefinitely.
Two and a half weeks later, the 6-foot-8 forward was back on the floor with a brace on his right knee. It was clear that something wasn't right, he wasn't moving well. The Minnesota native went 8-for-26 from the field in his first six games back from injury. He wasn't defending and struggled to find a rhythm.
Thompson spoke highly of Indiana's training staff and head athletic trainer Tim Garl in his postgame speech on their ability to get his body right. Jackson-Davis also touched on it when talking to the media.
"He's a huge part of what we do. He says he's good and all this stuff but he's been really battling," Jackson-Davis explained. "He's been with Timmy G. Doing stuff of that nature just to get his body right to be out here, and he's giving it his all every time he's out here.
"We needed every single basket that he got, every steal that he got, to get that win."
Slowly but surely, with more playing time he was able to start making an impact. Against Michigan, Thompson undoubtedly had his best game since the injury. He notched his second double-double of the year as he scored 16 points and snatched 10 rebounds. The super senior was efficient as he was 7-for-10 from the field and had a season-high four steals. Two of the steals came at the end of regulation and overtime.
"I thought the two plays that Race made down the stretch from a defensive standpoint, the two steals, were the two biggest plays of the game," Mike Woodson said.
While his defense was key, his aggressiveness sparked Indiana. There was a moment on Sunday where instead of making a move in the post, Thompson looked to dump the ball off to Jackson-Davis in the paint. He turned it over and Woodson got on him for it. Woodson told him to go score the ball. He did. Most emphatic was his and-one slam which cut the Michigan lead to one with 6:42 to play in regulation.
Thompson's time at IU has been unique. He came in a year early in the summer of 2017 and redshirted as Archie Miller's first recruit. He's also gone through a coaching change, entered his name in the transfer portal and went through two senior days. One thing you can't deny is his fight and consistency.
When he's been healthy in his IU career, Thompson has been the glue guy. Hoosiers guard Anthony Leal even photoshopped his face on an Elmer's bottle. Now, he's getting healthier and at the right time. There's a lot of ball left to play and Race Thompson will be a big part of IU's success in March.
But for now, he's avenged his senior night loss last season. One speech was happier than the other.
Filed to: Michigan Wolverines, Race Thompson