The Minute After: Maryland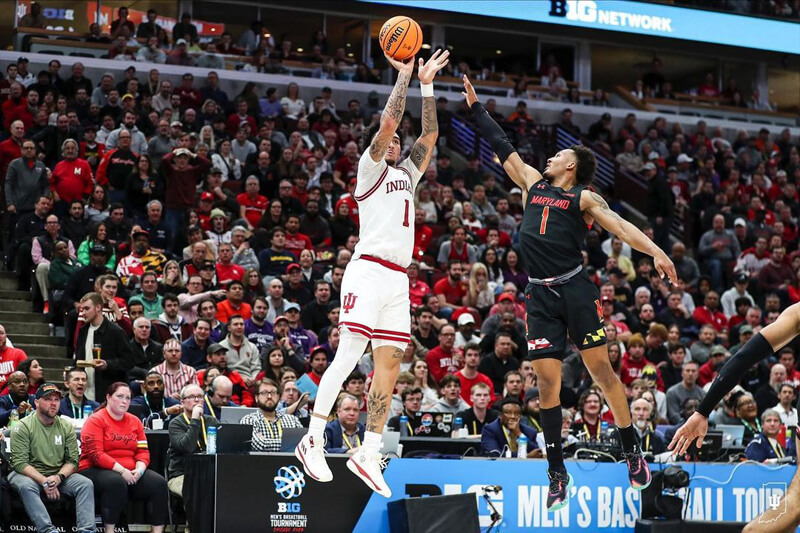 Editor's note: Ryan is out on paternity leave. Justin Albers will be writing The Minute After in his absence.
Thoughts on a 70-60 win against the Terrapins:
Survive and advance. That's all that matters in March.
And while this Indiana team certainly never makes it easy late in games, the Hoosiers find new ways to win all the time – a tell-tale sign of a mature team.
On Friday night, Indiana used a 20-2 second-half spurt to pull away from Maryland, and ultimately held on for a 70-60 win to advance to the Big Ten Tournament semifinals for the second consecutive year.
Indiana trailed 41-34 with 16:04 to go in a game that resembled the team's earlier meeting with Maryland in College Park. The whistles weren't going the Hoosiers' way, they were getting beat up on the offensive glass early, and they repeatedly had defensive breakdowns resulting in open Maryland 3-pointers. The Terrapins were simply tougher than Indiana for the first 24 minutes of the game.
But Mike Woodson's Hoosiers remained poised, and rather than letting the adversity tear them apart, it seemed to light a fire under them. They started to make shots – Miller Kopp immediately buried a big 3-pointer to cut the lead to four, and Tamar Bates buried a big 3-pointer from the left wing six minutes later to build the Indiana lead to 54-43.
But this game was won because of Indiana's mindset – an attacking, unrelenting mindset on both ends of the floor from a team that refused to be denied.
Jalen Hood-Schifino and Trayce Jackson-Davis stopped settling, and took it right at the Maryland defense time and time again. During the critical 20-2 run, Jackson-Davis scored seven points on layups on free throws, and Hood-Schifino added another three points in the same way.
The Hoosiers were suffocating on the defensive end, where they've hung their hat all season long. After poor communication and slow rotations in the first half, Indiana forced the Terrapins into highly-contested shots late in the shot clock on almost every possession in the second half.
Maryland was just 8-of-32 (25 percent) from the field in the second half, and the Terrapins missed their final five shots from the field. After knocking down six 3-pointers in the first half to take a two-point halftime lead, the Terps were just 3-of-11 from beyond the arc in the second half.
Jahmir Young, who killed the Hoosiers with his speed in the first matchup and scored 20 points, was just 3-of-15 from the field on Friday – including 1-of-10 in the second half.
"Our defense – to hold this team to 60 points – I'm very pleased," Mike Woodson said in his postgame television interview. "When we finally took the lead, we didn't relinquish it."
The Hoosiers got strong performances from unexpected sources in this one. Freshman Malik Reneau played one of his best games of the year with eight points and 11 rebounds in 21 big minutes off the bench, and Bates added five points and solid defense in 18 minutes. That helped make up for another tough game for Trey Galloway, who was in foul trouble throughout and did not score.
But Indiana will always go as its two stars go, and that was again the case on Friday night. Hood-Schifino responded from a dismal 1-of-14 performance in a January loss at Maryland – perhaps his worst game of the year – with an absolutely superb effort on Friday. He wasn't perfect, but the Big Ten freshman of the year showed elite toughness. Even when things weren't going his way, Hood-Schifino just kept coming, and his teammates came with him.
He finished with 19 points on 8-of-15 shooting, with six rebounds and a career-high three blocked shots in 40 minutes, and he looked as engaged as he's been in any game all season. Hood-Schifino's three blocks matched his blocked shot total for the entire regular season.
Jackson-Davis, the first-team All-American, was outstanding again, finishing with a game-high 24 points, nine rebounds, seven assists and four blocks. The Hoosiers outscored Maryland 36-18 in the paint, and Jackson-Davis had a lot to do with that.
Entering Friday, the Hoosiers had failed to beat only four Big Ten teams – Maryland, Iowa, Penn State, and Northwestern. They checked Maryland off that list on Friday night, and will have a chance to avenge their earlier season to Penn State on Saturday afternoon. The Nittany Lions upset two-seeded Northwestern earlier Friday evening.
"That's the Big Ten," Woodson said with a smile. "The Big Ten is tough."
On Friday night, the Hoosiers looked like a team determined to make a run to the Big Ten tournament championship game, something they've done only once (they've never won a Big Ten tournament title). They'll have an opportunity to get there again against a hot Penn State team on Saturday in Chicago.
The Hoosiers will undoubtedly take it one game at a time, but the way they have looked lately, this feels like a team that has its sights set on postseason hardware.
(Photo credit: IU Athletics)
Filed to: 2023 Big Ten tournament, Maryland Terrapins