Five takeaways from Indiana's win against Maryland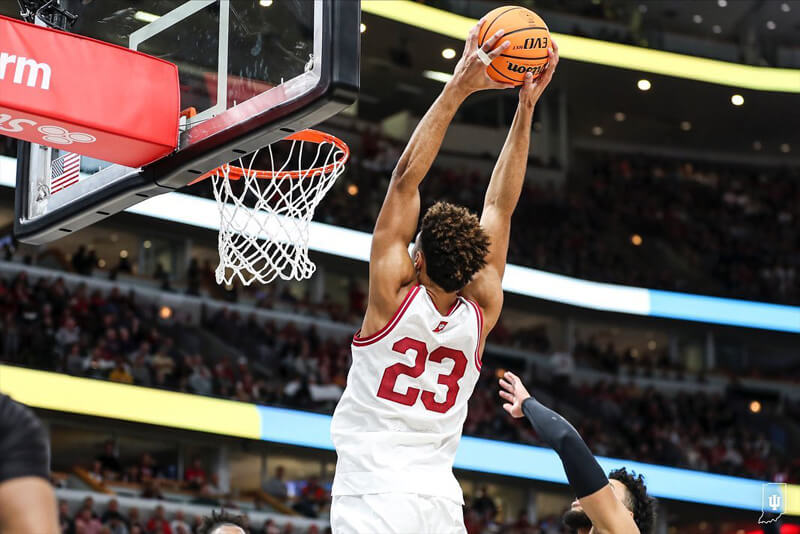 Indiana avenged a regular season loss on Friday with a 70-60 victory against Maryland in the 2023 Big Ten tournament quarterfinals. The win improved the Hoosiers to 22-10 and set up a Saturday matchup against Penn State.
Here are five takeaways from the victory against the Terrapins:
Indiana's defense was elite in the second half
It was a tale of two halves defensively for Indiana on Friday night.
In the opening 20 minutes, the Hoosiers allowed Maryland to shoot 6-for-13 on 3s and score 1.12 points per possession. It looked like the Terps were well on their way to matching or exceeding the 66 points they scored in late January against the Hoosiers in College Park.
The second half was a different story.
Maryland shot just 8-for-32 from the field in the second half and scored just .839 points per possession. From the 14:26 mark to the 9:01 mark, Indiana held the Terps scoreless and went on a 15-0 run.
When the final buzzer sounded, Indiana had allowed just .963 points per trip for the game after allowing 1.069 in the first matchup between the two programs.
"I thought the second half was the difference," Mike Woodson said postgame. "We came out and established ourselves defensively, finally rebounded with them, and was able to come out of this with the win."
Maryland had no answer for Trayce Jackson-Davis
Trayce Jackson-Davis earned a unanimous spot on the All-Big Ten teams announced earlier this week and his play on Friday was just the latest example of his dominance.
Jackson-Davis finished with a game-high 24 points, was an efficient 8-for-13 from the field, and hit eight of his 13 attempts from the free throw line.
But as has been the case for most of the season, it wasn't just the scoring from Jackson-Davis that stood out on the stat sheet.
Jackson-Davis also pulled down nine rebounds, dished out seven assists, blocked four shots and had three steals. And he only went to the bench for two minutes all night.
Maryland's bigs had trouble all night sticking with Jackson-Davis as Patrick Emilien fouled out in 24 minutes and Julian Reese had four fouls in 26 minutes.
Jalen Hood-Schifino goes the distance, scores 19 points
With the recent news that Xavier Johnson isn't coming back this season, Jalen Hood-Schifino's minutes will continue to be heavy.
On Friday, the freshman guard played all 40 minutes and they were far more productive than his first game against Maryland at the Xfinity Center.
Hood-Schifino shot just 1-for-14 against the Terps in the late January loss, but bounced back nicely in the rematch.
The Montverde Academy product scored 19 points on 8-for-15 shooting from the field. His 3-pointer with 2:06 to play stretched Indiana's lead to nine.
Hood-Schifino also did a great job handling Maryland's pressure. He committed just two turnovers and dished out two assists while also grabbing six rebounds and blocking three shots. His ability to score in transition was also pivotal as the Hoosiers outscored the Terrapins 13-4 in fastbreak points.
"I thought he got himself going in transition, much better than he did the first time," Maryland coach Kevin Willard said. "I thought we did a much better job in transition defense at home. I thought transition defense was really the difference.
"And I thought he did a great job of really attacking and getting downhill. I mean, even in the first half, two of his buckets were in transition. So I just thought he did a great job of pushing the pace."
Indiana dominates in the paint
While Maryland outscored Indiana by 15 points on 3-pointers, the Hoosiers had an even bigger advantage in the paint.
Indiana had 36 points in the paint compared to just 18 for the Terrapins and the contributions came from a variety of sources.
The aforementioned Jackson-Davis was dominant with 24 points and Race Thompson had four points, but the play of freshman Malik Reneau provided a major boost off the bench.
Reneau scored eight points in 21 big minutes and added 11 rebounds. Reneau only committed one foul. It was the type of performance Indiana could use more of as the postseason moves along.
"Just being able to come off the bench and be a spark plug for my team," Reneau said when asked why he was so effective on Friday. "Knowing when I'm in there, just being able to help out on the defensive side.
"And on the offensive side, just relieving the stress off the guys, especially Trayce and Race, and just going in there and rebounding, too."
Jahmir Young struggles and so does Maryland's offense
Jahmir Young is one of the best guards in the Big Ten and a key cog in the Maryland offense.
His struggles were a major reason Maryland was only able to muster up 60 points against the Hoosiers.
The 6-foot-1 scored 12 points, the second-highest total for the Terps, but he was only 3-for-15 from the field. Maryland coach Kevin Willard said Indiana's size may have bothered Young.
"I think one of Indiana's biggest strengths is their size across their whole lineup," Willard explained. "We tried to take advantage of Miller Kopp a little bit because I think he's the only weak defender. I don't even think he's a weak defender, but their size across, and even when they come in, I thought Malik Reneau played tremendous.
"Then Tamar gates comes in and hits, plays really well. They don't have any small guys. For Jahmir, I thought Race did a heck of a job on switches. I thought they did a really good job of just being physical with us. You know, having to play a tough game last night, I thought Jahmir was — he did the best he can against their size."
It was a total team effort for Indiana to contain Young. The Hoosiers never allowed him to get comfortable and the bigs were excellent when they had to switch on to the All-Big Ten guard.
(Photo credit: IU Athletics)
Filed to: 2023 Big Ten tournament, Jalen Hood-Schifino, Trayce Jackson-Davis