Malik Reneau's play against Maryland marks progress in consistency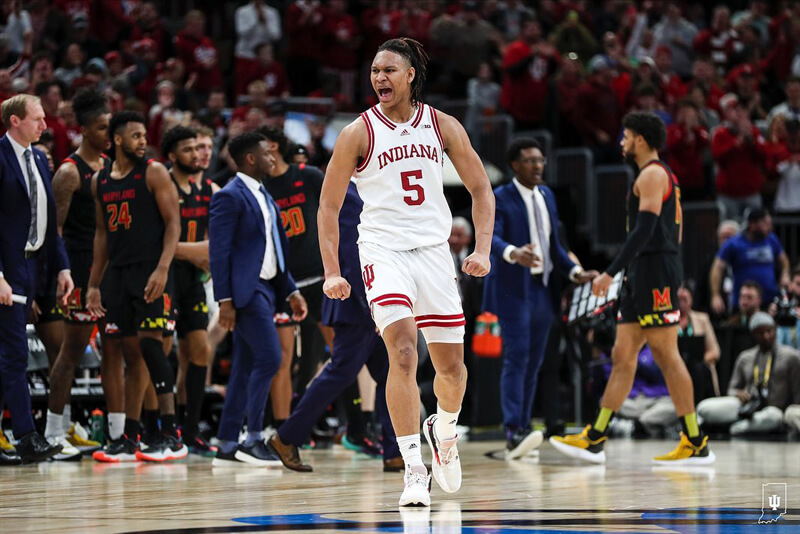 CHICAGO — When Indiana found itself down five with 17:21 to play, Malik Reneau subbed in for Race Thompson who had just picked up his third foul. The freshman then played 12 consecutive minutes. When he left the game with 5:22 to go to an ovation from the IU faithful, the Hoosiers were up nine.
In Indiana's 70-60 Big Ten tournament quarterfinal win against Maryland, Reneau shined off the bench. The Montverde Academy product put up eight points and snagged a team and career-high 11 rebounds. The 21 minutes Reneau tallied was the most he's played in over a month.
Reneau's first few minutes in the United Center didn't go swimmingly.
The freshman turned the ball over twice in his first two minutes on the floor. After settling in, he was impactful. It wasn't the first time Reneau has shined this season. He's had huge games. It's just he hasn't been able to do it consistently. With Thompson's foul trouble on Friday, Reneau was the perfect robin to Trayce Jackson-Davis' batman.
It may have been his most effective game in the cream and crimson thus far.
"Being able to come off the bench and be a spark plug for my team," Reneau said postgame of his performance on Friday. "Knowing when I'm in there, just being able to help out on the defensive side. And on the offensive side, just relieving the stress off the guys, especially Trayce and Race, and just going in there and rebounding too."
There was a lot of stress relieving done by the Miami (FL) native. He shows a lot of patience in the post and plays the high-low extremely well.
Glaringly, a key reason why Reneau has struggled with consistency is his foul trouble. Despite averaging just 15.4 minutes a game, he's been called for 84 fouls. That's 15 more than any other Hoosier. Against the Terrapins he had just one.
Reneau credited Mike Woodson when it comes to his stellar defense without fouling.
"Just trusting Coach, being able to trust me on the court too, and my teammates giving me that confidence to play how I want to play," Reneau said. "Just being tough and not letting the other team score."
It's easier said than done when it comes to being tough and not letting the other team score, particularly against a gritty opponent like Maryland. But on Friday night it looked easier for Reneau. He moved his feet, kept his hands straight in the air and blocked out effectively.
On one scrappy rebound in the second half, he yelled an expletive on the way down to the ground and mean-mugged his way down to the offensive end of the floor.
Indiana was +15 with Reneau on the floor in Friday's win.
"He's big enough to do that. He should do that every time we put him in there," Woodson said postgame. "He wasn't in foul trouble where he has to sit over next to me. So they let him play a little bit tonight, and we reaped the benefits from it."
It truly is a difference-maker when Reneau is not on the bench with foul trouble and can get into the rhythm of a game.
His soft touch, patience and strong left hand around the rim will always make the 6-foot-9 forward a boost for the Hoosiers on the offensive end. His fouling, however, can make him a liability at times. On Friday night, it looked like he finally put it together.
Reneau's night wasn't as perfect as it could have been. He finished a less-than-optimal 4-for-9 from the field and missed a few "chippies" right around the rim. If he can start finishing some of those point-blank misses at the rim, it'll make defending him much harder.
Notably, the freshman's energy, emotion, and poise helped propel the Hoosiers to victory and give them a date with Penn State in the Big Ten Tournament semifinals on Saturday.
(Photo credit: IU Athletics)
Filed to: 2023 Big Ten tournament, Malik Reneau