Penn State's 3-point shooting sinks Indiana again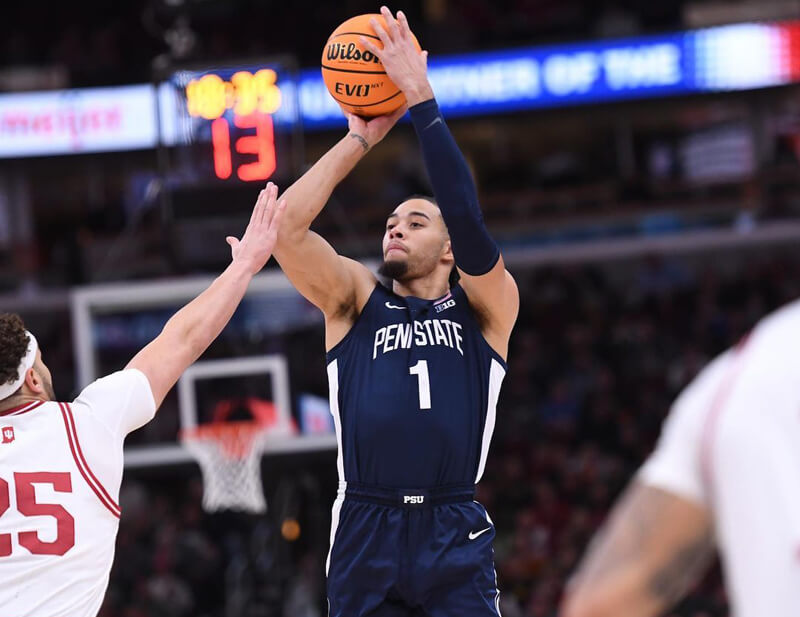 CHICAGO — Tamar Bates switched onto Penn State's Andrew Funk as the shot clock wound down. Moving to his right, the sharpshooting Funk took a dribble and hoisted up a 3-pointer from 28 feet out. It went in and Penn State extended its lead to 11 with less than four minutes to play. Bates jogged back down the floor, shaking his head.
There was a lot of head shaking on Indiana's side of the United Center on Saturday. It's all the Hoosiers could do as their run at a Big Ten tournament ended at the hands of the Nittany Lions, 77-73.
The first time Indiana played Penn State this season, the Nittany Lions made a ridiculous 18 3-pointers in State College. In Saturday's semifinals, Penn State made eight triples compared to only two for the Hoosiers.
In modern-day college basketball, that's not going to win games.
There have been times this season when the Hoosiers have shot the ball well from beyond the arc. Indiana came into Saturday with the third-highest 3-point shooting percentage in the Big Ten. But on the flip side, Indiana is shooting at least 2.5 fewer 3s a game than anyone else in the conference.
In its two games against Penn State this season, Indiana was outscored 78-18 from beyond the arc.
"We came out, and we touched them early. And when they started to make shots, we kind of backed off," Mike Woodson said postgame. "It put so much pressure on us to make shots, which we had some good looks, but our perimeter play went 14-for-39, and that's not that good. So when we're winning, our perimeter play is making shots and our bigs are making plays inside. It's kind of lopsided a little bit today."
It's tough to win at any level when a team's perimeter players shoot 35.8 percent, like IU's did on Saturday. We've seen this Indiana team look like one of the best teams in the country when their guards are playing at a high level. Jalen Hood-Schifino, Trey Galloway and Miller Kopp had a rough Saturday in Chicago.
Micah Shrewsberry's team plays in a way that makes it difficult for a team like Indiana which plays two frontcourt players who can't shoot from outside the paint. While sacrificing size, Penn State plays four on the perimeter and sometimes even all five on the court can shoot from outside.
The Nittany Lions pulled Race Thompson to the top of the key and tried to get him to switch on to their better shooters. The senior struggled in these situations. In the first half, he fouled Seth Lundy as he attempted a 3. Lundy also made two 3s as Thompson was guarding him.
On the offensive end, Indiana created some good looks, but only knocked down a pair of shots from distance. Tamar Bates and Kopp are capable shooters off the catch, but Indiana doesn't have a player who can shoot the deep ball effectively off the dribble.
Despite a significant improvement in its 3-point shooting percentage this season, only 26.5 percent of Indiana's shot attempts are 3s. For a team shooting 37.7 percent from three, that's a number that needs to go up. Penn State, on the other hand, attempts 47.4 percent of its shots from beyond the 3-point arc.
On Saturday, Indiana looked almost scared to shoot at times and often pump faked and stepped inside the arc for a long 2-point attempt.
"I thought overall we played kind of tentative. We weren't shooting the ball when we should have been," Jackson-Davis said postgame. "You can't be afraid to shoot the ball. We've got a great team. We've got great shooters, and that's what really spaces the floor for us. So when we're not doing that, they can just pack it in."
That's exactly what happened. Indiana only attempted 10 3-pointers and the Hoosiers could never truly take the lead or cut into the lead when they had opportunities.
Indiana's current personnel isn't going to allow them to shoot the ball as effectively as Penn State does. But opponents that take and make a high volume of 3s have been Indiana's kryptonite this season. The Hoosiers are now 0-4 this season against Penn State and Iowa.
With Selection Sunday looming, Indiana's next game could be its last of the year. The ability for the Hoosiers to adjust their style to who they're playing may be the difference between advancing and going home in the Big Dance.
(Photo credit: Penn State Athletics)
Filed to: 2023 Big Ten tournament, Penn State Nittany Lions