"I don't want robots": Indiana's energy and motivation drives Big Ten tournament quarterfinal victory over Maryland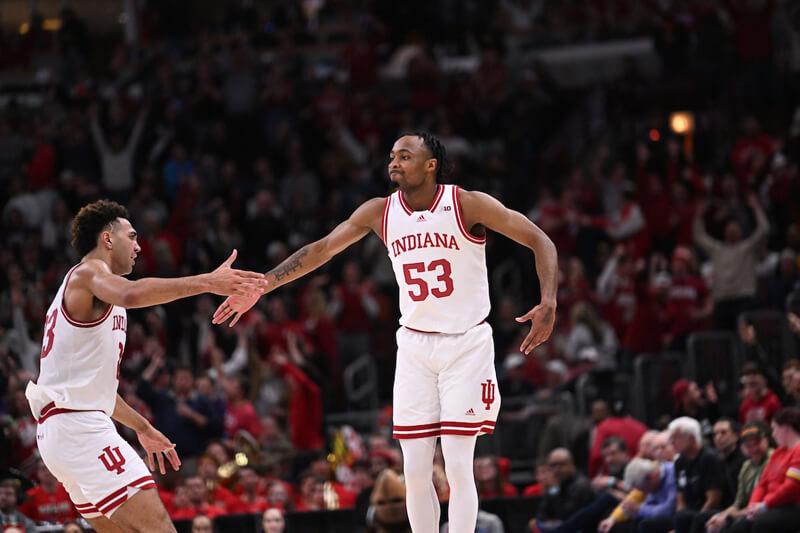 CHICAGO – After the final buzzer Friday night at the United Center, fans exited as the song "This is Indiana" blared on the speakers behind them.
It could only mean one thing: an IU victory.
The song is not one typically heard outside of Indiana, unless Hoosiers fans themselves decide to play it, and it's certainly not one anyone would expect to hear at a neutral site during a conference tournament.
But Friday night didn't feel like a neutral site. Because out of 18,892 fans in the United Center, the overwhelming majority of them were Indiana fans. And so, for a few minutes in Chicago, those fans got one more thing to bask in beyond Indiana's 70-60 win over Maryland.
"I believe we have the best fans in the country," Trayce Jackson-Davis said postgame. "It felt like a home game out there."
Throughout the 40 minutes of Friday's game, the decibels from the Hoosier faithful were up and down — just like their team. Indiana came out of the gate firing, seizing all the momentum and running an efficient and energetic offense. The team wavered as the half went on and Maryland came back to grab a two-point halftime lead.
But coming out of halftime, Indiana was renewed. And who else to jumpstart that than Jackson-Davis?
He didn't have a bad first half, statistically, but he said he did. Nine points, four assists, one steal and one block don't live up to the expectations he places on himself.
"I feel like we had to get our legs under us," Jackson-Davis said. "But after we did in the second half I thought we played really well. We were making good plays, hitting shots, things of that nature."
In the second half, Jackson-Davis scored 15 points, grabbed eight rebounds and tallied four blocks and two steals. As he has been so many times before for Indiana, he was the literal and figurative leader on the court.
"Trayce just dominated inside," Mike Woodson said. "In terms of things that were coming to the rim, he made some big-time blocks and altered some shots."
Jackson-Davis' ferocity and determination to win shone through when he fought for rebounds under the basket, soared to block a shot, passed the ball off to his teammates, and encouraged them to shoot.
A host of Indiana players benefited from Jackson-Davis' passing, including Miller Kopp, Jalen Hood-Schifino and Tamar Bates. All three players hit key 3-pointers for Indiana, and each brought almost the same amount of energy as Jackson-Davis.
Bates, after his second half 3-pointer, flexed with Jackson-Davis as the two ran back down the court. Kopp pumped his fist while narrowing his eyes in determination. Hood-Schifino looked like he just made the easiest shot in the world when he sunk a veteran-level shot with 2 seconds left on the shot clock.
And while Hood-Schifino didn't outwardly show much emotion, the fans, his teammates and the Indiana bench did it for him. Nearing the end of the game, it was almost the perfect way to cap a largely successful second half.
Because Indiana's defense also emerged in the second half; Indiana consistently fought harder for rebounds and held Maryland to shooting only 25 percent from the floor. Indiana shot 57.1 percent.
"We really just got into them, starting at half-court," Jackson-Davis said. "We pressured on the ball and the guards did a really good job setting stuff up."
It's no secret Indiana had to weather the storm Friday night. Maryland went on a double-digit scoring run near the end of the first half and forced turnovers, silly mistakes and rushed shots. It would have been relatively easy for the Hoosiers to lose their energy, to stop showing emotion or taking pride in the little things they were doing.
But they didn't. Because the energy they got from the little things propelled them to step up in the big moments.
"I don't want robots," Mike Woodson said. "I want guys to feel good about what they do when they're out there on the floor."
If there's one thing the Hoosiers aren't, it's robots. Their emotions almost always shine through, and why shouldn't they? Those feelings help the players encourage each other, inspire each other and ultimately pave the way for success.
At least, they do for Indiana.
(Photo credit: Indiana on BTN on Twitter)
Filed to: 2023 Big Ten tournament