At the Buzzer: Indiana 75, Michigan 73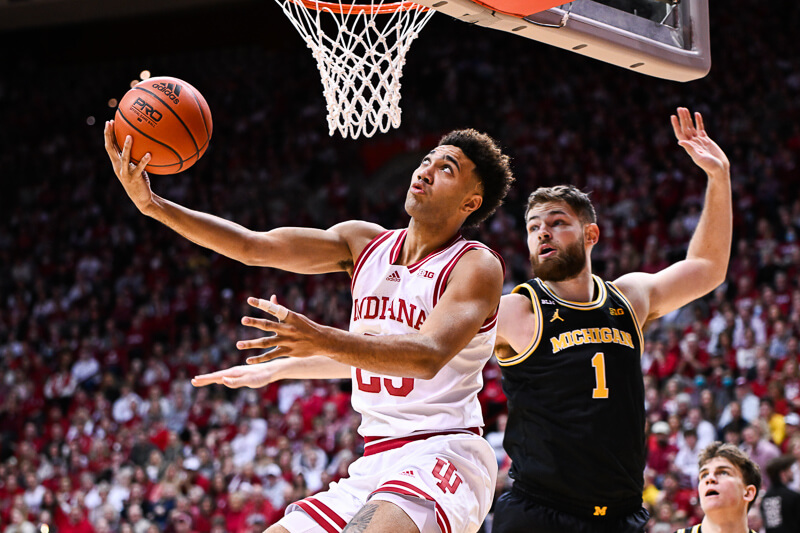 Quick thoughts on a 75-73 overtime win against Michigan:
How it happened
Indiana looked to be in good position to cruise to a senior day victory on Sunday in Assembly Hall. Michigan couldn't buy a basket the first 15-plus minutes and the Hoosiers led 27-13 at the 4:32 mark on a Race Thompson bucket. But things fell apart quickly to close the half. A Kobe Bufkin dunk started a 14-2 run for the Wolverines and suddenly, Indiana's lead was just two at intermission. Fouls became a problem, too, as Trey Galloway picked up three and Jalen Hood-Schifino had two. The first half shooting numbers for both teams in the opening 20 minutes were ugly. Michigan was just 2-for-11 on 3s and Indiana was just 1-for-9. Indiana managed just .87 points per possession and Michigan was at .81 points per trip.
Things got worse quickly in the second half for Indiana. Michigan started to make perimeter shots. And the Wolverines quickly grew their lead to double digits. By the 13:42 mark, Michigan led 52-40 on a Dug McDaniel 3-pointer. At the under-12 media timeout, Indiana trailed 54-45. Out of the timeout, Hunter Dickinson picked up his third foul and Trayce Jackson-Davis made both free throws to make it 54-47 with 11:24 to play. After a Dug McDaniel 3-pointer made it 59-49 Michigan, Indiana got within six at 60-54 on a Miller Kopp 3-pointer. The Hoosiers cut it to four on a Race Thompson bucket with 7:13 remaining and Thompson got a dunk and was fouled to make it 60-59 with 6:42 to play. By the under-four media timeout, Michigan's lead was 65-62.
Indiana got within one on a Jackson-Davis bucket with 3:16 to play and then Michigan turned it over on its next possession. The Hoosiers regained the lead on another Jackson-Davis basket with 2:49 left. The Wolverines retook the lead at 67-66 at the 1:46 mark on a pair of Kobe Bufkin free throws. After Jackson-Davis missed the front end of a one-and-one, a Dickinson bucket made it 69-66 Michigan with 1:15 to play. Indiana answered with a Hood-Schifino 3-pointer to tie it at 69 with 59 seconds left. Michigan turned it over on its next possession, but Race Thompson couldn't finish in transition and Michigan grabbed the rebound and called timeout with 13.4 seconds left. The Wolverines got a decent look on their final possession for a Dicksinon 3-pointer, but it missed and IU called timeout with .7 seconds left. Jackson-Davis got a halfcourt shot that just missed, sending the game to overtime.
Indiana scored the first six points of overtime to make it 75-69, but Dickinson's 3-pointer cut the lead to 75-72 with 1:58 left. Both teams went scoreless on their next two possessions and Michigan rebounded a Jackson-Davis miss and called a timeout trailing by three with 23 seconds to go. The Wolverines turned it over and fouled Thompson with 12.5 seconds left. Thompson missed both free throws and Indiana then fouled McDaniel with six seconds left. McDaniel made the first free throw, but intentionally missed the second and Thompson grabbed the rebound and was fouled with 4.1 seconds to go. Thompson missed both free throws again, but Michigan didn't get a shot off as time expired.
Standout performer
Jackson-Davis finished with 27 points, nine rebounds and six assists in 44 minutes in his final game at Assembly Hall. Thompson had a double-double with 16 points and 10 rebounds on senior day.
Statistic that stands out
Indiana's 12th win clinched a double-bye in next week's Big Ten tournament in Chicago. The Hoosiers will be either the No. 2 or No. 3 seed depending on the outcome of Northwestern at Rutgers later tonight.
Final IU individual statistics

Final tempo-free statistics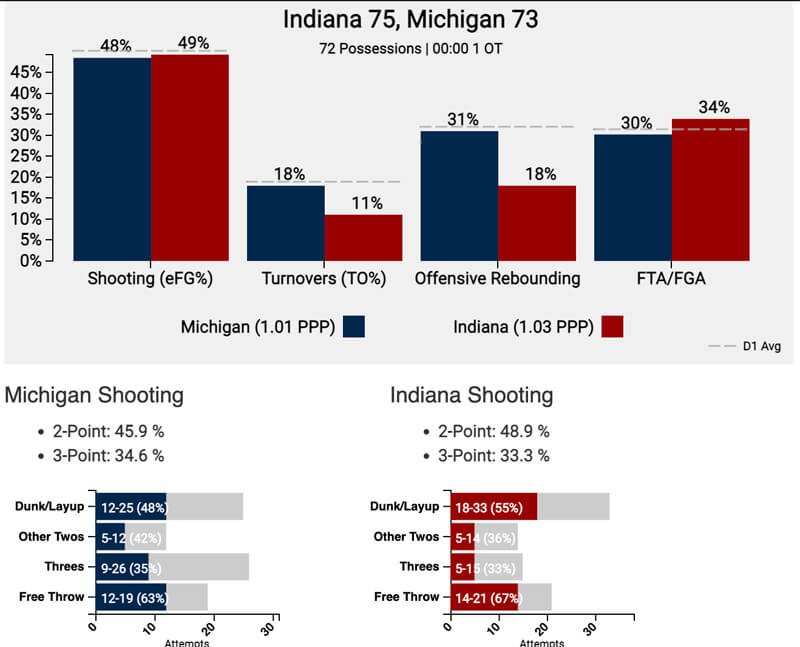 Assembly Call postgame show
Filed to: Michigan Wolverines