6-Banner Sunday: Indiana crushes Saint Francis in final exhibition tuneup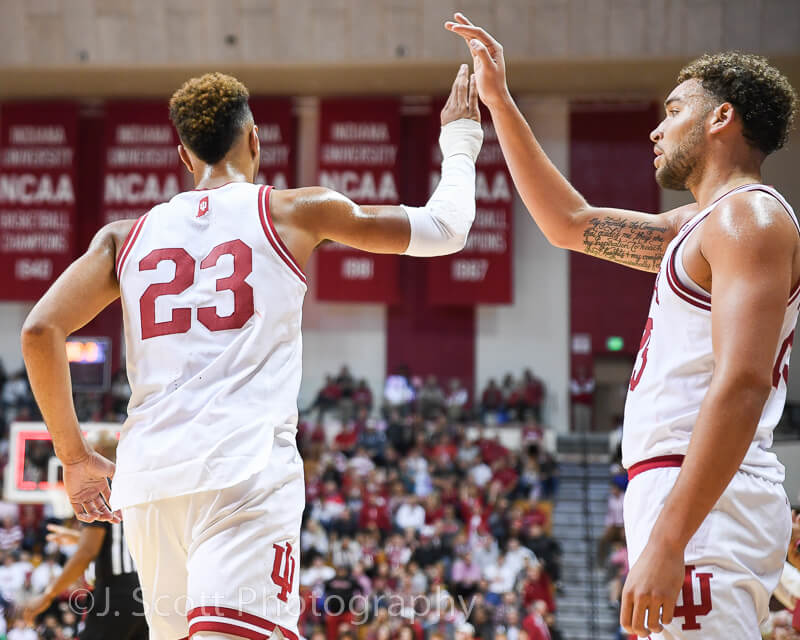 6-Banner Sunday is Inside the Hall's weekly newsletter in partnership with The Assembly Call. More than 9,000 Indiana fans receive the newsletter each week. In addition to appearing each week on the site, you can also opt to receive 6-Banner Sunday by email. A form to subscribe via email is available at the bottom of this week's 6-Banner Sunday.
Welcome to another edition of 6-Banner Sunday, a joint production between The Assembly Call and Inside the Hall where we highlight the five most essential IU basketball stories of the past week, plus take a look at how the other IU sports programs are doing.
The final exhibition game was played last Thursday night and the Hoosiers gave their fans no reason to believe they won't meet preseason expectations despite the relatively hapless opposition. The regular season and games that count begin tomorrow and one final preseason poll and player award continue to feed the hype that IU should finally be among the best teams in college basketball again.
Away from the court, Podcast on the Brink and Assembly Call had shows this week, Inside the Hall wrapped up its player preview series, and Indiana's head coach had his popular radio program return. We will as usual conclude with a look at how other IU sports are doing.
• Hoosiers dominate Saint Francis in final exhibition game
• IU ranked highly by Sagarin and another watch list for Trayce Jackson-Davis
• Podcast on the Brink and AC postgame show
• Inside the Hall concludes player preview series
• Mike Woodson radio show debuts
• Hoosier Roundup
Banner #1 – Hoosiers dominate Saint Francis in final exhibition game
While contests against NAIA schools only can teach a team so much, IU passed the test in their final exhibition game with flying colors 104-59. Once again the five-star freshmen duo of Jalen Hood-Schifino and Malik Reneau showed they will be ready to contribute right away for Indiana with 15 points each. Also, Trayce Jackson-Davis returned from a minor injury and looked in midseason form with 19 points.
Afterward, both IU coach Mike Woodson and Saint Francis coach Chad LaCross spoke, Inside the Hall had a photo gallery, Ryan Corazza wrote his Minute After and Film Session, and Alex Bozich penned five takeaways.
Indiana faces Moorhead State in their first regular season matchup tomorrow at 7 pm on BTN+ in Assembly Hall.
Banner #2 – IU ranked highly by Sagarin and another watch list for Trayce Jackson-Davis
The final preseason poll came out in the form of the Sagarin Ratings and once again the prognostication is high on the Hoosiers as they come in at 11th. The one major difference though is Sagarin is much higher on the Big Ten as a whole than any other service as IU's ranking is only third highest in the conference behind No. 8 Michigan and No. 9 Illinois. Also, right behind Indiana is No. 13 Purdue, No. 16 Michigan State, No. 20 Ohio State, and No. 22 Iowa.
Inside the Hall has compiled where the Hoosiers stand in various polls with the 2022-2023 campaign about to get underway. The highest IU is slotted is sixth by Lindy's Sports and the lowest is 20th by The ALMANAC.
Trayce Jackson-Davis also received more preseason recognition as he was named to the watch list for the NABC player of the year award.
Banner #3 – Podcast on the Brink and AC postgame show
Podcast on the Brink had a new episode last week with William McDermott to take fan questions heading into the season. Meanwhile, Assembly Call had no radio program on Thursday due to the exhibition contest. However, the postgame show afterward took its place instead.
Doing The Work, like POTB had a show this week that took questions from listeners. Doing The Work now has its own podcast feed and Twitter account as Inside The Hall and Assembly Call continue to increase coverage of the women's basketball team.
Banner #4 – Inside the Hall concludes player preview series
With the season about to begin tomorrow, Inside the Hall wrapped up its player preview series with the lone Hoosier who had not yet been broken down. The final team member to be looked at is sixth-year senior and longtime glue guy Race Thompson.
Banner #5 – Mike Woodson radio show debuts
For the first time this season, Mike Woodson's weekly radio show aired last Monday. The program will air most weeks throughout the basketball season. One of the night's highlights was Woodson confirming what everyone has seen in the exhibition games with praise for the Hoosiers' two five-star freshmen.
Banner #6 – Hoosier Roundup
• Men's Soccer was three minutes from a Big Ten championship before conceding a late goal to Maryland to end the match in a draw. In a twist of irony, that result and finishing fourth in the league gave the Hoosiers a much tougher path in the conference tournament. This more challenging slate gives the team a better chance to improve their seed for the NCAA Tournament. Indiana beat Penn State in the first round of the Big Ten tourney and faces Maryland on the road in the semi-finals Wednesday at 8 pm on BTN. Also, Ryan Wittenbrink who continues to have a breakout year offensively and scored both goals this week was honored by the conference as were several others.
• Women's Basketball dominated their exhibition game and star forward Mackenzie Holmes (both her and star guard Grace Berger were named to the preseason Naismith Trophy watch list) looked completely healthy again as the leading scorer. Also, a new security policy similar to football and men's basketball has been adopted going forward.
• Wrestling opened its season with a victory over SIUE.
• Football was embarrassed by Penn State for their sixth straight loss.
• Volleyball had a tough week against elite opponents Purdue and Nebraska.
• Cross Country ran at the Hoosier Invitational.
• Men's Tennis competed in a tournament at Notre Dame.
• Track and Field announced their schedule for the upcoming season.
• Field Hockey had two players honored with postseason awards from the Big Ten.
Thanks for your continued support for The Assembly Call and Inside the Hall. We'll be back next weekend with a new roundup.
Now go enjoy yourself a 6-banner Sunday.
Aaron (Ari) Shifron
Assembly Call Contributor
Filed to: