The Minute After: Saint Francis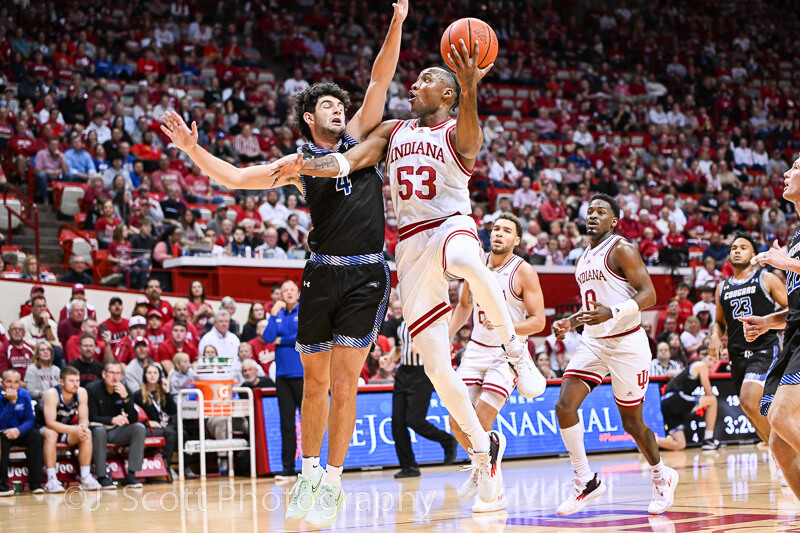 Thoughts on a 104-59 win against the Cougars:
A sloppy, sluggish start from the Hoosiers eventually gave way to a 45-point blowout win, another easy victory for Indiana to conclude its two-game exhibition season.
What we saw from Indiana's star freshmen against Marian continued tonight. Jalen Hood-Schifino did a little bit of everything on his way 15 points, five assists, one block, one steal and just one turnover in 22 minutes of action. The Montverde grad hit all three of his 3-point attempts and added some razzle dazzle in transition for good measure.
With Trayce Jackson-Davis back in the starting lineup after sitting out against Marian, Reneau moved to a bench role. But he still made the most of his time on the court. The freshman scored 15 points on 5-of-8 shooting and added in eight boards and four assists in just 20 minutes of action. Reneau had his own highlight reel play as well, a behind-the-back stepback that showed he's more than just a post player. Mercy.
Jackson-Davis had no issue using his size against the smaller St Francis frontcourt and dang near scored a point a minute in this one (19 points, 21 minutes). IU's big man hit 7-of-8 from the line and added nine rebounds and two blocks in his time on the court.
Tamar Bates also made his exhibition debut this evening. He didn't try and do too much, often benefiting from Indiana's ability to get out in transition for easy looks. Bates hit several lefty buckets at the rim (5-of-10) on his way to 10 points in 20 minutes of action. For the game, the Hoosiers outscored the Cougars 28-4 in fast-break points. They also outscored Saint Francis 21-6 in points off turnovers.
Jordan Geronimo (5-of-5) joined Hood-Schifino, Reneau, Jackson-Davis and Bates in double-digits with 10 of his own thanks to a number of dunks. Geronimo also secured eight boards in his 17 minutes of action.
Miller Kopp knocked down both his 3-point attempts this evening, which helped Indiana to a 36.8 percent mark from deep, despite off games from Xavier Johnson (0-of-4) and CJ Gunn (1-of-5) from beyond the arc. Johnson (three turnovers) continues to play a bit erratic in the early goings. Trey Galloway's 3-point form looks improved and he confidently shot two triples tonight, making one from the left wing.
The Hoosiers were only 11-of-18 from the line tonight, the struggles of this group from the charity stripe over the last several seasons lingering a bit still.
But simply put: Indiana outmatched both its exhibition opponents this season. The Hoosiers have passed their early test with ease.
But with the harder tests to come, Mike Woodson had this to offer after the game when asked how his team stacks up this season: "Only time will tell."
Filed to: Saint Francis Cougars