Five takeaways from Indiana's exhibition win against Saint Francis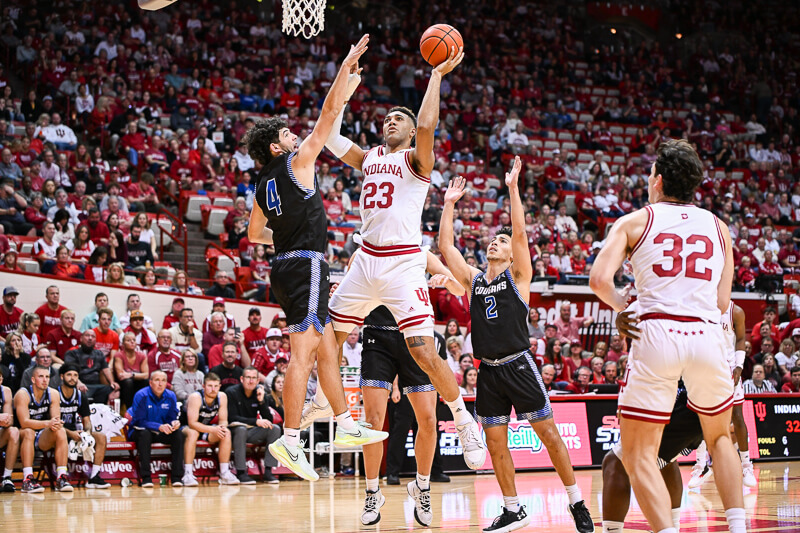 Indiana cruised to another exhibition victory on Thursday at Assembly Hall. The Hoosiers struggled defensively in the opening minutes, but easily prevailed 104-59 against Saint Francis.
Here are five takeaways from the exhibition win against the Cougars:
Trayce Jackson-Davis is back
Indiana was without Jackson-Davis in Saturday's exhibition against Marian. The senior forward wore a suit and sat next to the coaching staff as the Hoosiers easily defeated the Knights.
Wearing a wrap on his right hand, Jackson-Davis returned on Thursday and was dominant. The Center Grove product led Indiana with 19 points in 21 minutes. He shot 6-of-8 from the field. Most impressively, Jackson-Davis went 7-of-8 from the free throw line. Jackson-Davis is a career 67 percent free throw shooter and getting into the 70s percentage-wise this season should be a goal for him.
On the defensive end, Jackson-Davis swatted two shots and had five defensive rebounds. Both of those tied for team highs. No details have been released on the severity of the injury to the right hand, but it did not impact his effectiveness.
Jalen Hood-Schifino continues to impress
The games have been meaningless exhibitions, but Hood-Schifino has been Indiana's most impressive player so far.
The five-star guard from Montverde Academy finished with 15 points, five assists, two rebounds, one steal and a blocked shot in 22 minutes against Saint Francis.
Hood-Schifino was an efficient 6-of-8 from the field and made all three of his 3-point attempts. The 6-foot-6 guard has been running the point when Xavier Johnson goes to the bench and he's been effective. In the two exhibitions, Hood-Schifino tallied nine assists and committed only three turnovers.
It was clear after last season that Indiana needed better playmakers in its backcourt. Replacing Rob Phinisee and Parker Stewart with Hood-Schifino is proving to be a major upgrade.
Malik Reneau provides major production off the bench
With the return of Jackson-Davis, Reneau came off the bench Thursday night. It's a role he'll need to embrace with Jackson-Davis and Race Thompson ahead of him on the depth chart.
Reneau built on his impressive performance against Marian with another productive night against Saint Francis.
The 6-foot-9 lefty made seven of his eight field goal attempts and finished with 15 points. He grabbed eight rebounds, dished out four assists and blocked two shots in 20 minutes.
Like Hood-Schifino in the backcourt, Reneau should give the Hoosiers a major production lift in the frontcourt. Talent-wise, he's a major upgrade over Michael Durr as a backup and is flourishing thus far.
Tamar Bates makes his first exhibition appearance
After missing the first exhibition game, sophomore Tamar Bates took the floor on Thursday.
The lefty guard scored in double figures with 10 points on 5-of-10 shooting. The 10 field goal attempts from Bates were a team-high. Bates missed both of his 3-point attempts.
At times, Bates looked like a player shaking off some rust from missing time. In the first half, he took a deep 3-pointer from the right wing and didn't draw the iron. Most of the points Bates scored were from uncontested looks at the rim.
"Tamar has really been one of our most consistent guys on this journey since we've been together," Mike Woodson said postgame. "Unfortunately he got hurt the past week and a half and it's kind of slowed him down, so it was good getting him back."
For Bates to realize the breakout potential that some have forecasted this season, he will need to be more consistent from the perimeter. As a freshman, he took 57 3-point attempts and made just 29.8 percent.
Kaleb Banks and Logan Duncomb sit out
Thursday would have been a nice time for Banks and Duncomb to get reps in a game situation. Both players need the experience. Duncomb barely played last season and Banks is a freshman.
Unfortunately, illness kept both players sidelined. About an hour before tipoff, both came out of the locker room for warmups wearing sweat suits.
Indiana released the following statement just before tipoff: "Indiana sophomore center Logan Duncomb (illness) and freshman forward Kaleb Banks (illness) will be inactive tonight against Saint Francis."
Filed to: Saint Francis Cougars