News and notes from Mike Woodson's radio show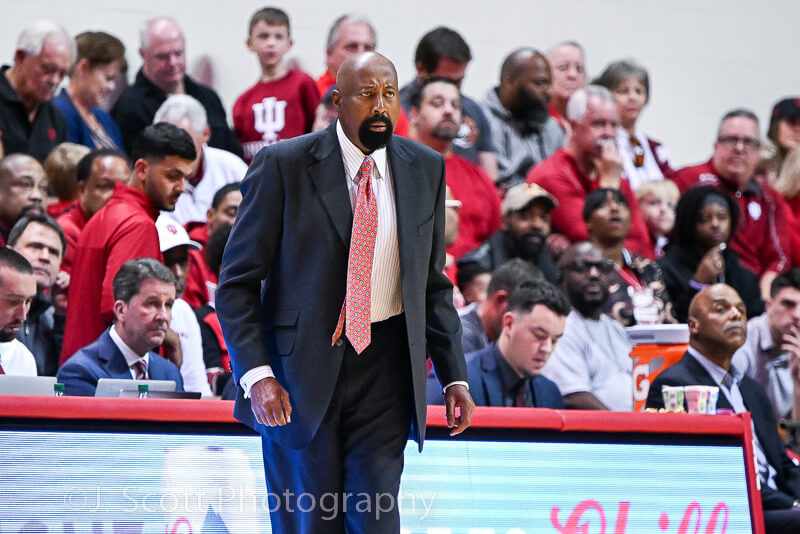 "Inside Indiana Basketball with Mike Woodson" returned Halloween night for the first time this season as Woodson sat down with the voice of the Hoosiers, Don Fischer.
Woodson covered everything from Indiana's highly touted freshmen class to Brian Walsh, who took over for Dane Fife.
• Woodson talked about Indiana's freshmen. He said he wants them to be "sponges." "The quicker they learn, the better we'll be."
• Woodson has been impressed with the way the freshmen compete. Woodson said he deliberately started by putting the four freshmen and another player up against five upperclassmen. "The older guys took advantage of them, but they're very competitive, they hate to lose. And that's kinda nice," Woodson said.
• In terms of the Marian exhibition game, Woodson watched their game last Thursday (against St. Xavier) and saw the Knights put up 90+ points. "I'm sitting here like, we gotta defend," said Woodson. "I thought we defended the 3-point shot really well."
• Woodson said Indiana's defense needs to be "our staple."
• "For 90 percent of (last) season, we played a lot of inside-out basketball… but (Xavier Johnson) really figured out how to run pick-and-rolls," Woodson said. "We'll play more openly this season." Woodson said that he wants IU to have both strong inside play and pick-and-roll/screening actions.
• On Indiana's 3-point shooting woes last season, Woodson said those numbers "will be better" this season. "I feel more comfortable in the Tamar Bates' and the Millers and the (Galloways) and the Races," Woodson said. "We'll know in time."
• Woodson opened up on his recruitment of Jalen Hood-Schifino and told a funny story of him and his mentor, Larry Brown (who is a special advisor to Penny Hardaway at Memphis) at an AAU tournament. Woodson said Brown asked who he was here for and Woodson said "No. 8". It happened to be that Hood-Schifino was No. 4. When Hood-Schifino committed to Indiana, Brown called Woodson and said "Man, you lied! You were there for Schifino!"
• Woodson also told a story from his recruitment of Malik Reneau. Woodson said when he was vacationing in Jupiter, Florida, Reneau de-committed from Florida. Mike Woodson drove from Jupiter to Orlando, Florida where he watched Reneau in a private workout. He pleaded for Reneau to wait to visit to Bloomington to make a decision. "Once he got here (to Bloomington), he never left," Woodson said.
• "I've filled spots that I thought we needed, I like everything about them," Woodson said regarding all the freshmen.
• Woodson said he has implored NBA scouts to look at Trayce Jackson-Davis' intangibles like his ability to pass out of double teams, rebound, block shots and use a strong left hand instead of zeroing in on the fact he can't hit shots from the perimeter.
• Woodson applauded his team and guys like Tamar Bates, Logan Duncomb and Miller Kopp, particularly, for their work in the weight room this season. "A lot of these guys' bodies have changed. They're hungry and they should be," Woodson said. He also credited Jackson-Davis and Race Thompson for setting a good example and making these guys want to put in work.
• Trey Galloway had groin surgery in the off-season. "We brought him along slowly based on the surgery that he had… he's starting to shape up again," Woodson said. "He plays hard which I like… I call him 'crazy man'." He also mentioned that Galloway could only go full speed a month ago.
• Logan Duncomb shined with a double-double against Marian. "He did something positive on the floor in every game he got in last year," Woodson said. Woodson also mentioned that he's been hard on Duncomb about his commitment and dedication to getting in the gym during his free time.
• "I was really pleased with Brian Walsh because this was his scout game (Marian). And it was the first time he had done this… boy, his presentation was first class and the gameplan was right on the money," Woodson said about his newest assistant. He then described his staff's preparation process by saying the staff splits the season up amongst the coaches for game plans and gets grad assistants to tag along. "We all come together and watch film together and I'll give the final say on what we do," Woodson said.
• Woodson mentioned it's important that his assistants learn under him and get equal opportunities as they all want to be head coaches. "I'm not a hog. I like to share," Woodson said.
Filed to: Mike Woodson