6-Banner Sunday: NIL and recruiting updates highlight another busy week for IU basketball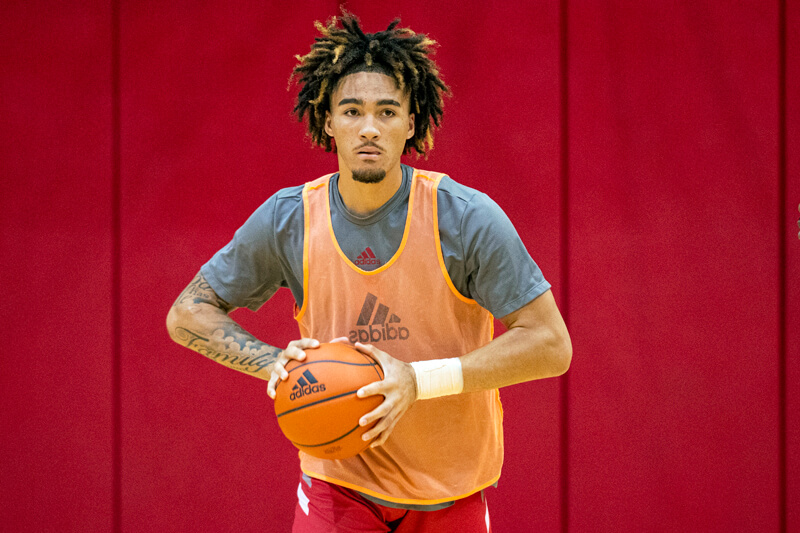 6-Banner Sunday is Inside the Hall's weekly newsletter in partnership with The Assembly Call. More than 9,000 Indiana fans receive the newsletter each week. In addition to appearing each week on the site, you can also opt to receive 6-Banner Sunday by email. A form to subscribe via email is available at the bottom of this week's 6-Banner Sunday.
Welcome to another edition of 6-Banner Sunday, a joint production between The Assembly Call and Inside the Hall where we highlight the five most essential IU basketball stories of the past week, plus take a look at how the other IU sports programs are doing.
The offseason continues to roll on and Hoosier Hysteria remains a couple of months away. In the meantime, in anticipation of the season starting later this fall, more NIL deals were secured for some of IU's most well-known players.
Besides this, as happens many weeks during the summer months, recruiting stories were the other items of note this week. Also, Inside the Hall got to the meat of the pre-conference opponents with previews of the Hoosiers' most anticipated games before the Big Ten season.
As usual, we will conclude Six Banner with a look at last week's AC Radio as well as what news occurred with other IU teams.
• 11 more IU athletes sign NIL deals with Hoosiers For Good
• Jamie Kaiser Jr. to announce college decision on Sunday
• More recruiting news
• Non-conference opponent previews continue
• AC Radio
• Hoosier Roundup
Banner #1 – 11 more IU athletes sign NIL deals with Hoosiers For Good
After inking 14 IU players to NIL deals last season, Hoosiers For Good continued its efforts. This time the organization announced that 11 more Indiana athletes had joined charitable causes.
10 of the deals were with men's basketball players as Kaleb Banks, Tamar Bates, Logan Duncomb, Trey Galloway, Jordan Geronimo, CJ Gunn, Jalen Hood-Schifino, Xavier Johnson, Miller Kopp, and Malik Reneau all signed on. Combined with the earlier announcement that Trayce Jackson-Davis and Race Thompson were joining, Hoosiers For Good now has 12 of the team's 13 scholarship athletes in the fold.
The 11th person to sign on was former Indiana Miss Basketball and Oregon transfer Sydney Parrish who joins stars Grace Berger and Mackenzie Holmes as women's basketball players to receive NIL deals with Hoosiers For Good.
Banner #2 – Jamie Kaiser Jr. to announce college decision on Sunday
After visiting Bloomington recently, guard Jamie Kaiser Jr. is ready to announce his college choice. The Hoosiers made his top three along with Maryland and Virginia.
The winds though seem to be blowing towards IU's Big Ten rival in College Park. However, until Kaiser's decision is officially announced later Sunday no one will know for sure.
Banner #3 – More recruiting news
Besides the Kaiser news, several other recruiting stories happened over the last few days.
First off, 2023 prospect Arrinten Page recently visited Bloomington and his father recapped it. 2025 prospects Trent Sisley and Jalen Haralson were also on the IU campus and talked about their time there. Finally, 2024 target Caleb Williams picked up an offer from the Hoosiers and discussed it.
Meanwhile, 2023 commit Gabe Cupps had a summer highlight video as did Page.
Banner #4 – Non-conference opponent previews continue
Inside the Hall continued its look at IU's non-conference foes with its ongoing series.
This time the most anticipated games before the new year were looked at in detail as North Carolina, Arizona, and Kansas received in-depth previews.
Banner #5 – AC Radio
Assembly Call Radio had a new episode this week. The show power ranked IU's roster spots from 1-13.
Banner #6 – Hoosier Roundup
• Football head coach Tom Allen spoke to the media twice this week about IU's upcoming season as did several players and coaches from the defensive backfield. Also, Tiawan Mullen and Sean Wracher were named to preseason award lists.
• Volleyball took part in Big Ten media day.
• Swimming and Diving competed at the Phillips 66 National Championship.
• Wrestling added to its 2022 signing class.
• Field Hockey made a couple of adjustments to its upcoming schedule.
Thanks for your continued support for The Assembly Call and Inside the Hall. We'll be back next weekend with a new roundup.
Now go enjoy yourself a 6-banner Sunday.
Aaron (Ari) Shifron
Assembly Call Contributor
Filed to: