Q & A: Marlon Page, father of 2023 forward Arrinten Page, recaps Indiana official visit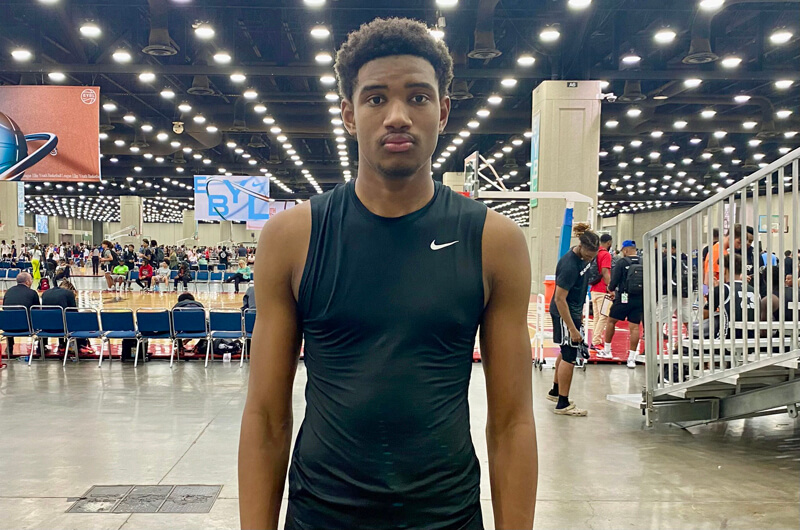 One of Indiana's top recruiting targets in the class of 2023, Arrinten Page, wrapped up his official visit to Bloomington on Friday.
Inside the Hall spoke with Arrinten about his visit on Saturday as well as his father, Marlon. You can read our Q & A with Arrinten here and our full Q & A with Marlon Page is available below:
From your perspective as a parent, what were the main takeaways from the visit and what you were able to learn?
"First off, IU is incredible. I just want to say that out of the gate. We've done some other visits and I have to say that IU is first class. The coaching staff was phenomenal. Coach (Mike) Woodson, Coach Kenya (Hunter) and coach Ya (Yasir Rosemond) and the other coaches as well. That stood out to us. The fact that they appear to be great teachers and can help Arrinten reach his goals. One of the biggest goals for me and his mom is to make sure he gets a great education. We feel like he can definitely get that from IU.
"And then also the other people in place. Clif (Marshall) and Tim (Garl), those folks that work with the kids and preparing them with not just the physical, but the mental as well. They appear to be, in my opinion, top notch. Just the stability of the coaching staff is big and the team as a whole was phenomenal. I'd say this, too, the facilities were great as well. As young kids, they always want the shiny objects so I'd have to say that Arrinten was really happy with not just the basketball arrangements, but the living arrangements as well. And then having an opportunity to meet the AD (Scott Dolson), I feel like he's definitely got a pulse of what's going on. We were really pleased and excited that we got the opportunity to meet him as well."
In terms of the recruiting process, there's a lot of schools that are recruiting Arrinten and have prioritized him. How important was it for him to get on campus and see what it would be like to be at Indiana?
"It was important. Very important. Not only was it for important to him to see the campus, it was good that he got an opportunity to meet the players as well. He's really been blessed to play with some incredible players in high school, so he got a chance to meet the players and gosh, it's a good group. For me, that's important because he could be extremely good at what he does, but if he doesn't have good players around him, it makes it harder on him. That was important. The four freshmen, I like all of them. They're good guys and good players."
What did you learn about how they plan to use Arrinten at Indiana and how he fits in with the style of play?
"Coach Woodson made it crystal clear that Arrinten is, without question, a priority for the team for the 2023-24 season. And without question, he fits in with his style of play and his vision for where he wants to take the team. Arrinten's skill set is what he's excited to work with. Just the fact that he can do so much at his size and how he runs the court, they made it clear on what they want to run. They showed us the offense that they ran last year and the players that they had on the team last year and they were fortunate to have a number of players come back. They actually showed us how they would use him and we were happy with what coach Woodson and the staff shared with us about how they would use him."
He's mentioned cutting down his list soon. As his parent helping him get through this process, what's been your advice to him as he goes through it and on making a decision? 
"A good thing for Arrinten is, for one, he has both his mom and his dad to help him think about things that are important. And not just his mom and dad, but he's got a phenomenal coaching staff at his high school and one of his coaches was there with us. So it's not just mom and dad.
"Ultimately, the decision is Arrinten's. As his parents, we just want to make sure he has all of the information he needs as he goes through the decision-making process. Really, I think he's getting to the point now, especially after this visit, where he has a good feel for what he desires to have and what needs to be in place to help him be his best self both as a student and as a student-athlete. We got a chance to spend some good time with all of the support system in place at Indiana, which of course is important to mom and I.
"I have to say that I think he's getting very close to making a decision on which direction he wants to go and what he feels is going to be best for him.
"One thing I also wanted to share: I got an opportunity to spend some time talking with coach Woodson and I think Indiana fans know this already, but I think he's a great father figure as well for the kids. That was important for me to know I have someone that would definitely help him in becoming the best young man that he can become. That's important to me as his dad. We're really pleased and excited that we had the opportunity to see IU and what it has to offer. It was phenomenal in my opinion."
Filed to: Arrinten Page