Q & A: Class of 2025 forward Trent Sisley recaps Indiana visit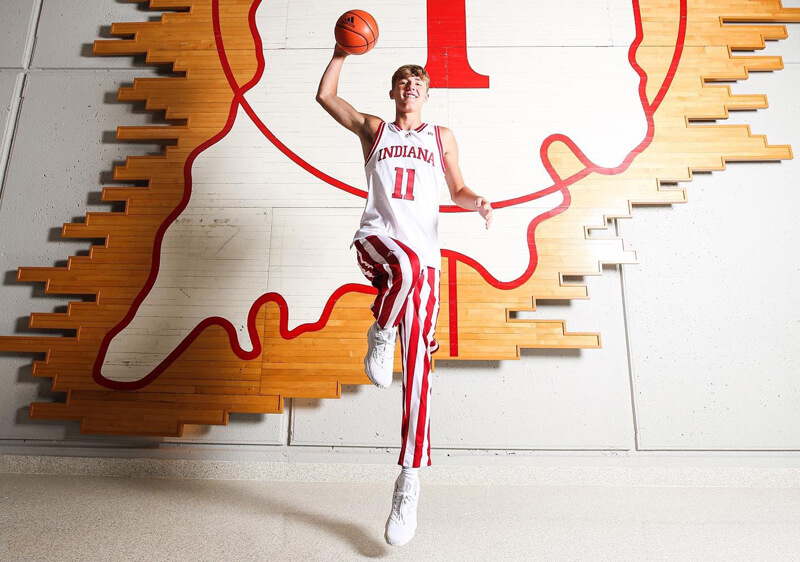 Key 2025 target Trent Sisley was in Bloomington on Tuesday for an unofficial visit.
Sisley, a rising sophomore who attends Heritage Hills High School, has had a busy week as he was at Purdue on Monday.
Inside the Hall spoke with Sisley about his visit to Indiana on Tuesday. Our full Q & A with Sisley is available below:
What were your main takeaways from the visit? Did anything stick out?
"How much all the coaches were involved and how much they really want me there (is what stood out). Showing some support to them too after they have been recruiting me so hard, to finally be on campus… it was good to talk to them face-to-face. I thought that was really good today. It was good to sit down with the coaches in Coach Woodson's office to see how they would use me."
How do the coaches see you fitting in at Indiana?
"They see me being a three or a four type. Coming off ball screens and playing inside and out. I can shoot the ball, so playing on the perimeter at times as the three or four."
Did they give you any advice on your game?
"They did a little bit. They are just trying to tell me what I can do better to maybe fit in their system one day."
What is your relationship like with Coach Woodson? What was he like on the visit?
"He was very welcoming today. He is pretty positive most of the time. He does give me things to go back and work on (after conversations). But for the most part, he is positive."
What advice have your parents given you during this process?
"Just to be patient and don't count anyone out too early. See what is best for me and see where I can play, because I obviously want to play. That has been what my main focus is."
How did your AAU team finish? I know you were playing up on the EYBL Circuit during the offseason.
"It definitely ended on a good note. We won the EYBL Invitational Championship (Peach Jam) down in Augusta. It was really good for me playing up. You get used to that; it was faster and more physical than 15U would have been. It was good for my development. Having Jalen (Haralson) there too, it was good for both of us and we fed off each other. It was just a really good spring and summer."
How do you think your sophomore year will go at Heritage Hills after playing a competitive summer schedule?
"I think I am ready for it. It feels like forever since I have played high school basketball. I am definitely confident coming into the season after playing AAU all spring and summer."
What do the next few months look like for you before high school basketball?
"We are going to Ohio State tomorrow (Wednesday) and on September 10 we are going to Iowa. Fall workouts for my high school start at the end of August up to when the season starts. So that is really all I have going on until basketball season."
Filed to: Trent Sisley