Q & A: Nationally-ranked 2025 point guard Jalen Haralson recaps Indiana visit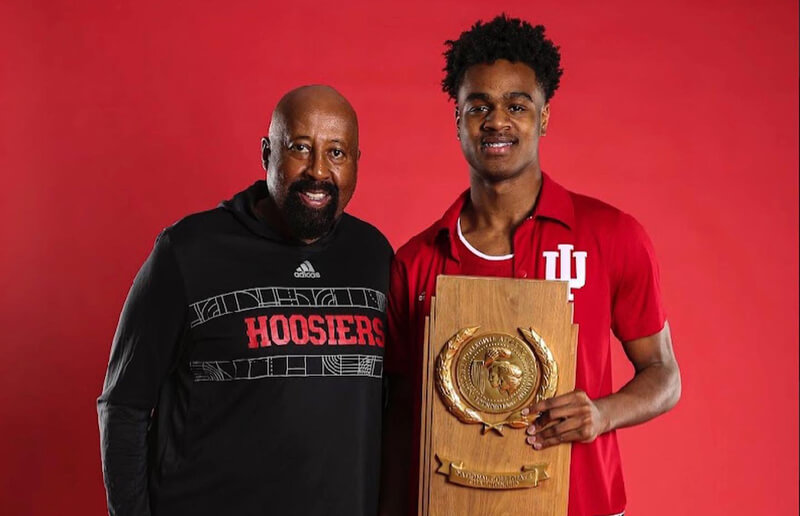 Point guard Jalen Haralson, a nationally-ranked recruit in the class of 2025, was on Indiana's campus on Monday for an unofficial visit. Haralson, who attends Fishers High School and plays with the Indy Heat AAU program, is the No. 13 prospect in the nation, according to ESPN.
Haralson followed up his IU visit with a trip to Purdue on Tuesday.
Inside the Hall spoke with Haralson about his visit to Indiana. You can read our Q & A with him below:
What stood out the most during the visit?
"The culture they have there stood out. They have a lot of history there. I knew a little bit about it but being there was different to experience it. Just to learn more about Coach (Mike) Woodson at the professional level… I did not know how big of an influence he was throughout the NBA."
Does Coach Woodson's NBA experience mean anything to you when deciding on a college?
"It is cool to see that he has been through it and he knows what it takes to get there. But that really isn't a big, big thing. I definitely want to keep my options open. But yeah, it is really cool that he has been there and done it."
Could you tell during your visit that Bloomington is crazy about IU basketball?
"Yes, it was crazy with fans outside the stadium and fans where we ate (BuffaLouie's). You can definitely tell it is a basketball city. It was nice seeing that the fans want me there."
How do the coaches see you fitting in at Indiana?
"Coach Woodson is big on transition (offense). I feel like that is the best part of my game. I fit perfect in his style. He likes big guards that can defend. He feels I am that. And guards that can shoot. Also me thinking the game at a high level, that is a part of it."
Did the IU coaching staff compare you to any players? And do they see you as a point guard or combo guard?
"They showed me a lot of film of Jalen Hood-Schifino. Coach Woodson thinks I can bring that (skillset) to his program. He sees me as a point guard with how I can affect the game in multiple ways and with my size (6-foot-7)… you really can't find that a lot of places."
What advice did the coaches give you as a guard?
"They told me to watch a lot of film and keep studying so I can improve all areas of my game — that was the main advice they gave me."
What has this week been like for you overall? I saw you visited Purdue on Tuesday and school started this week.
"It has been a lot of fun. Going out to campuses and seeing behind the scenes of everything, I learned a lot over the week. It is fun to see what the colleges have to offer."
How have your parents helped you during the recruiting process?
"They tell me to stay focused and keep my head straight. Mainly to enjoy the process because it only happens once. They have made it a lot easier."
How did your AAU season go playing up on the EYBL circuit with Indy Heat?
"It was cool to be in that atmosphere and fun playing up with those guys. Just seeing the way teams play, it was different than playing high school competition. It raised my physicality and aggressiveness."
What will you be up to in the next few months?
"I will be taking more visits. I don't know what those are yet. Also going to go to a couple of games. I want to get down for Hoosier Hysteria and see the IU-North Carolina game. That will be fun. But other than that, really just rest and recovery and work until the high school season starts."
Filed to: Jalen Haralson