2022-23 Non-conference opponent preview: Kansas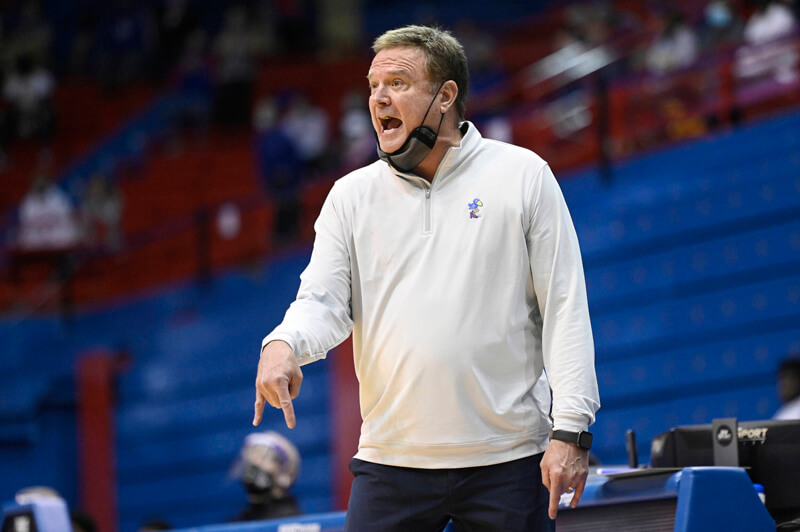 Indiana's 2022-23 non-conference schedule was finalized on July 1 and Inside the Hall will have a team-by-team look at all 11 opponents. Today: Kansas.
Seven days after playing Arizona in Las Vegas, the Hoosiers will travel to Lawrence, Kansas to match up against the defending national champions. The Dec. 17 game will mark the 14th time the Jayhawks and Hoosiers face each other and the first game in a home-and-home series; Kansas is scheduled to travel to Bloomington in Dec. 2023.
Indiana leads the all-time series 8-6, but hasn't played in Lawrence since 1993. The Hoosiers lost 86-83 in overtime. The most recent game between the two, in 2016, resulted in a 103-99 Hoosier win in overtime on a neutral court in Hawaii.
As the defending national champion, Kansas has a lot of eyes on it, and is ranked No. 6 in ESPN's way-too-early top 25 preseason rankings, but these won't be the same Jayhawks who beat North Carolina last year.
The Jayhawks were one of the few teams to not have a player enter the transfer portal, but with the departures of their top players like Ochai Agbaji, who averaged 18.7 points per game, and David McCormack, who averaged 10.6 points per game, they will have a very different starting lineup.
Kansas will also be without Christian Braun (14.1 ppg) and Remy Martin (8.6 ppg) and, in total, has lost about 63 percent of minutes played from last season.
Bill Self, entering his 20th season as Kansas' head coach, led the Jayhawks to a 34-6 record in the 2021-22 season and lost only one game at home, to Kentucky.
Kansas' leading rebounder and a consistent starter last season, forward Jalen Wilson, will be returning after withdrawing his name from the NBA draft. The 6-foot-8 averaged 11.1 points and 7.4 rebounds per game last season and is expected to be an even bigger contributor this season.
Self cited the "intangibles" Wilson would bring with his return, including more experience and maturity. Self also named Dajuan Harris Jr. as a leader for the program — Harris was the starting point guard in the 2022 national championship game and led the team in assists (166) and steals (58).
Unlike other teams Indiana will face in its non-conference schedule, Kansas only has one new transfer on its roster. Kevin McCullar Jr., a 6-foot-6 guard who played 3 years at Texas Tech, will be a redshirt senior this season for Kansas. In the 2021-22 season, McCullar Jr. averaged 10.1 points, 4.6 rebounds and 3.1 assists and is known for his defense.
McCullar was invited to the NBA G-League Elite Camp in May, but eventually committed to Kansas and withdrew his name from the NBA draft. He is expected to be a member of the starting lineup alongside Wilson and Harris, and will be another veteran presence on the team.
As for the rest of their new players, the Jayhawks will be welcoming in the No. 4-ranked recruiting class in the country.
Gradey Dick, a five-star small forward, is projected to be in the Jayhawks' starting lineup from the get-go. He is the No. 20-ranked player nationally, and No. 8-ranked small forward, with the ability to contribute from multiple places on the floor at 6-foot-7.
Dick will be joined by three four-star recruits in small forward MJ Rice, center Ernest Udeh Jr. and power forward Zuby Ejiofor. ESPN predicted Udeh, the No. 32-ranked player nationally and No. 7 center, as the fifth member of the starting lineup. At 6-foot-10 with a 7-foot-2 wingspan, Udeh will take up space and make an impact wherever he is on the court.
Rice is ranked No. 30 nationally and the No. 10 small forward, and Ejiofor is the No. 54-ranked player nationally and No. 7 power forward. It won't be surprising if both of these players are called on off the bench, especially Rice; Self said over the summer there was "no doubt" that both Rice and Dick would vie for starting spots.
Kansas has become known for its "high-low motion offense" under Self, and while the 2022-23 team has some big shoes to fill, the team's strategies are very likely to stay the same. Moving the ball around and using big men on the perimeter and at the rim will probably still be a big part of their game, because height is not lacking for the Jayhawks.
Like North Carolina and Arizona, Kansas will be a major test for Indiana in non-conference play.
Filed to: Kansas Jayhawks