2022-23 Non-conference opponent preview: North Carolina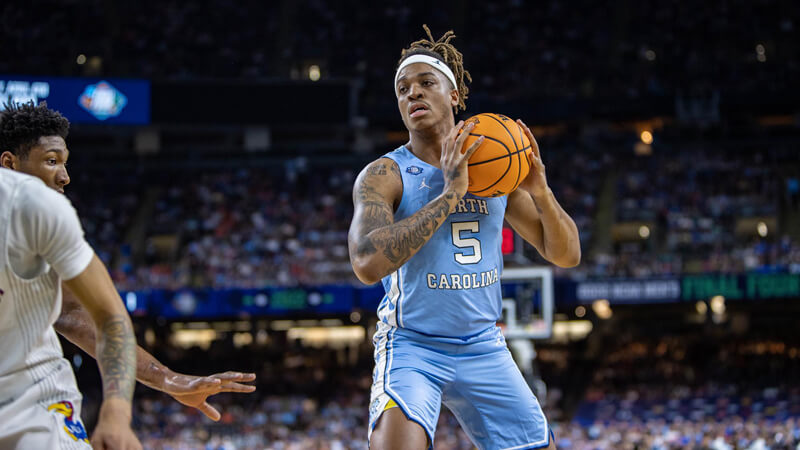 Indiana's 2022-23 non-conference schedule was finalized on July 1 and Inside the Hall will have a team-by-team look at all 11 opponents. Today: North Carolina.
North Carolina, last season's NCAA runner-up, will be coming to Bloomington on Nov. 30 as a part of the Big Ten-ACC Challenge.
Indiana has faced the Tar Heels 15 times, going 9-6 in those games. Most recently, the Hoosiers faced North Carolina, the eventual national champion that season, at home in the 2016 Big Ten-ACC challenge. Indiana won 76-67. All five Indiana starters scored in double figures, including 16 points from eventual NBA first-round pick OG Anunoby.
Hubert Davis returns for his second season as North Carolina head coach. With many doubters questioning whether he could complete the impossible task of following Roy Williams, Davis led the Tar Heels to the national championship game. The Tar Heels ended the season winning 11 of their final 13 games and with a 29-10 overall record.
North Carolina will return four starters, who accounted for over 70 percent of the team's minutes last season.
The only player of note North Carolina loses this offseason is the red-bearded sharpshooting forward Brady Manek, who played the four for the Heels. He'll be replaced by Northwestern transfer Pete Nance. Nance averaged 14 points per game and nearly seven rebounds with the Wildcats last season. And while those numbers will likely drop, Nance fills a much-needed void for UNC.
The addition of Nance makes North Carolina have one of the best frontcourts in the country as center Armando Bacot will return for his senior season. Bacot will be in the early conversation for national player of the year. The rising senior finished second in voting for ACC player of the year last season and averaged 16 points per game and 13 rebounds per game. Notably, Bacot improved greatly defensively last year as he used his long 6-foot-11 frame to block 65 shots.
Bacot is a difficult matchup for any team, but there's no question having Brady Manek spread the floor really opened things up for him to get offensive rebounds and have space down low. Hubert Davis will look for Nance to play the Manek role and help spread the floor.
At the guard spots, North Carolina returns both starters RJ Davis, who is in no relation to Hubert, and Caleb Love. It took both Roy Williams and Hubert Davis til the end of their sophomore season to figure the right combination between the two. But, when both are playing their respective roles UNC could have the best backcourt in the country.
Around the middle of February, Hubert Davis permanently moved the 6-foot RJ Davis to be the primary ball handler and it led to success. Davis, while being undersized and struggling to get to the rim, uses his craftiness to get in the paint and create jump shots for himself. Davis was one of three UNC starters to shoot over 36 percent from beyond the arc last season. In 34 minutes a game, Davis averaged 13 points and 3.6 assists. In his two years at North Carolina, Davis has grown from being an undersized and turnover-prone ball handler to a smart decision maker and crafty ball handler.
If North Carolina needs someone to make a big shot, it'll be confident 6-foot-4 guard Caleb Love. Love attempted a ridiculous 258 3-pointers from the field last season. With him being so high volume there are going to be games where he struggles from the field and has a difficult time making up for it in other ways. But, there's another end to that spectrum. Love had nine games where he made four or more 3-pointers in 2021-22, including a spectacular performance against UCLA in the Sweet 16 where he scored 30 points on 11-of-24 shooting. The rising junior will use his frame and athleticism to get to the rim often but can get out of control in transition leading to head-scratching turnovers. He averaged 16 points per game last season.
As a team, North Carolina does have some depth issues. The Tar Heels don't have a lot of experience past their starting five. Someone like Puff Johnson or Dontrez Styles off the bench is going to have to step up and give their starters a rest. In terms of how to beat the Heels, it's the same as beating a UNC team from 30 years ago. Slow the game down, don't turn the ball over and rebound.
Many have North Carolina at No. 1 in the country in the preseason and it looks like it might stay that way. The Tar Heels have every tool to be a national title contender.
Filed to: North Carolina Tar Heels