Q & A: Class of 2024 wing Caleb Williams discusses Indiana offer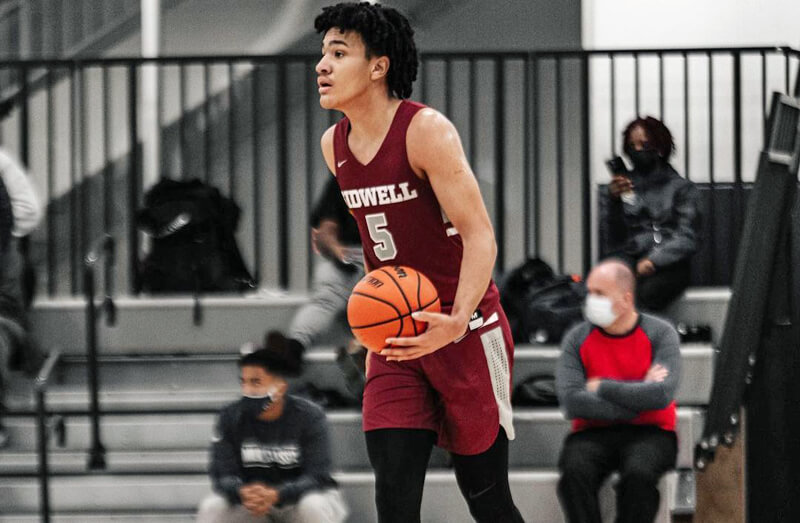 Class of 2024 Sidwell Friends School (D.C.) and Team Takeover wing Caleb Williams is one of the latest prospects in the rising junior class to receive a scholarship offer from Indiana.
The 6-foot-7 Williams recently spoke to Inside the Hall late last week about his conversations with Indiana, his recruitment taking off and much more.
Our full Q & A is available below:
Indiana just offered you a scholarship. How did that come about and what have you been hearing from IU?
"Kenya Hunter reached out to me and I had talked to him before briefly and then he put me on the phone with the head coach, Mike Woodson, and we just talked about how much they like my game and he ended up offering me (a scholarship)."
You've received offers recently from Villanova, Georgetown, Georgia Tech and a couple of others. What's it been like seeing your recruitment take off this summer and also getting an offer from Indiana?
"The whole recruiting situation, I've just been embracing the moment. I watched my two older brothers go through it, so just for it to finally be my turn, it's a dream come true. The Indiana offer, I know they're a big-time basketball program. I've seen guys like Victor Oladipo and Xavier Johnson, I sort of have a connection with through Team Takeover, perform with Indiana. Just seeing how big of a basketball program they are, it definitely means a lot that they believe in me."
Why do you feel this summer has been so big for you in terms of receiving a lot of scholarship offers?
"I think this year for me, it was establishing myself as one of the better players in the (D.C.) area, if not the country. I think last year, since we didn't really have a year due to COVID… my school season got canceled and the ending of AAU for the two week Peach Jam, I got injured right before so I didn't really get a chance to play in front of coaches. So I think they're just seeing me now for the first time and I feel like I've been performing well to allow them to believe in me."
Extremely blessed and honored to receive an offer from Indiana University! #AGTG #e4yall #GoHoosiers @IndianaMBB @sfscoach5 @TTOBasketball pic.twitter.com/3rByEh7vAd

— Caleb Williams (@calebwill1ams) July 27, 2022
Where did your two older brothers play?
"My oldest brother graduated from the University of Pennsylvania and is doing his grad transfer/COVID year at Howard University. And my other brother goes to Gettysburg College."
On your Twitter, you list yourself as a 6-foot-7 guard. That's the prototypical size of what the NBA looks for. How would you describe your game and your strengths and weaknesses?
"I'm a versatile guard/wing with improving ball handling to be labeled more as a guard/wing instead of a wing/forward. I'm versatile, I can score the ball, I can make plays for others. I rebound, take charges and do the little things. And I feel like I can defend each position at a pretty good level. So I think those are the things that help me separate myself."
What is it about the basketball in the DMV area that makes it so special?
"I'm not sure. A lot of places have talent, but I feel like the DMV, they have a way… whether it's the players or the coaching. I feel like our community is very strong. Everybody wants to see everybody winning. I'm not sure it's like that in other places, but I know definitely for sure that in the DMV that me, my friends, my brothers, my family members, I feel like everybody just wants to see everybody win. I feel like it's not a selfish area where somebody just wants all of the shine. I think everybody is bought into each other as well as themselves."
How do you want to manage the recruiting process? Are you just taking it all in right now and how are you building relationships with coaches?
"I think since it's pretty early with at least the contact period starting up like a month or two ago (June 15), I feel like right now I'm just getting the hang of it and figuring out what schools I want to pursue and learn more about. I think I'm just trying to take everything in right now to be honest."
How often are you hearing from coaches right now? What's it like to manage that?
"I've heard from at least a few coaches every day. Some more than others. I think it just depends on how much people are interested in you. I've heard from a good amount of schools. Some schools are reaching out a couple of times per day, at least the ones that are super interested."
Has Indiana been pretty active with you?
"Yeah, I just started talking to them on the phone, but ever since then I've talked to them a few times."
What do you think of coach (Kenya) Hunter and coach (Mike) Woodson from talking to them?
"I have a hopeful relationship to build with them. I started talking to them and we've shared some laughs and that relationship is something that can build and become stronger. I haven't talked to coach Woodson that much, but from talking to coach Hunter, it gives me hope for a strong relationship."
Filed to: Caleb Williams