6-Banner Sunday: Indiana's NCAA tournament chances take a hit with Wisconsin loss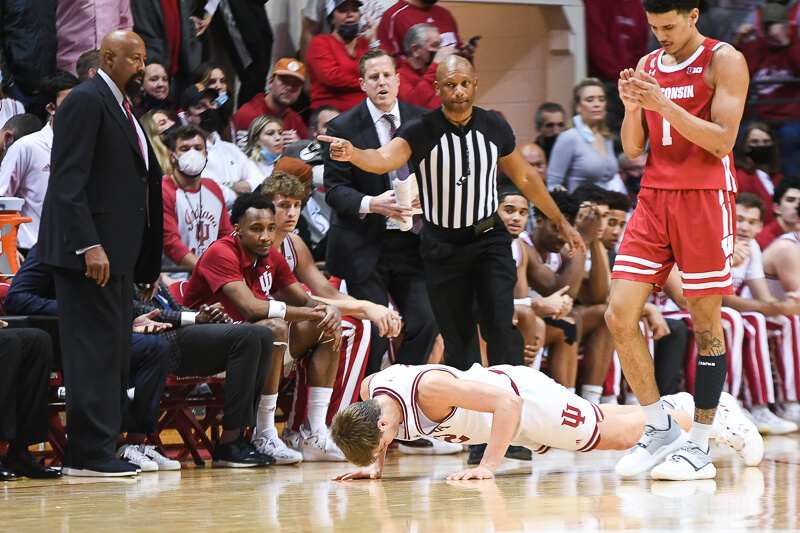 6-Banner Sunday is Inside the Hall's weekly newsletter in partnership with The Assembly Call. More than 9,000 Indiana fans receive the newsletter each week. In addition to appearing each week on the site, you can also opt to receive 6-Banner Sunday by email. A form to subscribe via email is available at the bottom of this week's 6-Banner Sunday.
Welcome to another edition of 6-Banner Sunday, a joint production between The Assembly Call and Inside the Hall where we highlight the five most essential IU basketball stories of the past week, plus take a look at how the other IU sports programs are doing.
IU's losing streak continued as the Hoosiers suffered yet another loss to the Wisconsin Badgers. The loss put IU on the NCAA tournament bubble as they have been for several years in a row. The Hoosiers' next opportunity for a victory comes tomorrow against Ohio State which will not be easy.
Also, AC Radio and Podcast On The Brink had episodes this week and Inside The Hall had its weekly power rankings which further shows the Hoosiers recent slide. We will as always conclude with a look at how other IU sports are doing.
In brief news, head coach Mike Woodson's radio show returned following a one-week hiatus due to travel schedules.
• Hoosiers fall apart late against Wisconsin
• IU takes on Ohio State Monday
• Andy Bottoms' Bracketology
• AC Radio and postgame shows
• Big Ten Power Rankings
• Hoosier Roundup
Banner #1 – Hoosiers fall apart late against Wisconsin
For most of the game, IU looked like it would get a much-needed win against the Badgers. Trayce Jackson-Davis played his best ball in a while with 30 points. However, he was matched by Wisconsin guard Johnny Davis who scored the same amount. In the end despite having the lead with a minute left, the Hoosiers succumbed to the Badgers 74-69 putting the Hoosiers NCAA Tournament chances in a precarious position with their fourth straight loss. The team is now 16-9 and 7-8 in the Big Ten.
Afterward, Woodson and Jackson-Davis spoke as did Wisconsin coach Greg Gard, Inside The Hall had a photo gallery, Ryan Corazza had his Minute After and Film Session, Grace Ybarra penned Five Takeaways, and Tyler Tachman wrote about IU being on the NCAA tournament bubble.
Banner #2 – IU takes on Ohio State Monday
The Hoosiers have a tall task but also an opportunity to put themselves firmly back in the NCAA Tournament with a win against the Buckeyes Monday at 7 pm on FS1 in Columbus. The Hoosiers played maybe their best game of the season in easily dispatching Ohio State in Bloomington in early January 68-51 as Jackson-Davis had one of his top contests of the season with 27 points.
The Buckeyes come in at 16-7 and 9-5 in the conference and are led by a potential Big Ten Player of the Year Candidate in EJ Liddell who averages over 19 points a game He did struggle though in his first outing against the Hoosiers. The one thing IU has going for it is the Buckeyes may be a bit tired after playing Saturday against Iowa and taking their first home loss of the year in relatively dominant fashion 75-62. The Hoosiers on the other hand have had six days rest giving them plenty of time to prepare for this matchup.
Woodson, Miller Kopp, and Race Thompson all had media availability before the game.
Banner #3 – Andy Bottoms' Bracketology
Many Hoosier fans probably wonder what this four-game losing streak has done to IU's NCAA tournament chances. After the victory over Maryland it looked like IU the Hoosiers would easily cruise into March Madness for the first time in six years and were solidly in as a seven seed in many brackets.
Fast forward to today and the Hoosiers are hanging on in most projections for dear life if they are in at all. Before the Wisconsin loss, Andy Bottoms had the Hoosiers as a 10 seed against Connecticut in Greenville, South Carolina. The loss to the Badgers presumably has the Hoosiers position looking even more precarious.
Bottoms has six other teams from the Big Ten in, while Rutgers and Michigan each as one of his first five teams out. However, they both had massive victories this week after this was published.
Podcast on the Brink also discussed all of this with Bottoms this week.
Banner #4 – AC Radio and Postgame shows
Assembly Call had their normal radio show this week which was an Ask Me Anything edition.
Postgame shows for both the men's and women's teams were also recorded. The loss to Wisconsin was discussed here. Meanwhile, the Doing The Work Postgame had episodes after the Michigan State, Nebraska, and Northwestern games.
Banner #5 – Big Ten power rankings
In another indication things have not gone well lately for the Hoosiers, Alex Bozich's Power Rankings for Inside The Hall this week had the Hoosiers down at ninth on the list.
Nebraska was once again last and Illinois led the conference in the rankings.
Banner #6 – Hoosier Roundup
• No. 5 Women's Basketball had a turbulent week as the competition got stronger. Star center Mackenzie Holmes returned from her knee surgery finally but is still not back to full strength yet which hurt the Hoosiers in a couple of top matchups this week against Nebraska and Iowa. They did beat a struggling Northwestern team though in Holmes' first game back. However, a Big Ten Title which once looked possible now sees those chances hanging by a thread with yet another game against Iowa and a top Maryland team to close the regular season this week. The Hoosiers can still very much hope for a long run in the postseason though. However, that seems most likely if Holmes can get back to 100% by then.
• Off the court for Women's Basketball Grace Berger was named Big Ten Player of The Week. Also, per a report from the Herald Times' Seth Tow, she will opt-in for a COVID year next season giving the Hoosiers much-needed production to pair with Holmes as the rest of the starting lineup is graduating. Also, Teri Moren was named a candidate for National Coach Of The Year.
• Football made their new running back coaching hire official.
• Baseball dropped their first two games of the season against Clemson.
• Softball split a pair of games.
• Women's Swimming and Diving finished third at the Big Ten Championship.
• Men's Tennis lost to Middle Tennessee State.
Women's Tennis fell to Kentucky and Tennessee.
• Wrestling lost to Ohio State.
• Men's Golf finished seventh at their tournament.
• Track and Field competed at the Alex Wilson Invitational.
• Water Polo dropped a pair of games this week.
• Volleyball named a couple of new assistant coaches and announced a foreign tour this spring.
Thanks for your continued support for The Assembly Call and Inside the Hall. We'll be back next weekend with a new roundup.
Now go enjoy yourself a 6-banner Sunday.
Aaron (Ari) Shifron
Assembly Call Contributor
Filed to: