Back on the bubble, Indiana can either fall into a familiar fate or create a new path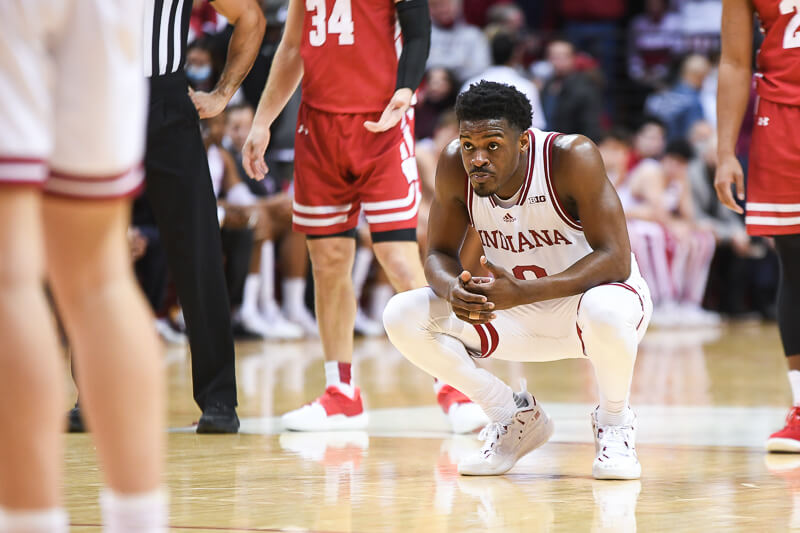 Indiana's second to last offensive possession in its 74-69 loss to Wisconsin Tuesday night can serve more than one meaning.
In a literal sense, it was Indiana's inability to execute. The Hoosiers were down by three with 19 seconds remaining, taking the ball out on a sideline out-of-bounds play. In reality, Indiana probably shouldn't have even been in this situation, down three, in the first place. The Hoosiers led by three with 1:50 remaining before going cold offensively and letting Wisconsin's Johnny Davis take over.
So with 19 seconds left, Indiana took a timeout to set itself for an offensive possession. The play, Trayce Jackson-Davis said, was supposed to be an elevator screen for Parker Stewart and then a double screen for Miller Kopp. That, however, didn't work out.
"They were just switching every screen, so it's really hard whenever everyone is switching and you need a three, so a cut to the basket isn't really going to work for you," Jackson-Davis said.
Stewart picked up his dribble near halfcourt. Indiana's offense was totally out of synch. The best ball-handler on the floor, Xavier Johnson, was near the corner and unable to get the ball. Stewart passed the ball to Race Thompson, who gave it right back. Then with the clock in single digits, Stewart heaved a contested three-pointer that careened off the backboard.
Davis grabbed the rebound, hit two free throws and that was the game.
"I thought we froze," Indiana head coach Mike Woodson said.
Freezing. It's an interesting concept, one that Indiana has become familiar with over the last few seasons. This is where the larger meaning comes into the picture. With the loss, Indiana is now 16-9 overall and 7-8 in Big Ten play. The Hoosiers, who were once viewed as a team certainly headed toward the NCAA tournament, are now back on the bubble with five regular-season games remaining. Now comes where the Hoosiers have to decide whether they fall into the cycle of past teams or can create a new path.
The fact is, Indiana is still an extremely flawed team. There have been few moments this season where Indiana has clicked on all cylinders. Early in the season, the fact that Indiana was still a bunch of puzzle pieces trying to figure out how to fit together wasn't ideal, but there was also plenty of time left to figure things out. A few weeks ago, though, it seemed like perhaps Indiana figured it out. They beat Penn State and handily took care of Maryland on the road. At that point, they'd won six of their last eight games.
But then came a home loss to Illinois. A shorthanded road loss to Northwestern, in which five Hoosiers were suspended. Then a loss at Michigan State. And now it has snowballed into the loss at home against Wisconsin. A game that Indiana was in position to win, but couldn't make plays down the stretch. It felt like it was out of the same old script. Four losses in a row.
"We're still a work in this progress trying to figure it out down the stretch," Woodson said. "We've played some good basketball this season. We just haven't been consistent in bringing them home."
This is the fate Indiana has fallen into down the stretch the last few seasons. The pieces to win have been there, but they never fully fit together. Go back to the 2018-19 season. Indiana started 13-2 before proceeding to lose 12 of 13 games. A once-promising season with a star-studded freshman class that included Romeo Langford had to scrap back onto the NCAA tournament bubble. In the Big Ten tournament, Indiana lost to Ohio State in a game that likely decided who would go to the Big Dance.
In the 2019-20 season, Indiana dropped three of its last four regular-season games. The Hoosiers likely needed a win against Nebraska in the Big Ten tournament to secure a spot in the NCAA tournament. Indiana did win, but it was a season riddled with inconsistencies, where Indiana would've likely squeezed in rather than decisively doing so. The tournament, as it turned out, was canceled due to COVID-19.
Last season, it looked like Indiana was going to be on the right side of the bubble after it took care of Minnesota at home. But then there was a collapse down the stretch. Indiana lost its last six games of the season. Indiana didn't make the NCAA tournament despite having a third-team All-American. It cost Archie Miller his job.
And now Indiana is back in a similar situation: enough hope to keep you engaged, but not enough to give you confidence. Trayce Jackson-Davis has been a centerpiece but lacked an ability to consistently perform against the Big Ten's best big men. Indiana's bench, which started the season with extreme inconsistencies, is still in the same place. Parker Stewart and Miller Kopp, Indiana's sharpshooters, have largely either been wildly inconsistent, one-dimensional or a combination of both.
The puzzle pieces still haven't fit together.
"It's just mental," Jackson-Davis said when asked about Indiana's guards. "They just got to have their confidence up and just have support. So they're going to keep doing their thing, keep getting up shots in extra time, and they're going to start falling. You just got to have faith in your teammates, and I know they'll get out of these slumps."
This is a final stretch, though, where Indiana can differentiate itself from past teams. Part of the reason that Jackson-Davis returned for his junior season was to try to get the program back on course. Listening to players talk, the energy surrounding the program, it's already obvious that Woodson has made strides in building an impactful culture in just his first season. Whether Indiana rises to the challenge or folds will be revealing of how much Woodson has been able to accomplish since taking over.
"I got to somehow help them, man, because they kind of looking over their shoulders again, you know, at past years and how things have happened to them coming down the stretch man," Woodson said, "and I got to help them get over that somehow."
Filed to: Mike Woodson, Wisconsin Badgers