The Minute After: Wisconsin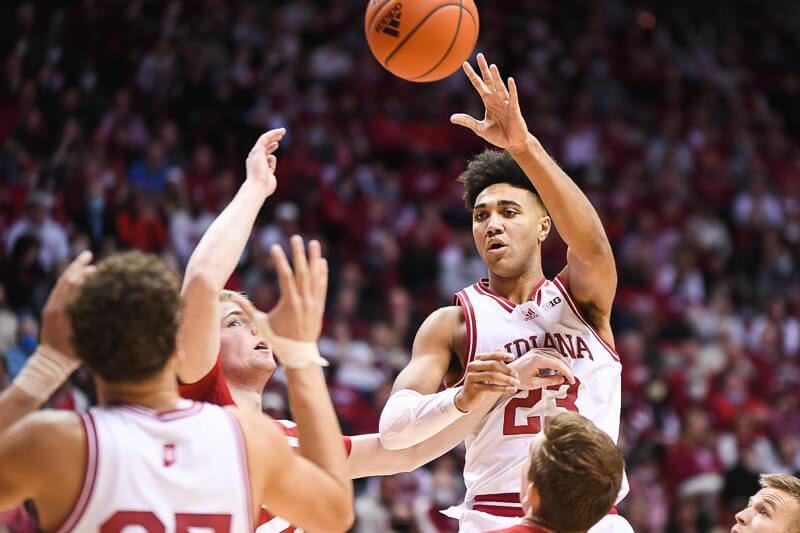 Thoughts on a 74-69 loss to the Badgers:
Indiana had an ever-important Quad 1 win its is crosshairs. From the 15:30 mark onwards in the second half, the Hoosiers held the lead. They played well enough to win. That was, until, winning time.
That belonged to Johnny Davis.
"He had a helluva game," Mike Woodson said post-game. "He's that type of player."
Davis scored Wisconsin's last 13 points over the final 3:35 of the contest, putting the Badgers up for good with 1:01 to play on a 3-point play, scoring on a drive in the lane and hitting the ensuing free throw. That turned an Indiana two-point lead into a Wisconsin one-point advantage, 71-69. He waved goodbye after he closed Assembly Hall out.
The Hoosiers, meanwhile, stumbled down the stretch. They missed nine of their last 10 shots over the final 4:32 of the game. That final stretch ensured Indiana wouldn't eclipse the 1.0 points per possession mark (.96) for the fifth straight contest and six out of its last seven. The Hoosiers have now fallen to 13th in offensive efficiency in the Big Ten, just a touch behind Penn State.
It spoiled an otherwise fantastic night from Trayce Jackson-Davis, who rebounded after a couple rough games and had his way with Wisconsin's front line. The Center Grove product put up 30 points on 10-of-13 shooting. He made 10-of-14 from the line, even scored with his right hand on a couple buckets. He added a career-high six assists, snagged eight boards and blocked three shots. You can't ask for much more than that.
Race Thompson remains consistent and steady (13 points, eight rebounds). Xavier Johnson, despite making some strong reads at times off ball screens, had another rough outing against the Badgers. Johnson finished just 3-of-16 from the field with five turnovers. That brings his season numbers against Wisconsin to a woeful 7-of-31 to go along with 12 turnovers.
Parker Stewart and Brad Davison (21 points, 10-of-1o from the line) went at each other in this one. They jawed. Davison flagrant fouled Stewart in the second half. Stewart seemed to be particularly preoccupied with Davison down the stretch, losing his composure a bit as a result. He did hit 2-of-4 from deep, but Indiana made just 5-of-18 (27.8 percent) from 3-point range for the game.
"They're kind of looking over their shoulders again, in past years, how things have happened to them coming down the stretch," Woodson said. "I've got to help them get over that somehow."
Woodson will surely try all he can. And the chances are still there to do enough to make the NCAA tournament. But the familiarity of this feeling, this swooning moment is hard to shake. Time is running out and Indiana is fading to the bubble in mid-February.
Who will step up? Who will make outside shots? Who will get this team over the hump, make plays down the stretch, will this team to victory?
The answers to those questions are becoming increasingly hard to find.
Filed to: Wisconsin Badgers