Five takeaways from Indiana's loss to Wisconsin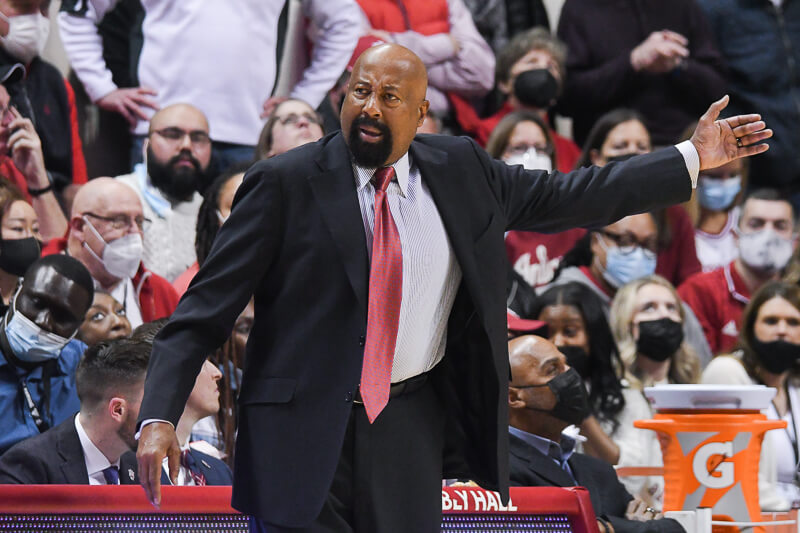 Indiana recorded its fourth loss in a row Wednesday, falling 74-69 to No. 15 Wisconsin at Simon Skjodt Assembly Hall. Indiana is now just 16-9 overall and 7-8 in Big Ten play.
Despite leading for 29 minutes and a 30-point performance from Trayce Jackson-Davis, Indiana couldn't put the game away in the closing minutes.
Here are five takeaways from IU's loss to the Badgers:
Indiana couldn't close down the stretch
Indiana had the lead with 1:50 to play in the game. Xavier Johnson hit a layup to stretch the lead to three points.
Johnny Davis then knocked down two free throws to bring it back within one and capitalized after an empty Indiana possession with an and-one. While he was at the line, Trey Galloway tapped his chest to let his teammates know he wanted the next shot.
Down two with 38 seconds left, Johnson gave it to Galloway. He missed. Wisconsin's Steven Crowl traveled and gave the Hoosiers another chance to score. Jackson-Davis passed out to Johnson who took the shot himself this time, missing a straight-on open 3-pointer.
"I thought big fella was in a good position to make the play, but he threw it out to X because he thought X was open on the three-point line," Mike Woodson said.
The Hoosiers had to foul and Davis split his free throws, keeping the deficit to one possession. It gave them another shot, but Woodson called a timeout to draw it up to make sure they got the right shot this time.
It didn't go as planned. Parker Stewart couldn't get the shot and forced something.
"I thought we froze," Woodson said.
After leading for the majority of the game, Indiana couldn't hold off Wisconsin down the stretch. The Badgers closed on an 8-0 run, while the Hoosiers made just one of their final 10 field goal attempts.
"They were making plays with the ball," Woodson said. "We were trying to go inside and we missed some wide-open shots coming down the stretch.
Jackson-Davis shows out
Trayce Jackson-Davis has struggled with shooting as of late. He shot just an average of 34.2 percent over the last three games entering Tuesday night.
But Jackson-Davis showed what he's capable against Wisconsin.
He got in a groove and scored 30 points on 10-13 shooting (76.9 percent) from the field. He also had eight rebounds, six assists, three blocked shots and a steal.
Though he was just shy of a double-double, this marked his first 30-point game since Indiana's loss at Syracuse in November. He scored 17 points in the second half, but none of his teammates scored more than seven in that time.
"He's a great player. He's tough to stop down there with the ball on the low post. But you know, he doesn't really have too much help around him," Davis said.
Shooting struggles continue
While Jackson-Davis found his way out his shooting slump, others got themselves into a rut against Wisconsin.
The rest of the team shot just 31 percent from the field.
"It's just mental," Jackson-Davis said. "They just got to have their confidence up and just have support. So they're going to keep doing their thing, keep getting up shots in extra time, and they're going to start falling."
It wasn't just 3-pointers that weren't falling. Indiana made just half of its 18 layup attempts.
Shot selection looked better in the first half by feeding Jackson-Davis and Race Thompson in the post and taking jumpers in the flow of the offense. But when shots didn't fall, the selection became more forced.
Johnny Davis shines
Indiana has struggled to contain the top talents of the Big Ten, including Kofi Cockburn and Hunter Dickinson to name a few. Davis was no exception Tuesday night.
He put up numbers that mirrored those of Jackson-Davis. The potential lottery pick finished with 30 points on 67 percent shooting and 12 rebounds.
"Everybody that guarded him struggled with him," Woodson said. "He had a hell of a game. He's that type of player. It's hard to double him, because a lot of times he's up top and he's making plays off the bounce."
Davis was instrumental in closing out the game, scoring all 13 of Wisconsin's final points on his own.
Woodson said it didn't matter who they put on him, he just had a good game.
"Coming down the stretch couldn't nobody play him. He had a great game," Woodson said.
Second unit doesn't carry weight
Getting the second unit to step up when starters are out has been a topic of conversation all season. It has improved, but against Wisconsin their efforts regressed again.
Indiana's bench accounted for just 10 of its 69 points — and Stewart, a former starter, scored eight of those bench points. The other two came from Khristian Lander.
"Parker probably was the most positive thing off the bench," Woodson said. "I thought Mike's few minutes he played were pretty positive, but other than that, we struggled off the bench tonight."
Aside from not scoring, the bench struggled with blown defensive assignments and giving up fouls.
Lander came in and immediately gave up an and-one. Then Jordan Geronimo gave up a simple reverse layup. Frustrated with himself, he pounded the ball on the ground and inbounded a lazy pass to Johnson that he nearly missed. Johnson looked frustrated and confused with him.
It encapsulated the bench's impact on the game. They weren't truly able to gel and get much going in terms of productivity.
Woodson needs his bench to step in without letting the production drop off to give his starters the relief they need. But Woodson said it's on him to help them feel comfortable.
"That's the only way we're going to have a chance winning coming down the stretch," Woodson said.
Filed to: Trayce Jackson-Davis, Wisconsin Badgers