News and notes from Mike Woodson's radio show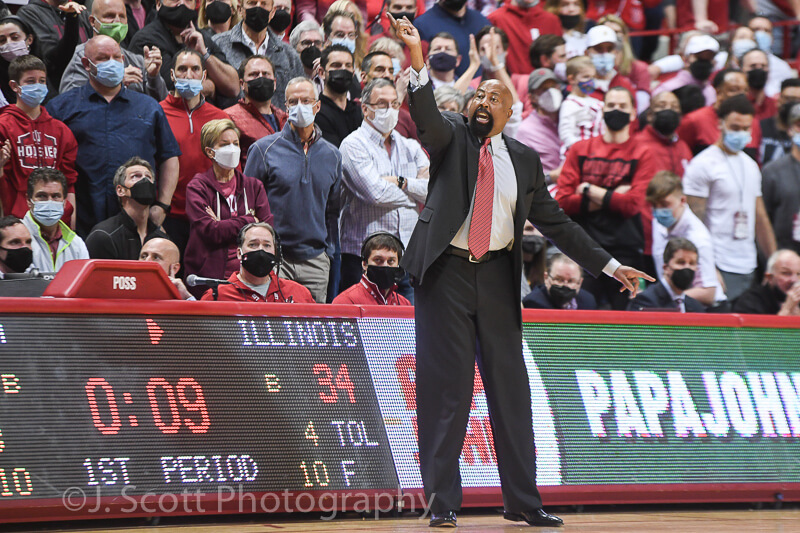 "Inside Indiana Basketball with Mike Woodson" returned Monday night as Woodson spoke with play-by-play announcer Don Fischer.
Woodson discussed Indiana's three-game losing streak and previewed Tuesday's game against Wisconsin at Simon Skjodt Assembly Hall.
• Woodson said "a lot of good things came out" of the Northwestern game, but added that he wishes his team "would have won the game."
• Woodson said that Indiana is still learning how to win. Woodson said he's been in this position before with the Atlanta Hawks.
• Woodson said that the Michigan game was the only one that "really got away." He said that he likes how competitive his team has been this season. Woodson said he's "got to coach them up and get them over the hump. That's what we're fighting right now."
• Woodson said that Indiana has really struggled offensively. He cited the 5-of-21 performance on 3s in East Lansing. The offensive struggles have put a lot of pressure on the defense, according to Woodson. "You just can't win that way."
• On this team's leadership: "It's hard to say that we do have a leader. And that's no knock against our team because we've never been in this position as a team."
• On the physicality in the Michigan State game: "It's Big Ten play, man. They allow you to kind of get after it a little bit. Me being a first-year coach in the Big Ten, sometimes I wonder what a foul is, what a travel is. Those are the things I look at. I thought there were some times where we got hit and there were no calls."
• Woodson said Indiana can "control its own destiny" in terms of getting into the NCAA tournament. Woodson said he's putting the pressure on himself to try to get the team back on track over the next six games.
• Indiana has a few guys that are "banged up" so Woodson may have to back off a little bit down the stretch in terms of practice.
• Woodson said he constantly tells the players, "you've played some pretty damn good basketball," and he doesn't want his players to lose sight of that. "We've just got to finish."
• Woodson on social media: "If you want to sit and read the shit, excuse my language, that's on you," but added that he doesn't "entertain it, at all." Woodson says he watches CNN and ESPN, but he doesn't "fool with social media."
• More on social media: "Not that I think it would bother me, but that's just not my makeup. I think I'm a little bit above social media, but it's what it is. It's out there, it's not going anywhere. I don't entertain it, at all."
• Woodson says he wishes the players would take the same approach with social media: "Just leave it alone. Stay away and just concentrate on school and getting an education and playing basketball. That's what it's all about."
• Woodson was asked by Fischer for the five best NBA players he ever played with. His list: Marques Johnson, Norm Nixon, Eddie Johnson, Reggie Theus and Hakeem Olajuwon.
• Woodson says Eddie Johnson is probably his closest friend of the guys he played with in the NBA. Woodson added that he and Johnson "hated each other in college."
• Woodson said he believes Michael Jordan was the best to ever play. He said the guys he would start a team with are Bird, Magic, Jordan, Kareem and then LeBron James/Kobe Bryant.
• The best trash talkers according to Woodson were Larry Bird and Michael Jordan. "The beauty of those guys talking trash is they could back it up."
• Woodson said Johnny Davis is considered "player of the year" in the league and added that he's "playing like it." He said Indiana is going to have to commit itself for 40 minutes. In the first game in Madison, according to Woodson, Indiana only committed itself for "38 and a half minutes."
• Woodson says Kenya Hunter "checked all of the boxes" and said that Hunter is a "great family man."
Filed to: Mike Woodson