Bracketology: NCAA tournament projection as of February 15, 2022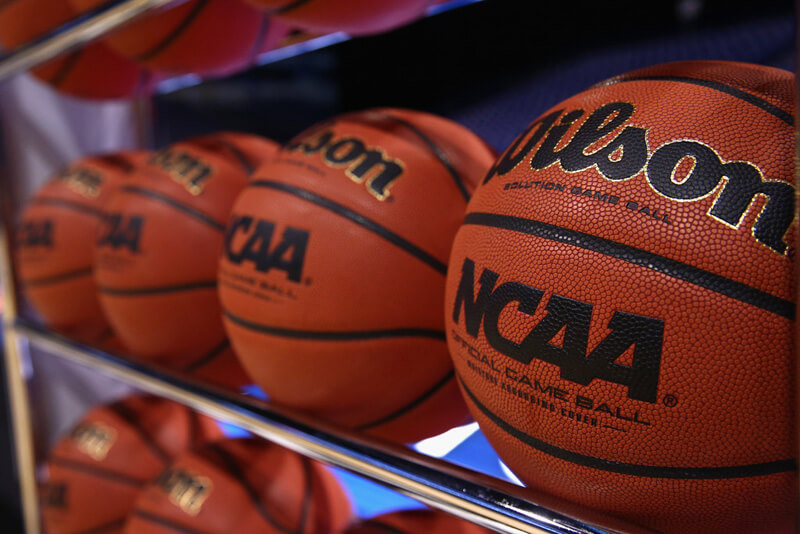 With the NFL season complete and less than four weeks until Selection Sunday, the committee will reveal its top 16 overall seeds on Saturday afternoon. This comes a week later than normal given the extended NFL season, but this always provides some insight into how this iteration of the selection committee is evaluating this season's results. There are a couple key things I'm most interested to see.
First will be the final two number one seeds. Gonzaga and Auburn will certainly take the first two spots, but the race for the others is tight with Arizona, Baylor, Kansas, Kentucky, and Purdue all in the mix. Understanding the committee's decision and the rationale behind it could provide insight into how they will handle other sections of the bracket where teams are tightly bunched together.
I am also curious how they seed teams with large gaps in their quality and resume metrics, most notably Wisconsin and Providence. Both teams have racked up quality wins but don't grade out quite as well in the predictive metrics. On the other side of that spectrum is Houston, which has lost two straight but still ranks far better in quality metrics despite having just one or two wins over at-large caliber teams.
Before looking at the one seeds, I wanted to give a quick reminder about how the NCAA selection committee classifies wins based on the NET rating.
A breakdown of the four tiers:
· Quad 1: Home vs. teams ranked 1-30 / Neutral vs. teams ranked 1-50 / Road vs. teams ranked 1-75
· Quad 2: Home vs. teams ranked 31-75 / Neutral vs. teams ranked 51-100 / Road vs. teams ranked 76-135
· Quad 3: Home vs. teams ranked 76-160 / Neutral vs. teams ranked 101-200 / Road vs. teams ranked 136-240
· Quad 4: Home vs. teams ranked 161-351 / Neutral vs. teams ranked 201-351 / Road vs. teams ranked 241-351
One Seeds
Auburn and Gonzaga remain the clear-cut top two teams on the seed list. The Tigers picked up their second loss of the season (both in overtime) last week at Arkansas, but they are still 7-2 in Quad 1 and 6-0 in Quad 2. Auburn is also 7-1 in true road games and is a combined 10-2 in road/neutral contests, all of which contributes to their gaudy resume metrics.
Gonzaga is now 6-2 against Quad 1 with neutral court wins over Texas Tech and UCLA to go with a home victories over Texas and Saint Mary's and a blowout win at BYU. Thanks in part to winning all those games by at least 12 points, the Zags are ranked first in all of the predictive metrics as well.
I have Arizona third on the overall seed list, thanks to incredibly strong numbers in both the resume and predictive metrics. They also now have six Quad 1 victories and a 11-2 mark in the top two quadrants with their only losses coming on the road at Tennessee and at UCLA.
The final spot came down to Kansas and Kentucky for me, with Purdue and Baylor lurking close behind. While the Wildcats blew out KU in Lawrence, that head-to-head matchup isn't the only thing the committee considers. The Jayhawks rank better in the resume metrics, but the Wildcats rank better in the quality metrics. KU has a 8-3 mark in road/neutral games, whereas UK is 6-4. Kansas is 8-3 in Q1 and 14-4 in Q1/Q2, while Kentucky is 5-4 and 9-4, respectively. All that being said, if the two played tomorrow, I'd probably pick Kentucky to win, but the committee is looking at the entire body of work and right now, Kansas' is slightly better. Kentucky certainly has chances to bolster its case and may well pass the Jayhawks when all is said and done. As mentioned above, I am anxious to see how the committee ranks them on Saturday.
The Bracket
The projections below are based on all games played through February 14, 2022. Following the bracket, I included a few thoughts on the last four in and first five out.
| | | |
| --- | --- | --- |
| MIDWEST (CHICAGO) | | WEST (SAN FRANCISCO) |
| Greenville – March 18/20 | | Portland – March 17/19 |
| 1) Auburn | | 1) Gonzaga |
| 16) New Orleans / Norfolk St. | | 16) Southern / UNC-Wilmington |
| 8) Seton Hall | | 8) Iowa |
| 9) Iowa St. | | 9) Boise St. |
| | | |
| Pittsburgh – March 18/20 | | Milwaukee – March 18/20 |
| 5) Houston | | 5) Texas |
| 12) Chattanooga | | 12) SMU |
| 4) Michigan St. | | 4) Illinois |
| 13) Iona | | 13) Toledo |
| | | |
| Buffalo – March 17/19 | | Buffalo – March 17/19 |
| 6) Arkansas | | 6) LSU |
| 11) Loyola Chicago | | 11) BYU / North Carolina |
| 3) Providence | | 3) Villanova |
| 14) Wagner | | 14) Vermont |
| | | |
| Greenville – March 18/20 | | Fort Worth – March 17/19 |
| 7) Connecticut | | 7) USC |
| 10) Indiana | | 10) Notre Dame |
| 2) Duke | | 2) Baylor |
| 15) Texas St. | | 15) Montana St. |
| | | |
| EAST (PHILADELPHIA) | | SOUTH (SAN ANTONIO) |
| Fort Worth – March 17/19 | | San Diego – March 18/20 |
| 1) Kansas | | 1) Arizona |
| 16) Colgate | | 16) Long Beach St. |
| 8) Colorado St. | | 8) TCU |
| 9) Murray St. | | 9) San Francisco |
| | | |
| Portland – March 17/19 | | Pittsburgh – March 18/20 |
| 5) Alabama | | 5) Ohio St. |
| 12) North Texas | | 12) Creighton / Memphis |
| 4) UCLA | | 4) Tennessee |
| 13) South Dakota St. | | 13) New Mexico St. |
| | | |
| Milwaukee – March 18/20 | | San Diego – March 18/20 |
| 6) Xavier | | 6) Marquette |
| 11) Oklahoma | | 11) Davidson |
| 3) Wisconsin | | 3) Texas Tech |
| 14) Liberty | | 14) Oakland |
| | | |
| Indianapolis – March 17/19 | | Indianapolis – March 17/19 |
| 7) Saint Mary's | | 7) Wyoming |
| 10) Miami (FL) | | 10) Wake Forest |
| 2) Kentucky | | 2) Purdue |
| 15) Longwood | | 15) Yale |
Last Four In:
North Carolina – The Heels boast solid metrics in both the results-based and predictive categories, but they are still 0-7 in Quad 1 after Michigan's NET dipped following a loss to Ohio State. All but one of those losses have come by at least nine points, as UNC has generally not been competitive when playing high-level teams. The Heels do own a solid 5-3 mark in true road games, with home victories over Virginia Tech and Michigan their best overall. This week brings a winnable home game against Pitt before a key road game against the Hokies on Saturday.
BYU – The good news is the Cougars picked up a couple wins last week at Loyola Marymount and Pepperdine. The bad news is they weren't particularly impressive in the process given those are two of the worst teams in the WCC. They do have seven victories in the top two quadrants, including a few key wins against other bubble teams. That being said, BYU also has four losses against teams not in the at-large picture, including a Q4 loss to Pacific. Thanks in part to a low BPI, the quality metrics aren't particularly compelling, but the Cougars do have nine road/neutral wins. Saturday's trip to Saint Mary's provides a chance to pick up a Quad 1 victory before closing the season with two winnable home games.
Creighton – Last week was a solid one for the Bluejays, who went 3-0 and avoided bad losses against the likes of Butler and Georgetown (twice). Still, they sit at 70th in the NET and don't rate well in the predictive metrics. Creighton has three Quad 1 wins (home vs. Villanova, at Connecticut, at Marquette) as well as a neutral court victory against BYU, but there is a huge drop-off after those. A 17-point loss at Butler as well as a home loss to Arizona State are the biggest blemishes, and the Jays hit the road for three of the next four, starting with Thursday's trip to DePaul.
Memphis – The Tigers have vaulted back into the conversation after winning five straight, with the biggest coming on Saturday in a 10-point road victory at Houston. Memphis' overall profile is odd to say the least with four Quad 1 wins as well as four "bad" road losses by a total of nine points, two of which fall in Q3. Injuries and COVID-related absences have played a major factor as well, as four of their losses came with DeAndre Williams sidelined. Memphis has solid quality metrics and is right on the cutline heading into a big week, which features road games at SMU and at Cincinnati.
First Five Out:
Michigan – It was an eventful week for the Wolverines, who won at Penn State on Tuesday and blew out Purdue on Thursday before falling to Ohio State at home on Saturday. They now have five wins in the top two quadrants, although just two of those have come against at-large teams in this week's field. The quality metrics are strong, and despite 10 losses, the resume metrics aren't terrible either. Michigan heads on the road to face Iowa and Wisconsin before returning to Ann Arbor for four straight home games.
Oregon – The Ducks seemed to have things rolling, but they slipped up in a major way with a double-digit home loss to Cal. That gives them a third Q3 loss, which pushed them outside of the field even with road wins over UCLA and USC. Oregon's resume metrics don't compare too favorably to others near the cutline, but they have plenty of opportunities remaining, starting with this weekend's trip to the Arizona schools before UCLA and USC visit Eugene next week.
San Diego St. – Despite decent predictive metrics, the Aztecs have just two wins against at-large teams, which came against Saint Mary's (neutral) and Colorado State (home). The Aztecs don't have a Q3 or Q4 loss, but they are also just 2-4 in true road games and 3-6 in the top two quadrants. SDSU hosts Utah State on Tuesday before heading to Fresno State on Saturday, while road trips to Boise State and Wyoming are also still on the schedule.
Rutgers – The Scarlet Knights picked up a huge road win at Wisconsin over the weekend, and even though they now have five Quad 1 wins, they still rank outside the top 80 of the NET. A three-game November losing streak (at DePaul, vs. Lafayette, at UMass) accounts for three of Rutgers' four worst losses with the Lafayette game falling in Quad 4. Still, home wins over Purdue, Ohio State, Michigan State, Iowa, and Michigan are all impressive, but despite those victories, Rutgers doesn't boast great marks in the resume or quality metrics. Plenty of opportunities remain, starting with this week's home game against Illinois and a trip to West Lafayette.
Kansas State – Monday's win over West Virginia has the Wildcats in the mix. Eight of their 11 losses fall in Q1, and like Rutgers, they have five Q1 wins. None of their metrics are overly compelling, but if they can avoid taking on too many more losses, they could play their way into the field. Three of the next four are on the road, starting with Saturday's trip to Stillwater.
Conference Breakdown:
Big 12 (7): Baylor, Iowa State, Kansas, Oklahoma, Texas, Texas Tech, TCU
Big East (7): Connecticut, Creighton, Marquette, Providence, Seton Hall, Villanova, Xavier
Big Ten (7): Illinois, Indiana, Iowa, Michigan State, Ohio State, Purdue, Wisconsin
SEC (6): Alabama, Arkansas, Auburn, Kentucky, LSU, Tennessee
ACC (5): Duke, Miami (FL), North Carolina, Notre Dame, Wake Forest
West Coast (4): BYU, Gonzaga, Saint Mary's, San Francisco
American (3): Houston, Memphis, SMU
Mountain West (3): Boise State, Colorado State, Wyoming
Pac-12 (3): Arizona, UCLA, USC
America East: Vermont
Atlantic 10: Davidson
Atlantic Sun: Liberty
Big Sky: Montana State
Big South: Longwood
Big West: Long Beach St.
Colonial: UNC Wilmington
Conference USA: North Texas
Horizon: Oakland
Ivy: Yale
MAAC: Iona
MAC: Toledo
MEAC: Norfolk State
Missouri Valley: Loyola Chicago
Northeast: Wagner
Ohio Valley: Murray State
Patriot: Colgate
Southern: Chattanooga
Southland: New Orleans
SWAC: Southern
Summit: South Dakota State
Sun Belt: Texas State
WAC: New Mexico State
Follow Andy on Twitter (@andybottoms) for more thoughts on college hoops and to receive an update whenever new brackets are posted.
Filed to: 2021-2022 Bracketology